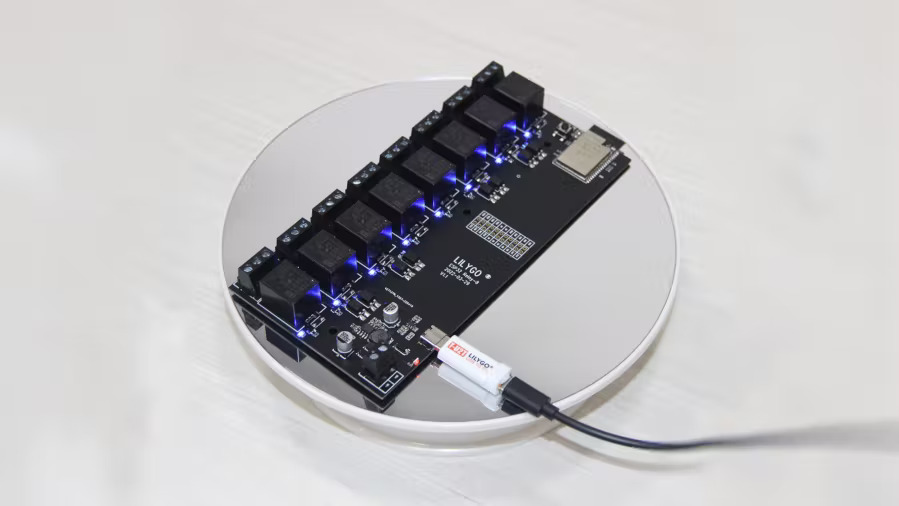 LILYGO 8-channel T-Relay board with Espressif ESP32-WROVER-E module
As an upgraded version of LILYGO's four-channel relay board, the company has announced a new 8-channel relay board with an onboard Espressif ESP32-WROVER-E module for wireless connectivity. LILYGO T-Relay board has a unique programming tool– T-U2T automatic downloader to upload the program– looks just like a dongle with a connector male to the board and a connector female to the USB Type-C cable. It is important to note that if you do not own a T-U2T dongle, then you would require one to upload the program to this 8-channel T-Relay board.
At the heart of the relay board is the ESP32-WROVER-E powerful microcontroller module supporting Wi-Fi and Bluetooth Low Energy wireless connectivity. Primarily designed for low-power sensor networks and also targets heavy workload tasks, such as voice encoding, music streaming, and MP3 decoding. The hardware comes with a PCB antenna featuring a 4MB SPI flash storage and an additional 8MB SPI Pseudo static RAM. There are two CPU processing cores that can be controlled independently and the CPU clock frequency is adjustable from 80MHz to 24MHz. The chip also has a low-power co-processor that can be used to replace the CPU to save power on light tasks that do not require heavy computing.
Specifications of LILYGO 8-channel T-Relay board:
Microcontroller board: Espressif ESP32-WROVER-E module with an ESP32-D0WD-V3 chip and has an adjustable CPU frequency from 80 MHz to 240 MHz
Wireless connectivity: Wi-Fi IEEE802.11b/g/n and Bluetooth LE v4.2
Relays: 8-relays through integrated HRS4H-DC5V relay and has 8 blue LED relay work indicators.
Expansion: 16 expansion GPIOs
USB ports: 1x USB Type-C for prog
Power supply: Operating at a power supply of 12V to 24V DC input
Dimensions: 17×8.5×1.8 cm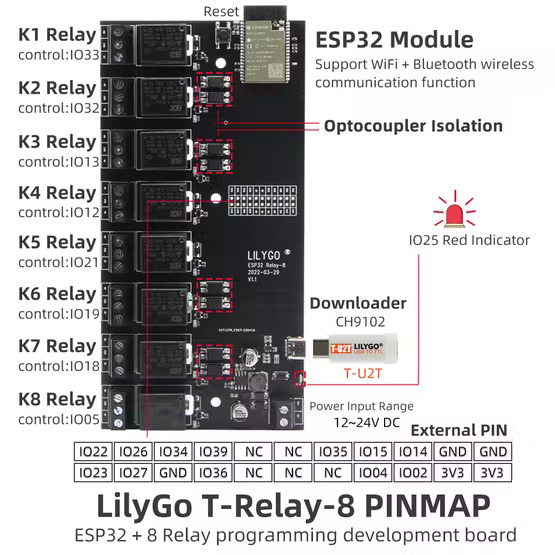 The
T-U2T dongle tool is required
to upload the program which connects to the onboard USB Type-C port. Tx and Rx in the T-U2T are connected inside the dongle and the reference pictures have more information. For software support, the manufacturer has provided detailed documentation on using
Arduino IDE and PlatformIO
in the
official GitHub repository
.
Currently unavailable on the Tindie company page, the LILYGO 8-channel T-Relay board can be bought on AliExpress starting at $25.28 including shipping. Another option is to choose the four-relay board with an onboard ESP32 module, priced at $10.37.
Join 97,426 other subscribers

Archives