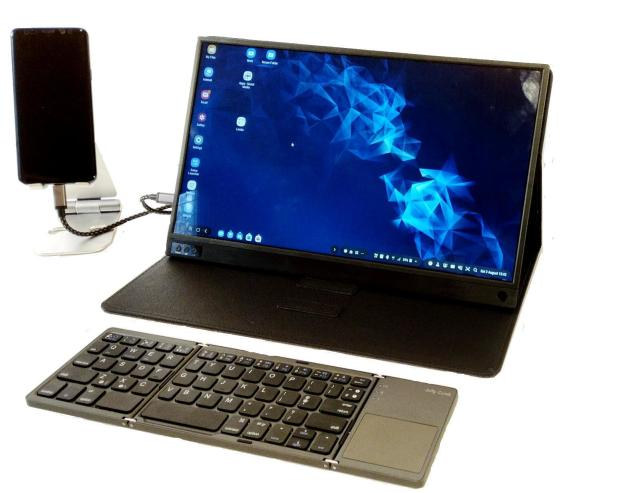 [email protected] 15 Touch is a 15″ 2-in-1 Laptop Dock for Samsung DeX Devices and Smartphones with a USB-C Port
Laptop Docks for smartphones are becoming quite the real deal. For those who are not yet familiar with them, the docks serve as hosts for turning smartphones into laptops. As their popularity grows, the market is awash with several types of laptop docks with some top performers like the NexDock 2 and AFAICR, both of which come with a full laptop body, non-touch display and keyboard. However, "Losing the wires" recently announced they will be offering something slightly different from the popular others in the market with their recently released [email protected] 15 Touch laptop dock.
The [email protected] 15 Touch was designed to convert phones like the Samsung DeX into 2-in-1 hybrid laptops. The [email protected] 15 Touch comes with a touch screen display and a detachable keyboard, given users the opportunity to use just the touch screen display in a model similar to that of a tablet, or as a laptop with the keyboard connected. This is one of the major ways through which the [email protected] 15 Touch distinguishes itself from exiting competition as it offers users more options around flexibility and use-case/scenarios.
The [email protected] 15 Touch was designed with the current generation of smartphones in mind as such it possesses a 1 USB-C port through which the Smartphone is connected and a micro-USB to which it is expected that peripherals will be connected. The [email protected] 15 Touch was purely designed as a product for the UK market as such, most of the peripherals like keyboard, etc., have UK Configurations but on a retail/distributor level, the company should be able to provide keyboard and power supply for other markets/language.
[email protected] 15 Touch kit includes the following items and features:
15.6″ LCD display

Full HD/1080p resolution (1920 x 1080 pixels) with 10 point capacitive touch
USB – 1x USB-C port to smartphone, 1 x micro-USB port for peripherals, 1x USB- C charge port
Video Output – Mini-HDMI in for use as a secondary display for another device
Battery – Up to 4 or up to 7 hours life (model specific)
Dimensions – 356 x 224 x 9mm
Weight – 900g (without case)

UK Bluetooth keyboard with trackpad
UK charger, USB-C smartphone cable, and folding case
Cables
Hard carry case/stand
According to "losing the wires" website, the [email protected] 15 Touch is said to work with Samsung S8, S9, S10, Note 8, Note 9 and Note 10 devices using DeX, Huawei/Honor devices using Easy Projection, as well as other devices supporting  DisplayPort Alternate Mode over USB-C.
Intro Video
"Losing the wires" did not put the price of the [email protected] 15 Touch on their website, but the best guess is it will still be around the range of similar devices in the market. More information on the system can be found on the product page.