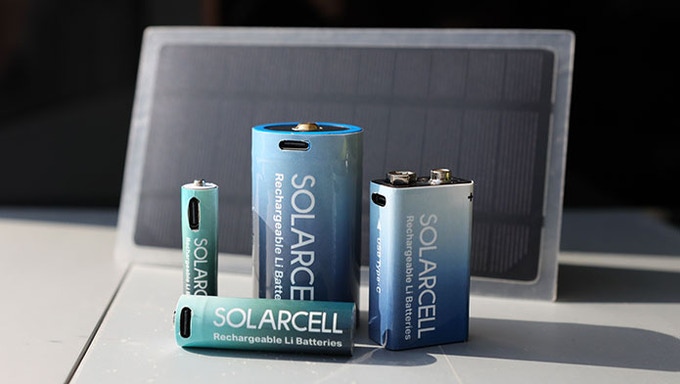 Solarcell offers modern, convenient and renewable energy for all kinds of devices and gadgets
If you have ever loved the idea of recharging batteries with solar power or have been looking for a great way to minimize the use of traditional batteries, then you might want to take a closer look at the new Solarcell that has just launched and funded on Kickstarter by a team of developers.
"Solarcell is a new generation of Lithium rechargeable batteries with USB-C connection, containing high power capacity while maintaining a high level of safety," the team writes. "We offer a wide range of battery models to help you power up any kind of devices you have and use frequently."
Solarcell has some benefits over regular disposable batteries. It was designed to help you save some costs. Solarcell is powered by Lithium polymer (Li-Po) rechargeable batteries whose life cycle is about 10 years (1200 charge cycles). So imagine how many disposable batteries that you'd have used in those years (about 1200 disposable batteries). Li-Po batteries also store and generate higher energy than other technologies, so Solarcell should offer much higher energy capacity and higher voltage output.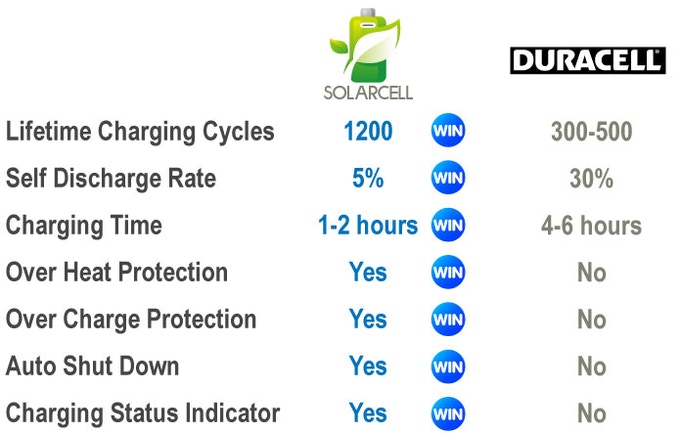 Solarcell was also built with convenience in mind.
"With our USB-C connection, you can charge Solarcell with any USB-A to C and USB-C to C cable. Hence, you can choose to charge them from your wall socket, power bank, laptop or even with a solar panel. All these options can further enhance your convenience and make sure all your batteries can always be charged up easily."
Features:
All types of battery models for all devices
Has a high energy density
Has multiple ways of charging
Provides renewable energy and quite environmentally friendly
Has a fast recharge time
Has a low self-discharge rate
Guarantees maximum safety
Has a LED indicator (turns red when the Solarcell is being charged through the USB-C cable and green when it's done charging)
Important protection features including power leakage protection, short circuit protection, high-pressure protection and over-current protection
Solarcell batteries can be quickly charged in about 1-2 hours and the batteries have lower self-discharge rates and longer storage life, so there is the ease of usage and convenience. There's also a custom-designed PCB in the battery that helps to ensure safety.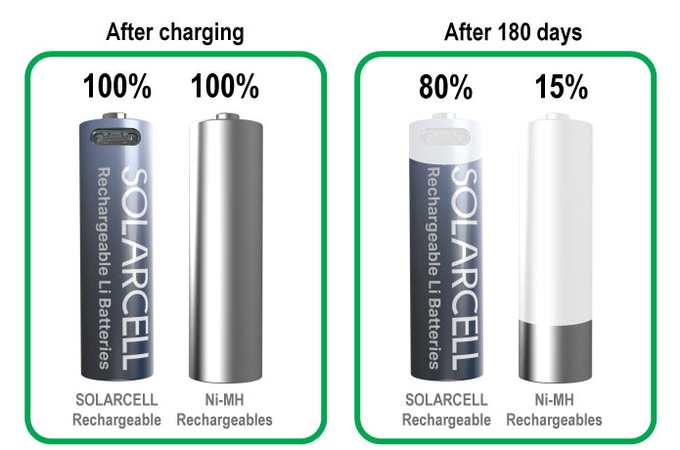 What's more? You can be sure that you are not going to be polluting your environment because Solarcell is environmentally friendly.
The project has been launched already on Kickstarter and already surpassed it's HK$ 20,000 (~$2,600 US) funding goal. Rewards start at USD36 for the early bird AAA combo with 4x AAA Solarcell rechargeable battery, USD40 for the early bird AA combo with 4x AA Solarcell rechargeable battery and USD60 for the early bird 18650 combo with 2x 18650 Solarcell rechargeable battery. All options include a USB A to 2 USB Type-C cable.
You may want to check the Kickstarter page where the project was launched for other important details on the project. Shipping is due to start in May this year.
Join 97,426 other subscribers

Archives