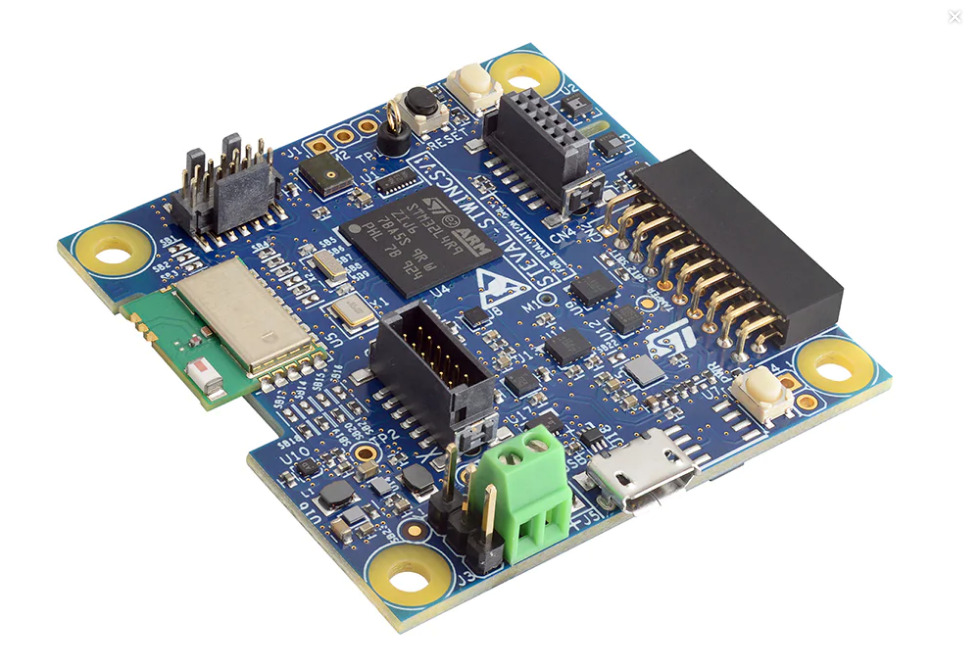 STWIN SensorTile Wireless Industrial Node development kit and reference design for industrial IoT applications
What is not to love about aggregating boards? They ease the development process, giving you a necessary time boost because you have a board with some of the components you may need right there, ready to be used in your new application! This is why you need to take a look at the STWIN SensorTile.
But what exactly is the SensorTile? As you may have guessed by the name, it is a development kit that features a wide range of industrial-grade sensors, developed to simplify the prototyping and testing of some advanced IoT applications, such as condition monitoring and predictive maintenance. In this development kit, you can find sensors ranging from a 3D accelerometer to a MEMS motion sensor, paired with a low power microcontroller from ST and even connectivity options, granted by an on-board BLE module and other options, such as Wi-Fi (through an external expansion board) or even RS485 serial communication. The kit also includes an STMod+ connector, to which you can connect other small, compatible and low-cost ST daughter cards and contains a 480mAh Li-Po battery, a ST-Link debugger and a plastic enclosure.
Looking closely to the specs of this sensing beast:
Ultra low power ARM Cortex-M4 MCU (120MHz with FPU, 2048kbytes of Flash memory)
MicroSD card slot
On-board Bluetooth Low Energy 4.2 (BLE) module and Wi-Fi available through expansion board + RS485 and USB OTG wired connectivity
Sensors: Ultra-wide bandwidth, low noise, 3-axis digital vibration sensor, 3D accelerometer + 3D gyroscope with machine learning core, ultra-low-power MEMS motion sensor + 3-axis magnetometer, digital absolute pressure sensor, relative humidity and pressure sensor, low-voltage digital local temperature sensor and industrial grade + wideband analog MEMS microphones
Modular architecture, with STMOD+ and 40-pin expansions + 12-pin connectivity expansion + 12-pin sensing expansion
480mAh Li-Po battery
STLINK-V3MINI debugger
Plastic enclosure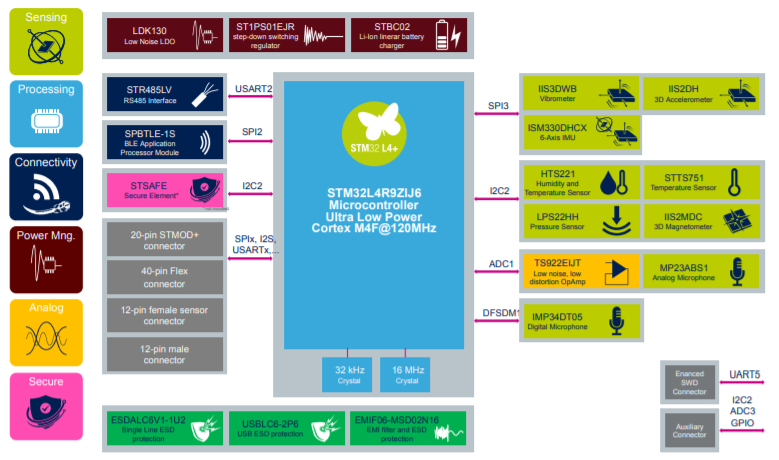 Regarding the software, you are greeted with an interesting set of packages and optimized libraries, as well as a cloud dashboard application, ready to help you speed up your next development cycle. And if you ever worked with ST microcontrollers before, you know how easily you can set up new projects on the STM32CubeMX software. Lastly, it also is an AWS qualified device, meaning it works with the AWS IoT core, FreeRTOS and other AWS tools.
Right now, you may be wondering: this thing isn't cheap. Well, by the value you are getting through the number of components by squared inch. This board has practically everything you need to get started on a wide range of projects, and it comes at a cost of only $98.
What do you think about this kit? Will it be a part of your next IoT development cycle? It certainly has the potential to do so!
STWIN SensorTile link: https://www.st.com/en/evaluation-tools/steval-stwinkt1.html?icmp=tt14874_gl_bn_apr2020#overview
Join 97,426 other subscribers

Archives