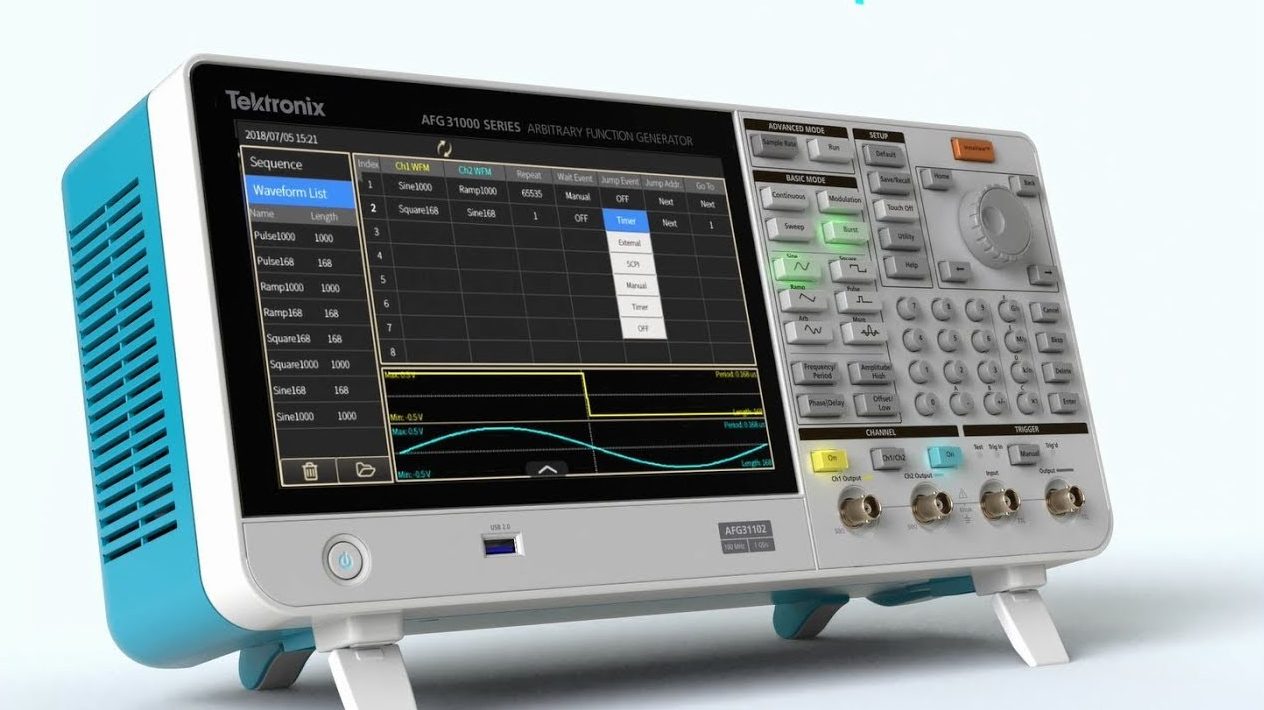 Tektronix AFG31000 – Arbitrary Function Generators
The AFG31000 Arbitrary Function Generator from Tektronix is designed for the demanding performance expectations throughout the product realisation process. The instrument incorporates a 9-inch capacitive touch display and a shallow menu tree that make locating and changing settings quicker, whilst also making browsing easier.
The AFG31000 series sports a 9-inch capacitive touchscreen that allows users to zoom in on areas of a waveform in unprecedented detail. All related settings and parameters can be viewed on a single screen via a shallow menu tree. An intuitive user interface allows users to tap or swipe to browse, locate, select and edit settings, cutting the time required to learn and operate the AFG.
The AFG31000 series debuts a new patented feature known as InstaView, designed to eliminate impedance mismatch problems. Conventional AFGs assume they are driving a 50Ω impedance, but few devices under test (DUTs) actually have that impedance, leading to inconsistencies between the waveform set on the AFG and the signal at the DUT.
InstaView addresses this problem by monitoring the waveform at the DUT on the AFG, allowing waveform verification without the need for additional cables or instruments. The waveform display responds to changes in frequency, amplitude, waveform shape and DUT impedance in real time. Alongside conventional AFG operating modes, the AFG31000 series provides an 'Advanced' mode that allows programmable waveform sequencing.
In Advanced mode, the AFGs up to 128 Mpts of waveform memory can be segmented into up to 256 entries. Users can drag and drop long waveforms, or multiple waveforms, within the sequencer and define how they are output. For engineers requiring long non-repeating waveforms, or multiple waveforms with complex timing, the AFG31000 series offers a significantly more affordable alternative to expensive arbitrary waveform generators (AWGs).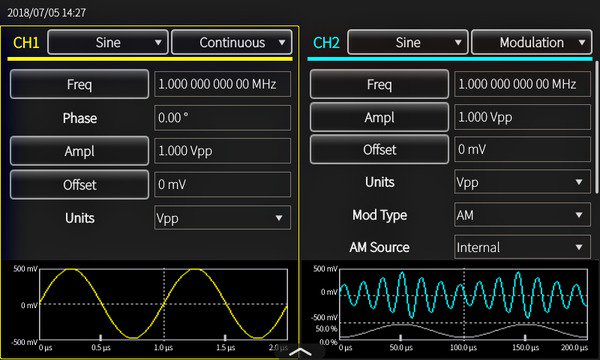 Another new feature built into the AFG31000 series is the ArbBuilder tool, which lets users create and edit arbitrary waveforms directly on the AFG, using templates and an equation editor, rather than having to create them on a PC and transfer them over.
Key performance specifications
1 or 2 channel models
Output amplitude range 1 mVP-P to 10 VP-P into 50 Ω loads
Basic (AFG) mode:

25 MHz, 50 MHz, 100 MHz, 150 MHz, or 250 MHz sine waveforms
250 MSa/s, 1 GSa/s or 2 GSa/s sample rates
14-bit vertical resolution
Built-in waveforms include sine, square, ramp, pulse, noise, and other frequently used waveforms
Sweep, Burst, and Modulation modes (AM, FM, PM, FSK, and PWM)

Advanced (Sequence) mode:

Continuous mode (optional Sequence, Triggered and Gated modes)
16 Mpts arbitrary waveform memory on each channel (128 Mpts optional)
Up to 256 steps in sequence mode with loop, jump and wait events
Variable sampling clock 1 µSa/s to 2 GSa/s
Key features
Patented InstaView™ technology enables engineers to see the actual waveform at the Device Under Test (DUT) in real time, without the need of an oscilloscope and probe, eliminating the uncertainty caused by mismatched impedance
Sequencing option adds the ability to program long, complex waveforms with up to 256 steps
The 9-inch capacitive touch screen works like a smart phone and has short-cuts to frequently used settings
Built-in ArbBuilder lets you create and edit arbitrary waveforms on the instrument, eliminating the need to connect to a PC
Outputs are protected from over voltage and current to minimize potential instrument damage
Compatible with TekBench™ software to help students set up, control, and analyze test results in the lab
Alternatively, waveforms captured by an oscilloscope can be saved as .csv files and loaded directly into the AFG using ArbBuilder.
The new Tektronix AFG31000 series Arbitrary Benerators start from €1,930. More information: www.tek.com
Subscribe to Blog via Email
Join 97,951 other subscribers
Archives