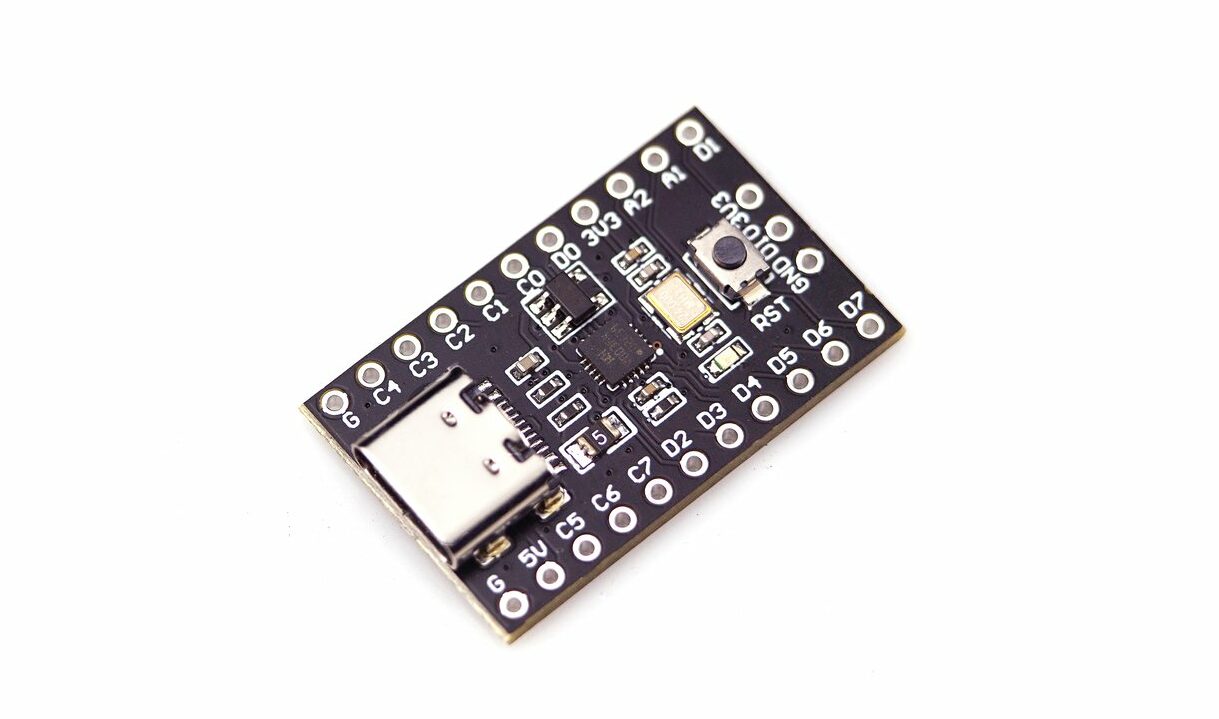 The nanoCH32V003 is a RISC-V dev board available for $1.50
nanoCH32V003 is a development board that was created by MuseLab and is based on CH32V003F4U6, which was manufactured by QinHeng. On the board are a reset button, an LED, and a crystal oscillator that operates at 24 MHz. The 1-wire serial debug interface (SDI) is supported, and all of the general-purpose input/output (GPIO) pins are led out. This makes it easy for developers to create and prototype.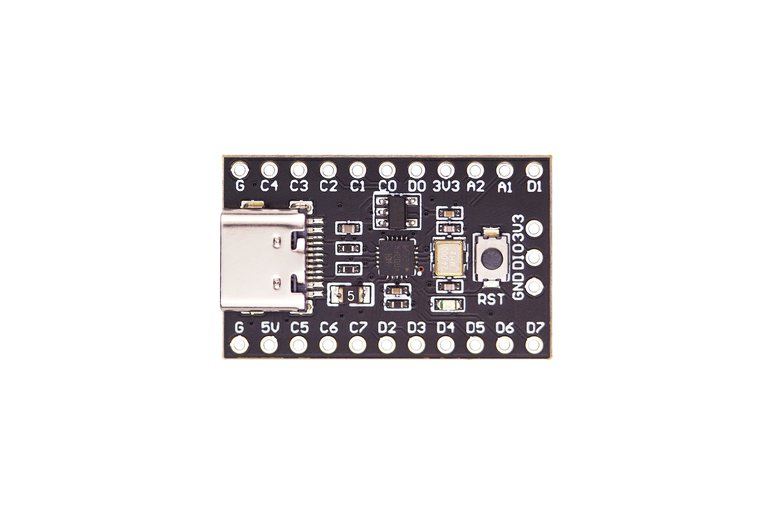 It is based on WCH's CH32V003; unlike the nanoCH32V305 and the nanoCH32V203 boards also developed by MuseLab, the new RISC-V development board has a maximum frequency of 48MHz, 16KB Flash, and 2KB SRAM. It can be programmed using MounRiver or other open-source toolchains.
32-bit general-purpose RISC-V MCU-CH32V003:

Based on the QingKe RISC-V2A core design of an industrial-grade general-purpose microcontroller, the CH32V003 series supports a main system frequency of 48MHz, has a wide voltage range, a 1-wire serial debug interface, low power consumption, an ultra-small package, etc. CH32V003 series built-in a group of DMA controllers, a group of 10-bit ADCs, a group of op-amp comparators, multiple timers, and standard communication interfaces like USART, I2C, SPI, etc.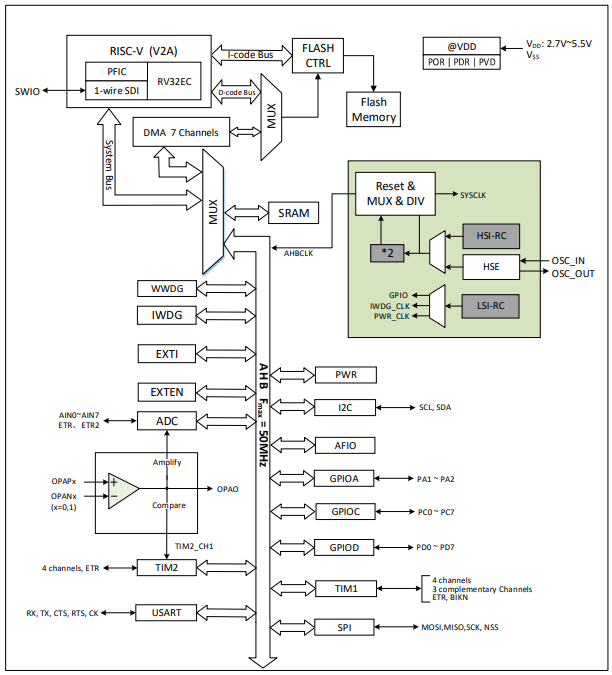 CH32V003 series features QingKe 32-bit RISC-V2A processor, supporting two levels of interrupt nesting with a maximum 48MHz system central frequency and 2KB SRAM, 16KB Flash. Its power supply voltage is 3.3/5V with power on/off reset, programmable voltage detector, 1 group of 1-channel general-purpose DMA controller, 1 group of op-amp comparator, 1 group of 10-bit ADC, 1×16-bit advanced-control timer, 1×16-bit general-purpose timer, 2 WDOG, 1×32-bit SysTick, 1 USART interface, 1 group of I2C interface, 1 group of SPI interface, 18 I/O ports, mapping an external interrupt, 64-bit chip unique ID and a 1-wire serial debug interface (SDI).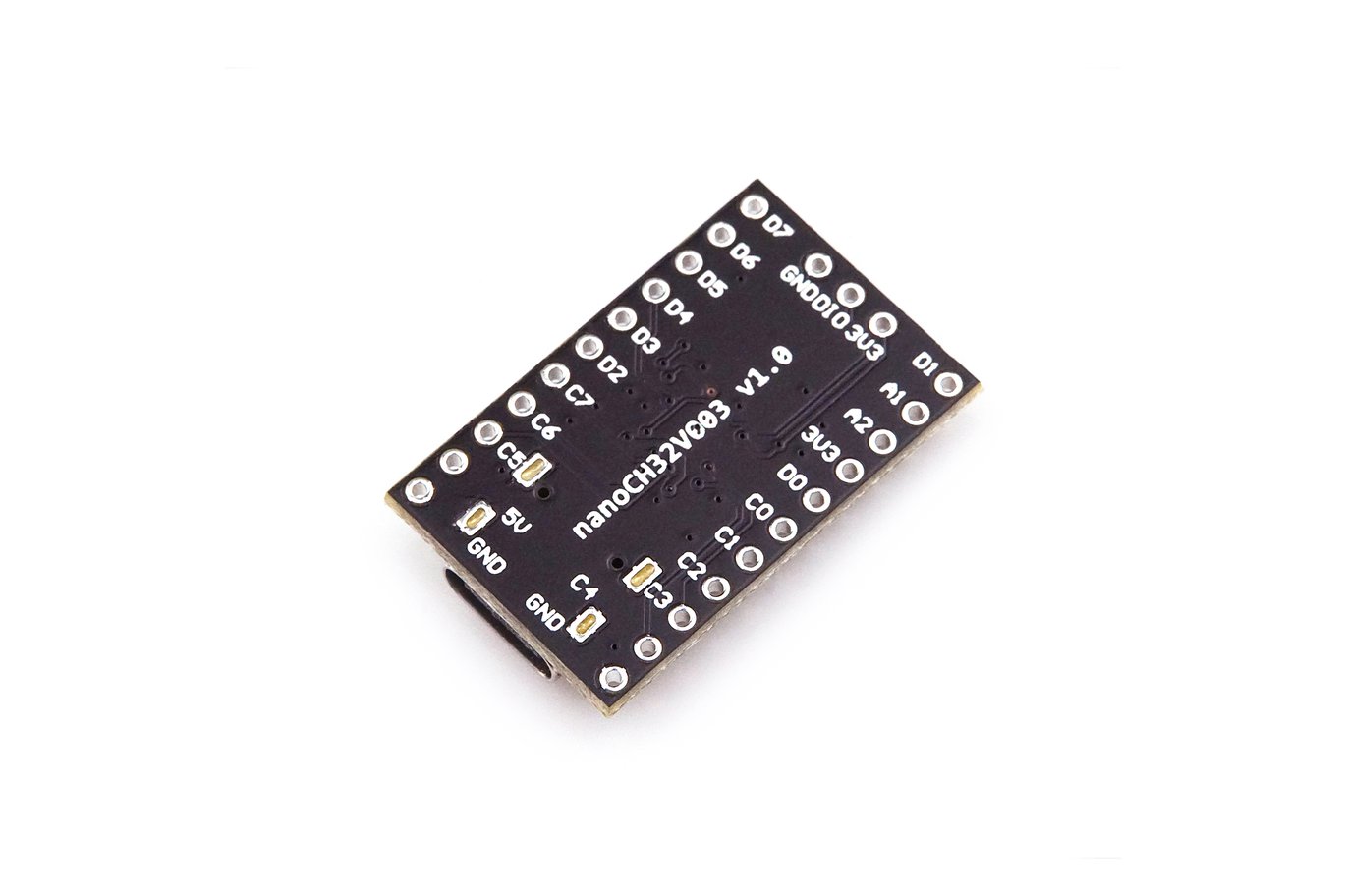 CH32V003 can only be programmed by WCHLink-E through the SDI interface (1-wire serial debug interface). If you are buying the board for the first time, the product page suggests that you buy it with WCHLink-E. Visit the GitHub link provided here for a more in-depth description. Additionally, it states that the MounRiver Studio IDE development environment, which supports Windows/Linux/Mac, is officially provided by WCH.
On AliExpress and Tindie, the nanoCH32V003 Development Board is offered for $1.50.
It is best to purchase the available nanoCH32V003 Dev board + WCH LinkE and USB Type-C cable bundle, as advised on the product page.
Join 97,426 other subscribers

Archives