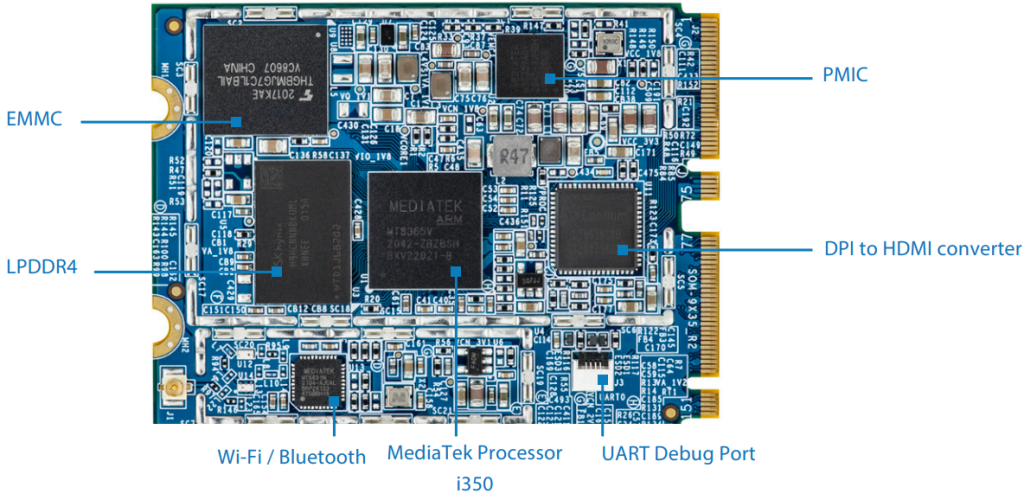 The VIA SOM-9X35 is a low-power quad-core MediaTek i350 based processor board, ideal for IoT solutions and edge AI use cases, like facial recognition, object identification, motion tracking, OCR, and bio-metric measurement. To further accelerate product development time, a VIA SOM-9X35 starter kit has been assembled by the manufacturers themselves.
The kit constitutes of the SOM-9X35 module with max 4GB RAM MediaTek i350 SoC, 16GB eMMC flash, and WiFI 5 + Bluetooth 5.0 wireless module, with VIA VAB-935 3.5-inch carrier board, a 7-inch 1024×600 touch panel display, a 13MP camera module, two speakers and microphone, and accompanying accessories.
Hardware Specifications for VIA SOM09X35 Starter Kit

VIA SOM-9X35 module has a 2.0GHz MediaTek i350 Cortex-A53 quad-core SOC that features an integrated AI processor for deep learning, neural network acceleration, and computer vision applications. Other hardware specifications include system memory 2GB LPDDR4 SDRAM (1GB/4GB optional), 16GB eMMC flash storage, dual-band (2.4GHz & 5GHz ) single-stream Wi-Fi 5 802.11 and Bluetooth 5.0 connectivity, on-module USB to UART connector for debugging, 3.4 to 4.2V DC-in supply voltage and temperature range of –40°C ~ 85°C.
The dimensions of the VIA SOM-9X35 module are 60 x 45 x 6.8mm with a two-side heat spreader.
VAB-935 Carrier Board
Apart from the SoC, the starter kit also has a VAB-935 carrier board, which houses application-specific interfaces such as USB, Ethernet, UART, HDMI, etc. The carrier board connects with the SoM via standard connectors.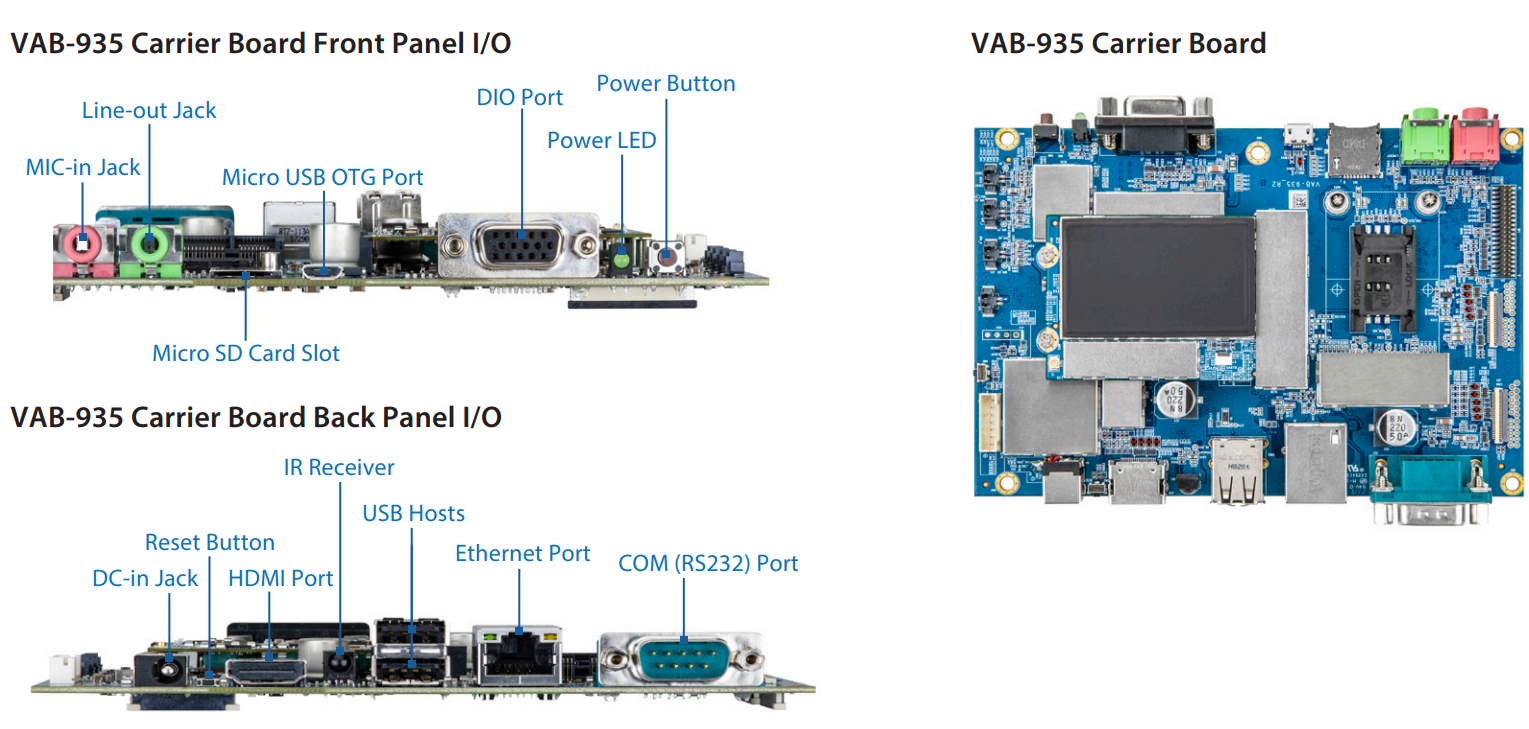 VAB-935 board has MicroSD card socket storage, front HDMI 1.4 port and back 4-lane MIPI DSI interface video output, built-in microphone audio, 3.5mm microphone jack, 3.5mm Line Out jack and speaker headers, MIPI CSI connector as a camera interface, 10/100M Ethernet RJ45 port and Mini PCIe socket + SIM card socket for 4G with GNSS for networking, 2x USB host ports, 1x Micro USB 2.0 OTG port and RS-232 DB9 connector. For connection to the SOM, the VAB-935 carrier board has 40-pin GPIO header with 16x GPIO, I2C, SPI, 2x PWN, ADC and DIO port. It also provides basic utility and board status features like power LED, power, reset and download button, RTC battery and IR receiver.
The benefit of the starter kit is that when VIA SOM-9X35 is combined with the VAB-935 carrier board, it provides a wealth of display and camera integration options, including HDMI, MIPI DSI, and MIPI CSI support and flexible network connectivity.
Other Tools in Starter Kit
Some additional tools provided with the VIA SOM-9X35 Starter Kit are a 7-inch 1024×600 MIPI LCD touch panel display, a 13MP camera module and two speakers and one microphone for audio enhancement. As far as programming is concerned, the starter kit supports Android 10 or Linux via a Yocto Project 3.1-based SDK.
To know more about the VIA SOM-9X35 starter kit, please visit product page.
Join 97,426 other subscribers

Archives