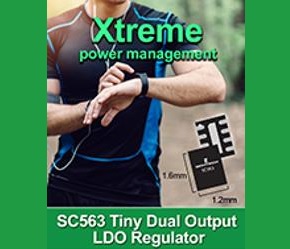 by Susan Nordyk @ edn.com:
Housed in a tiny 1.6×1.2-mm, 0.6-mm thin package suitable for wearable electronics and other space-constrained battery-operated applications, the SC563 low-dropout regulator from Semtech provides two regulated outputs at up to 300 mA each, while its fixed output voltages eliminate the need for external resistor divider networks. The device's ultra-small footprint and low dropout voltage of 180 mV enable designers to implement power supplies where small size and high efficiency are paramount.
The SC563 accepts an input supply voltage of 2.3 V to 5.5 V. It has separate input, output, and enable pins for each LDO channel. Using the lowest possible input voltage for each output voltage reduces the power loss for each rail. Quiescent current of just 50 µA for each channel helps extend battery life. The regulator also offers short-circuit, undervoltage lockout, and thermal protection to prevent device failures.
LDO regulator squeezes into wearables – [Link]