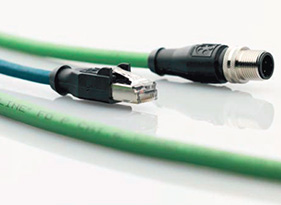 Industrial Ethernet enables interconnection among standard office network and industrial environment thus becoming a standard for industrial production.
In presence, Ethernet is most widely spread communication technology in the world. It enables a fast data exchange between all devices connected in the local network.
Thanks to its simplicity, Ethernet standards became the most frequently used network standards. A reason of this popularity is, that they offer a simple technology connected with the biggest network – internet. Advantages of Ethernet and all related concepts are obvious:
simple possibility of expansion
fast initialization thanks to its connection technology
dynamic adjustment of bandwidth (up to 10 Gbit/s)
identical network topology for various applications (office and industrial)
Classic system of buses 
Industry and production segment is characteristic by using of buses like: AS-Interface, Profibus, Device-NET and CANopen. They allow to connect a line of sensors, actuators, measuring probes and motors, which can be controlled by a controlling unit. Communication runs down to a level of sensors / actuators. Transfer speeds are up to 12 Mbit / with max. 255 devices depending on a given bus system. Linear displacement with al devices connected in series is dominant.
New possibilities thanks to industrial Ethernet
Industrial Ethernet representsattractive alternative of a classic bus syste. Industrial Ethernet Advantages represented by (producer-independent) are still more used in everyday praxis. Industrial Ethernet brings advantages of "usual" Ethernet into often harsh environment (reliable connectivity, availability and easy expansion). Cables of company Lapp Kabel belong to a top in this segment. We bring you a basic overview of the most frequently used components.

Do you also use industrial Ethernet? – [Link]