Tag Archives: FPGA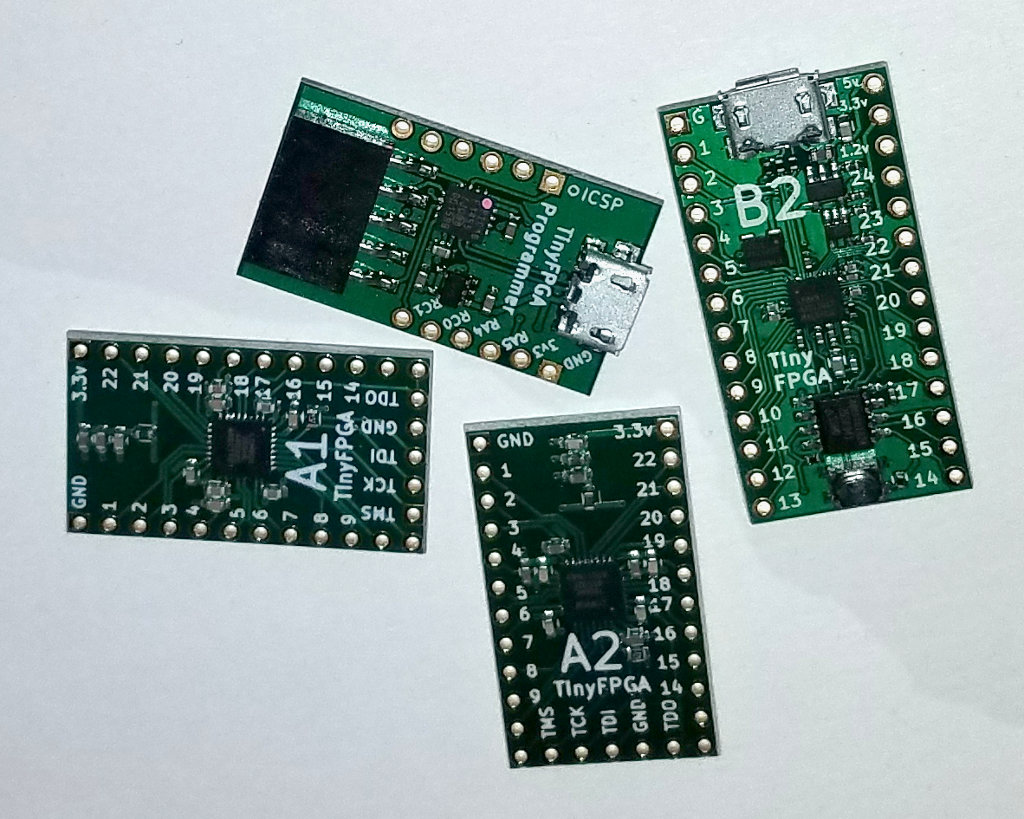 The TinyFPGA boards from Luke Valenty (TinyFPGA) are a series of low-cost, open-source FPGA development boards. These boards offer an inexpensive way to get an introduction to the world of FPGAs.
If you have ever considered working with an FPGA before, you will know how difficult they could be especially for those new to the game. TinyFPGA boards are an excellent way to kickstart development with them. They are breadboard friendly, and one can put up a simple circuit around them before adding things like sensors or actuators.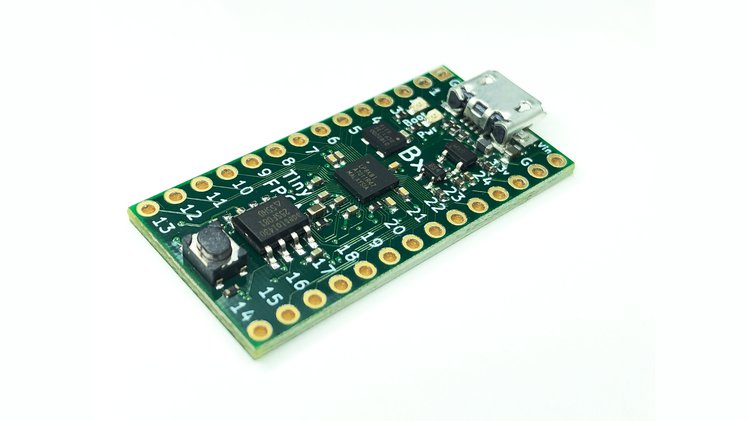 The TinyFPGA boards are currently made up of about three series – The TinyFPGA A1 that offers an X02-256 containing 256 logic cells; the A2 sports with an X02-1200 of about 1200 logic cells, and lastly the B2 boats an ICE40LP8K with 7680 logic cells. They are low cost in nature, costing about $12,00, $18,00 and $38.00 respectively. The latest upcoming release to the TinyFPGA board family is the TinyFPGA BX.
Like the other Tiny FPGA Boards, the Tiny FPGA BX boards is quite flexible and powerful. The BX boards are intended for the maker's community. The BX module allows one to design and implement a digital logic circuit in a tiny form-factor, and it's perfect for building with breadboards or custom PCBs.
The TinyFPGA BX shares close similarities with the TinyFPGA B2 and are both based on the Lattice ICE40LP8K FPGA Chip with about 7680 logic cells. The BX board will offer an incredible power to project development and allows to achieve things not usually expected on traditional microcontroller boards at a fraction of the cost.
According to Luke, the TinyFPGA BX prototype boards are currently being manufactured. The PCBs have been fabricated and are now waiting for assembly.
The BX measure at 0.7 by 1.4 inches and comes with a built-in USB interface, and preloaded with a USB Bootloader. It is expected to have 8Mbit of SPI Flash with only 5Mbit available for user applications.
The following are some of the available board specifications:
ICE40LP8K FPGA

7,680 4-input look-up-tables
128 KBit block RAM
Phase Locked Loop
41 IO pins

Small, breadboard friendly form-factor
Built-in USB interface with open source USB bootloader
8MBit of SPI Flash with 5MBit available for user applications
Integrated 3.3v and 1.2v regulators

3.3v LDO regulator can supply up to 300ma of current to support external peripherals

Ultra-Low-Power 16MHz MEMs Oscillator

1.3ma active power
50ppm stability
These TinyFPGA boards offer an inexpensive way for hackers and makers to get an introduction to the world of FPGAs. And, with their small size, these boards can provide an easy way to add some programmable logic to a small project.
FPGA gives us the power to add real deal hardware functionality to our project, unlike with Microcontroller, where those features can only be added to a bit of software banging. The TinyFPGA Bx boards are still not fully launched yet, so now price point is currently available but is expected to share similar costing with the TinyFPGA B2 at $38.00.
More information about the project launch can be found on the crowdsupply page and also on the hackaday board page announcement. If you are interested in getting introduced to the world of FPGA, this guide from Luke is an excellent way to kickstart your adventure.
The Zynq 7000 family based on the All Programmable SoC architecture are processor-center platforms that offer software, hardware and I/O programmability in a single chip.
iWave Systems which has released several Altera based FPGA system on modules has just announced its SODIMM (Small Outline Dual In-Line Memory Module) form-factor Xilinx Zynq based module known as the iWave's iW-RainboW-G28M. The iW-RainboW-G28M features the Xilinx Zynq 7000 series SOC with Dual Cortex A9 CPU @ 866MHz, 85K FPGA logic cells, and up to 125 FPGA IOs.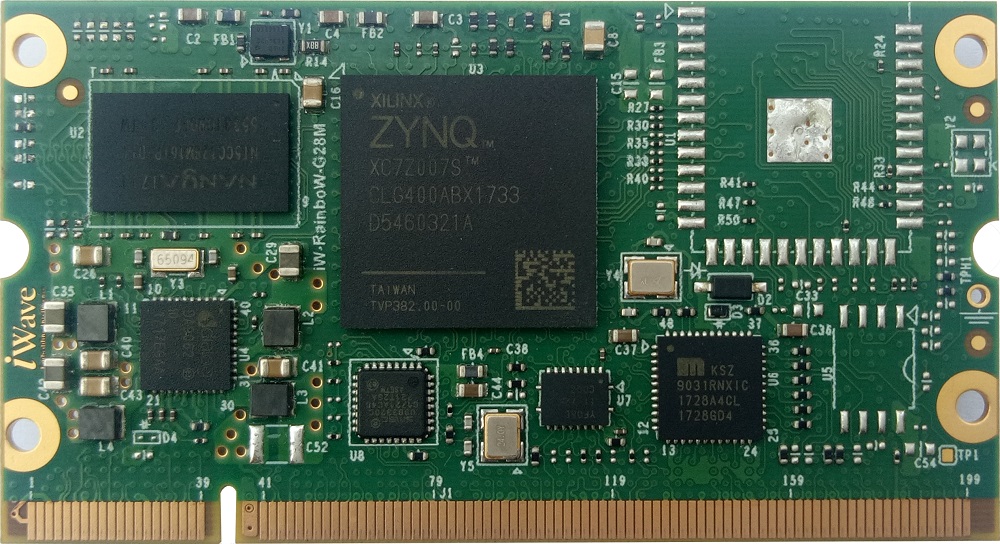 The iWave iW-RainboW-G28M is compatible with the Zynq Z-7007S, Z-7014S, Z-7010, and Z-7020 SoC. Equipped with an onboard 512 Mbytes of NAND Flash, 512Mbytes of DDR3 SDRAM, Gigabit Ethernet, USB 2.0 ports, an optional Micro SD slot, and an optional WIFI/Bluetooth module with a form-factor of 67.6 mm x 37 mm plug-in SODIMM style. It supports -40 to 85oC temperatures and powered through the SOM edge connector with a 3.3 DC Volt.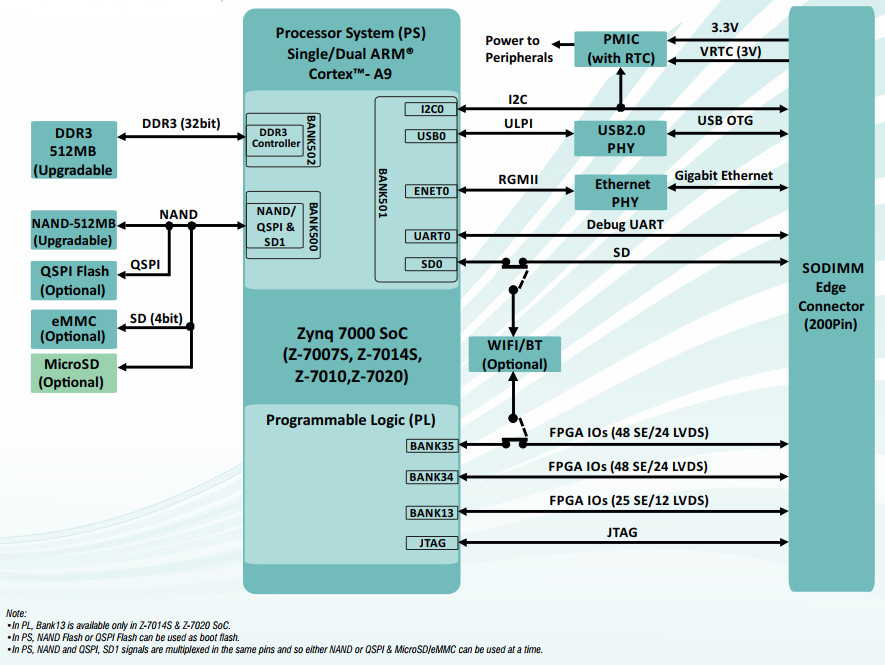 The following are the SOM specifications:
SoC –

Xilinx Zyng 7000 SoC
Single/Dual Cortex A9 @ up to 866MHz
Up to 85K logic cells

SoC Compatibility –

Compatible with Z-7007S, Z-7014S, Z-7010, and Z-7020

Memory –

512 MB DDR3 and expandable to 1GB
512 MB NAND Flash
An Optional QSPI Flash
Optional Micro SD Slot/eMMC (Optional)

Zynq PS & PL Interfaces –

Gigabit Ethernet x1 Port
USB 2.0 OTG x 1 Port
SD (4bit) x 1 Port
Debug UART
JTAG Port
60 LVDS/120 SE FPGA IOs

SOM Features –

PMIC with RTC
Gigabit Ethernet Transceiver
USB 2.0 Transceiver
Optional Wi-Fi and Bluetooth Module

OS Support –
Power Supply –
Temperature Support –
Dimension –
The iW-RainboW-G28M has applications in the areas of Industrial Automation, Machine Vision, Control & Measurement, Scientific Instruments and Medical Instruments. For pricing and availability, please contact iWave directly iW-RainboW-G28M SODIMM SOM.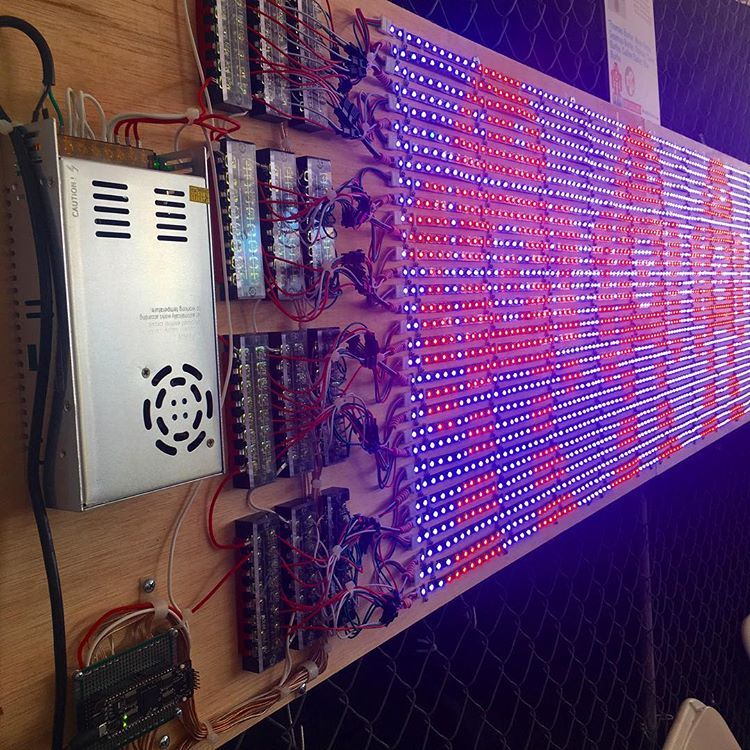 FPGAs are field programmable gate arrays which basically means they are reconfigurable hardware chips. FPGAs have found applications in different industries and engineering fields from the defence, telecommunications to automotive and several others but little application in the maker's world. Mostly, as a result of being largely difficult and high cost as compared to the likes of Arduino, but the introduction of the ezPixel and other similar FPGA boards is making this a possibility.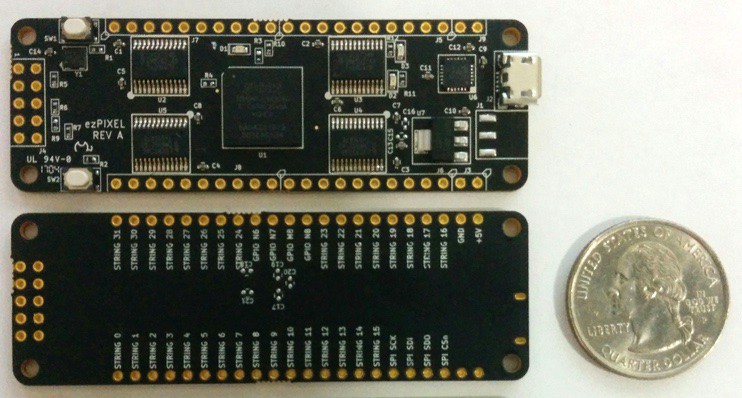 The ezPixel board, by Thomas Burke of MakerLogic, is a small size FPGA based circuit board that can be used to drive up to 32 strings of WS2812Bs, for up to 9,216 LEDs in total, a very first of its kind. These WS2812B programmable color LEDs have been a phenomenon in the maker's world, being used in various Led Lights and creating of various Light Artworks. These popular LEDs comes in strings that can be cut to any length, and only require a single wire serial data connection to control all the lights in the string individually, and multiple strings can be stacked together to create large two-dimensional displays.

Most WS2812B controller boards can be used to control up to hundreds of these LEDs, but not thousands of them. The ezPixel board is a perfect fit for applications that use thousands of these LEDs. The ezPixel board is powered by the Intel MAX FPGA, a single chip small form factor programmable logic device with full-featured FPGA capabilities, and it's designed to interface with other Micro-controllers or any SPI/UART host device. The ezPixel board serves as bridge between microcontrollers and long WS2812B strings. A user sets the length of each string using simple commands that are sent via the SPI or USB/UART communication link.
The following below are the features of the ezPixel:
WS2812B Smart Pixel Controller.
Up to 32 Strings can be controlled independently.
Up to 9216 LEDs can be controlled.
Communication:

USB/UART Interface.
SPI Interface.

Read/Write Pixel Memory.
FPGA – Intel MAX10M08 FPGA.
Dimension:
SPI Flash.
The ezPixel can run as a standalone display controller as a result of its serial flash memory chip, and this board is slated for a crowdfunding campaign in early 2018.
MicroZed is a low-cost development board from Avnet, the makers of the $475 ZedBoard and the entry level MiniZed development boards. Its unique design allows it to be used as both a stand-alone evaluation board for basic SoC experimentation or combined with a carrier card as an embeddable system-on-module (SOM).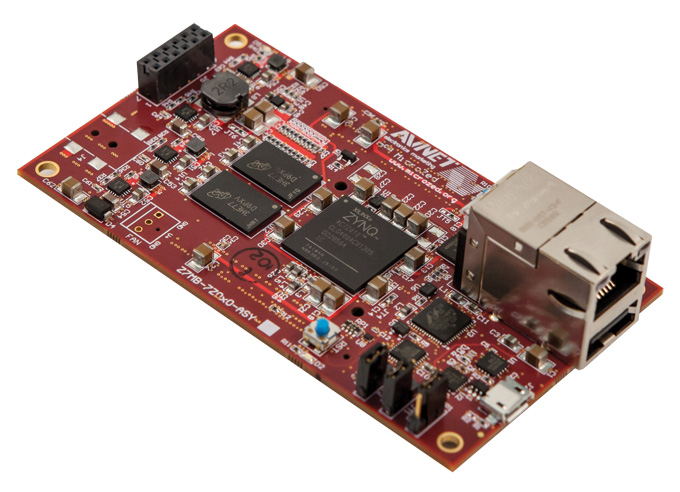 The MicroZed processing system is based on the Xilinx Zynq®-7000 All Programmable SoC. The Zynq®-7000 All Programmable SoC (AP SoC) family integrates the software programmability of an ARM®-based processor with the hardware programmability of an FPGA, enabling key analytics and hardware acceleration while integrating CPU, DSP, ASSP, and mixed-signal functionality on a single device. The processing system offers the ability to run standard operating systems like Linux, real-time operating systems, or a combination of the two. The programmable logic provides a unique capability to create custom interfaces or custom accelerators. Together, they provide a versatile, performance optimized solution.
ZedBoard™ is a low-cost development board for the Xilinx Zynq®-7000 All Programmable SoC. This board contains everything necessary to create a Linux, Android, Windows® or other OS/RTOS-based design all at a cost of $495. The MicroZed sells for $199 with close performance and functionality with the ZedBoard. MicroZed contains two I/O headers that provide connection to two I/O banks on the programmable logic (PL) side of the Zynq – 7000 AP SoC device. In stand-alone mode, these 100 PL I/O are inactive. When plugged into a carrier card, the I/O are accessible in a manner defined by the carrier card design. The MicroZed board targets application in the areas of general FPGA evaluation and prototyping, embedded SOM applications, embedded vision, test & measurement, motor control, software-defined radio, industrial network and industrial IoT.
The Zedboard is based on Zynq-7020 with 85K logic cells while the MicroZed is based on the lower Zynq-7010 with a 28K logic cell. The MicroZed has 1GB RAM instead of 512 MB on the ZedBoard and has lesser interfaces as compared to the ZedBoard.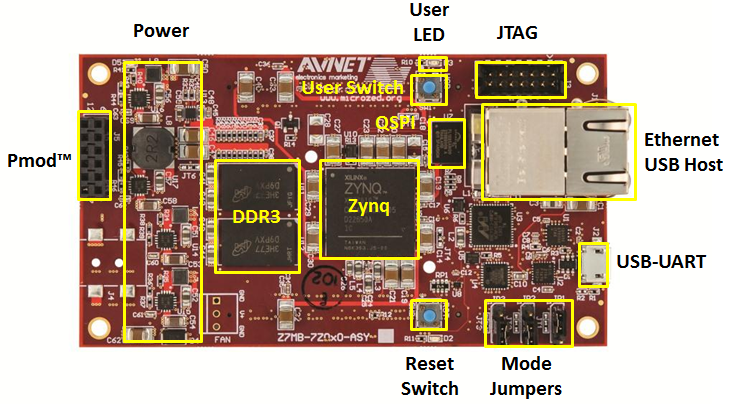 The following below are the features of the MicroZed SoM:
SoC
Memory
1 GB of DDR3 SDRAM
128 Mb of QSPI Flash
Micro SD card interface
Communications
10/100/1000 Ethernet
USB 2.0
USB-UART
User I/0 (via dual board-to-board connectors)
7Z010 Version

100 User I/0 (50 per connector)
Configurable as up to 48 LVDS pairs or 100 single-ended I/O
Misc
2×6 Digilent Pmod compatible interface providing 8 PS MIO connections for user I/0
Xilinx PC4 JTAG configuration port
PS JTAG pins accessible via Pmod
33Mhz oscillator
User LED and push switch
The MicroZed Evaluation can be purchased from the Avnet store here and comes with the following: MicroZed board, Micro USB cable, 4GB μSD card, Getting Started Card and a Xilinx Vivado WebPACK support and the Avnet's MicroZed SOM comes bundled with the Wind River's Pulsar™ Linux.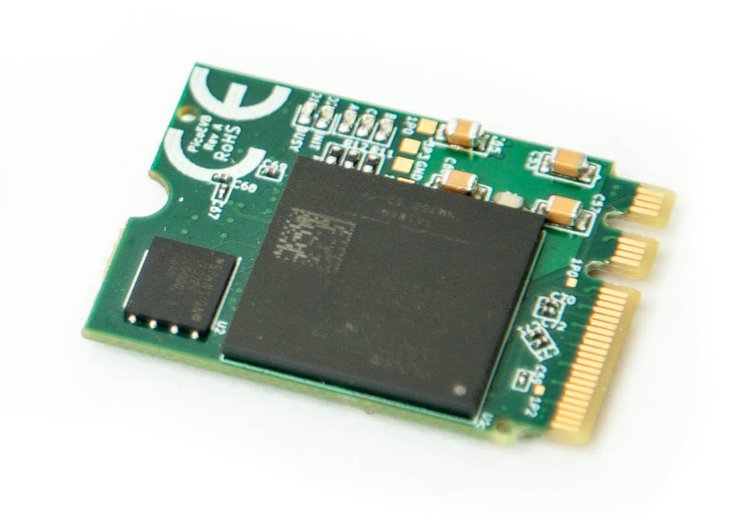 The Xilinx Artix dev kits that fit in your laptop. A convenient, affordable way to explore Xilinx PCIe IP. The project is already funded on crowdsupply.com

PicoEVB is an affordable, open source, development board which can be used to evaluate and prototype PCI Express designs using a Xilinx Artix 7 FPGA on Windows or Linux hosts. The boards are designed around the Artix 7 (XC7A50T).
NanoEVB & PicoEVB – Xilinx Artix Developemtn kits – [Link]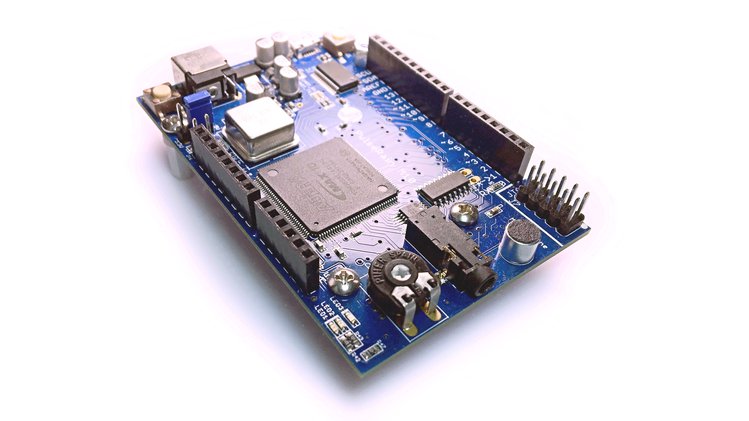 Over the years FPGAs have become readily available to the maker community. They are now more accessible than ever as many development boards has seen the light. It's now possible to embed a soft-core MCU into an FPGA  rather than using a hard-core ASIC MCU and here is where PulseRain comes into play with an open source design down to the silicon level.
The PulseRain M10 board embeds an open source soft MCU core (96 MHz) in an Intel/Altera MAX10 FPGA, while is Arduino compatible. In addition, the soft-core MCU features onboard resources like voice CODEC, microSD socket, SRAM, on-chip ADC, and dual IO voltages. The board will soon be available for funding on crowdsupply.com.
Features & Specifications
FPGA: Intel/Altera 10M08SAE144C8G

Logic Elements: 8 K
Block Memory: 378 Kb
User Flash Memory: 32 KB
18 x 18 Multipliers: 24
Internal Configuration: 2 (This FPGA does not need external memory for configuration)
PLLs: 1
On-chip A/D Converter: 12 bit
Temperature Sensor: On-chip TSD (Temperature Sensor Diode)
Package: 144-pin EQFP

Microcontroller: Soft-core FP51-1T, with support package for Arduino IDE

Clock Rate: 96 MHz
Processor Core: Enhanced 1T 8051, with RISC implementation
Throughput: Single clock cycle execution for most instructions
Instruction Memory: 32 KB
Data Memory: 8 KB
On-chip Debugger: Yes (supports code download throughput of 921600 bps)
Open Source Compiler: SDCC (Small Device C Compiler)

Onboard Peripherals and Components:

Voice CODEC: Silicon Lab Si3000, with onboard microphone and speaker jack
DTMF Decoder: Available through software library
UART/PWM/I2C: The default configuration has 2 UARTs, 6 PWMs and 1 I2C
SRAM: 1 Mbit serial SRAM (Microchip 23LC1024)
microSD Socket: Molex 472192001
OpAmp and Potentiometer for Analog Input: 6 analog input channel, 1 potentiometer on A0
USB: USB/UART bridge (FT232R), with 921600 bps throughput
JTAG Header: Yes
Push Button: 2
Oscillator: 12 MHz crystal oscillator, with DIP package
LEDs: 6 (2 for USB/UART indication, 1 for IO power, 3 for general purpose)

Form Factor and Input/Outputs:

Arduino UNO Rev 3 Compatible Dimension: 2.1 inch x 3.2 inch
Maximum Height: 0.5 inch
IO Pin Map: Compatible with Arduino UNO Rev 3
IO Voltage: Dual voltage support (3.3 V / 5 V)

Power: 5 V USB or 7-12 VDC jack
Host Interface: microUSB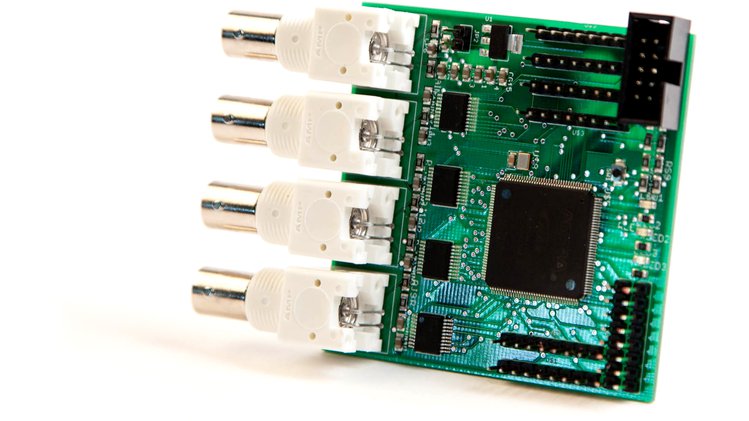 Haasoscope is the first open-source, open-hardware, flexible, small, cheap, oscilloscope and data-acquisition board. You can use the stock firmware for basic oscilloscope functionality, or modify the firmware to customize what the Haasoscope does.
Preliminary features and specifications:
4 x 100 MHz, 8-bit ADC channels with BNC cable inputs
Altera Max10 FPGA with 8k logic elements and 387kb of memory
Reprogram firmware over JTAG, or on the fly, with free Quartus II software
Readout over serial-to-USB at 1.5 Mb/s, about 20 Hz for 4 channels of 512 samples each
USB powered, (or other 5 V input, switchable), ~1.2 Watt
8 x spare digital I/O
9 x additional analog I/O with 1 MHz (1MSPS combined) at 12 bits
7 x programmable LEDs, and a reset button
Haasoscope – Cheap, flexible, data acquisition for all! – [Link]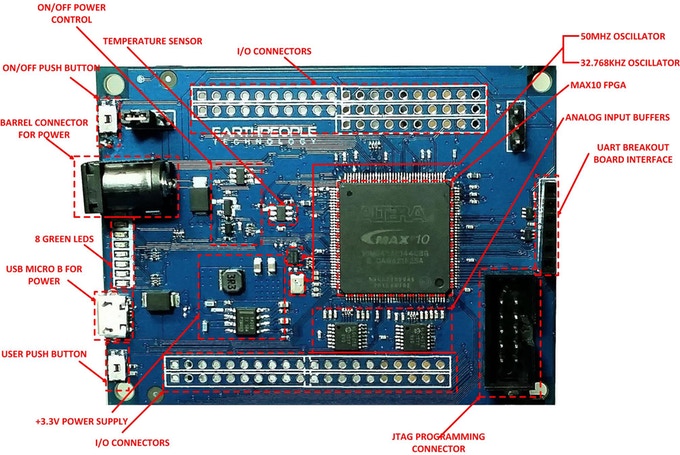 The MaxProLogic is the perfect FPGA project board for the student and hobbyist.
The MaxProLogic is an FPGA development board that is designed to be user friendly and a great introduction into digital design for anyone. The core of the MaxProLogic is the Altera MAX10 FPGA. This powerful chip has 4,000 Logic Elements and 200Kbits of Memory. The MAX10 is easily scalable from the entry level college student to the most advanced projects like an audio sound meter with FFT. Upon the many great features of the MaxProLogic is the MAX10 chip has a built in Flash for configuration and incorporates 8 channels of Analog to Digital Conversion. These two features alone create a far superior FPGA chip than any competitor on the market. It allows the user to create more diverse projects.
MaxProLogic: Ultra Low Cost FPGA Development Board – [Link]
Today's market requirements change faster than the typical development time for a new device or the ability of designers of SoCs to know. To solve this problem, FPGAs/MCUs are used so developers can change the configuration/firmware later.
As known, MCU IP is static and you can't change the silicon design (RTL design) after fabrication. FPGA chips are used to overcome this limitation but the FPGA high cost is a concern compared to the price of the MCUs. From this point a new technology called Embedded FPGA (eFPGA) was invented. This technology can give the flexibility of allowing SoCs to be customized post-production with no high expenses.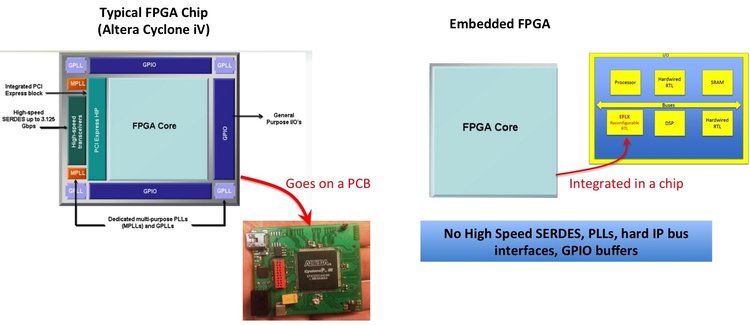 The idea behind eFPGA is to embed the FPGA core to SoCs without the other components of typical FPGA chips such as: surrounding ring of GPIO,SERDES, and PHYs. This core can be customized in a post-production stage with no need to change the RTL design and manufacturing the chips again.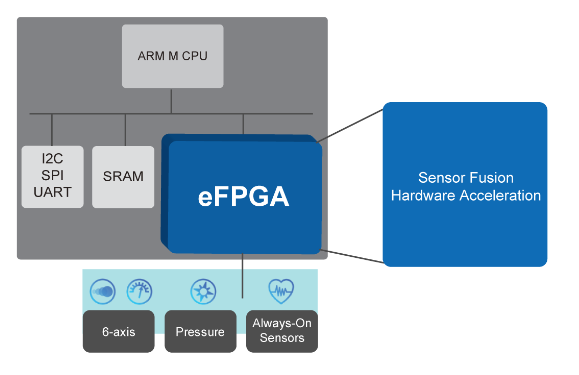 One of eFPGA use cases is an always-on sensor hub for sensor data acquisition. In this use case, the eFPGA can be used to run sensor hub at a very low power level, while the main CPU is hibernated until relevant data is available. eFPGA has other useful uses such as ,and not limited to: software reconfigurable I/O pin multiplexing and Customize GPIO and Serial Interfaces in software.
Moreover, eFPGA is expected to have a brilliant future and to be adapted widely according to the CEO of Flex Logix Technologies in an article published on Circuit Cellar magazine. That's because of increasing mask cost: approximately $1 million for 40 nm, $2 million for 28 nm, and $4 million for 16 nm, and the need for constantly changing in standards and protocols besides application of AI and machine learning algorithms.
For more information about eFPGA, please refer to this article: Make SoCs flexible with embedded FPGA.