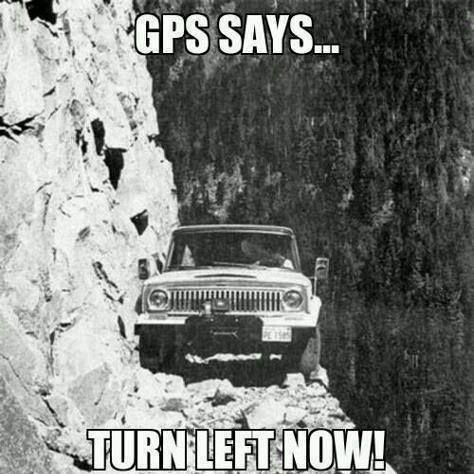 2018 Will Mark A Milestone in GNSS Technology with 30-centimeter Accuracy
You're in a crowded street with many high buildings around you and you find your car position on Google maps is wrong. That's usual, right? This is caused from (fake/distorted) GPS signals reflected from the high buildings around you which make your GPS receiver do some wrong calculations. So be careful don't always listen to what GPS assistant says!
Even with no wrong calculations, the current GPS accuracy is about 5 meters, but this is going to change in next year 2018; where, a new set of satellites with enhanced GPS signals will be available for public use.
The enhanced GPS signal can make the GPS receivers do position calculations with 30-centimeter accuracy instead of today's 5 meters. Moreover, it solves the problem of reflections inside crowded area with buildings with narrow window to the sky.
The global navigation satellite systems: Europe's Galileo, Russia's Glonass, China's Beidou and US's GPS transmits information about its position, the current time and more. The receiver, then, uses these signals to calculate the distance from each satellite based on how long the messages took to arrive. However, knowing the distance from 3 satellites is enough to calculate the position using geometric process called trilateration. This message broadcasted by a satellite called L1 signal. where, L band is a range of frequencies from 1 to 2 gigahertz.
To know more about navigation message data structure on L1, read this guide (page 19).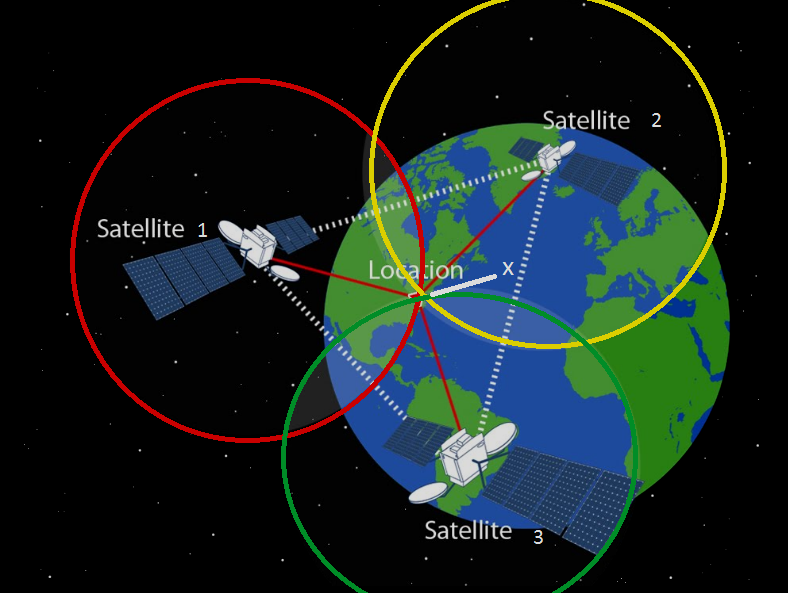 The next generation set of satellite will broadcast, in addition to L1 signal, a higher frequency signal called L5; where, GPS signal carriers are in the L band and are centered at 1176.45 MHz for L5 and 1575.42 MHz for L1. The following image is going to explain why the new signal can solve the old problem of reflections.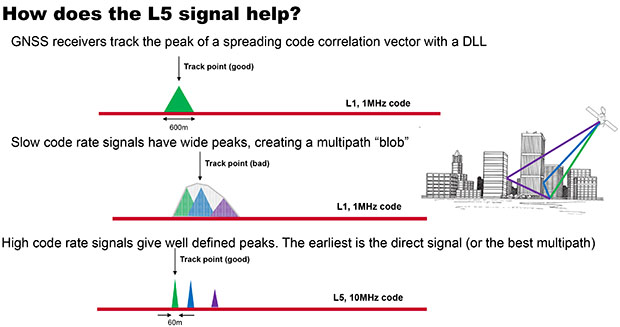 Silicon chips market and specifically Broadcom provides BCM47755, the first chip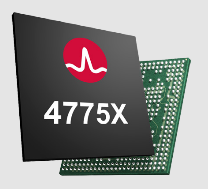 that support the new generation GPS. However, BCM47755 seems interesting not only as a GPS receiver only but also as a sensors hub, where the new chip has 2 cores inside, ARM-based 32-bit Cortex-M4F (CM4), an ARM-based Cortex-M0 (CM0), to implement the ARM big.LITTLE architecture which considered as a new battery-saving method consist of slow processor cores (LITTLE) with relatively more powerful and power-hungry ones (big).
BCM47755 supports GPS,GLONASS, BeiDou (BDS), Galileo(GAL), and SBAS satellite systems and has an operating frequency 150 MHz for Cortex-M4F and 75 MHz for Cortex-M0 CPU. Regarding the peripherals, the new chip provides a set of features like any other off-the-shelf MCU:
Up to 50 programmable GPIOs.
2 channel ADC with 12 bit resolution.
Flexible interfaces including:  3 SPI ports, four UART ports and four I2C ports.
4 different timers.
Finally, the new chip is available in 77-pin WLBGA package.
To read more about the new GPS generation, check IEEE's report.