Synaptics Inc. has unveiled its FlexSense family of sensor processors that supports input from up to four sensors in a tiny form factor, claiming up to an 80% smaller size than existing solutions. The ultra-low-power 4-in-1 sensor fusion processor integrates a mix of capacitive, inductive, Hall-effect, and ambient sensing in a single processor with proprietary algorithms.
The FlexSense family brings reliable, low-latency, and context-aware force, proximity, and touch sensing to internet of things (IoT) devices, said Synaptics. These include a range of devices such as true wireless stereo (TWS) earbuds, gaming controllers, augmented reality (AR) and virtual reality (VR) headsets, fitness bands, remote controls, and smart thermostats,
By intelligently fusing multiple sensors in a single processor with proprietary algorithms it enables more intuitive and responsive interactions, according to Mahesh Srinivasan, vice president, smart sensing and display, at Synaptics.
Thanks to the integration of multiple sensors, Synaptics cites several key benefits including reduced power, size, weight and cost. The sensor processor measures 2.62 mm2 and can replace up to four ICs with a combined size of 16.04 mm2 for an 80% decrease in footprint. It consumes 240 µW (typically) in-ear (for a TWS application), and 10 µW in a dock or "sleep" mode.
Other integration benefits cited include easier sensor calibration and configuration; lower latency, particularly for gaming and touch error mitigation, and a greater ability to deliver accurate compensation algorithms to ensure baseline stability and to adjust for temperature drift. It also lowers assembly cost, simplifies the supply chain, and delivers a higher yield by using a single device versus multiple discrete components, said Synaptics.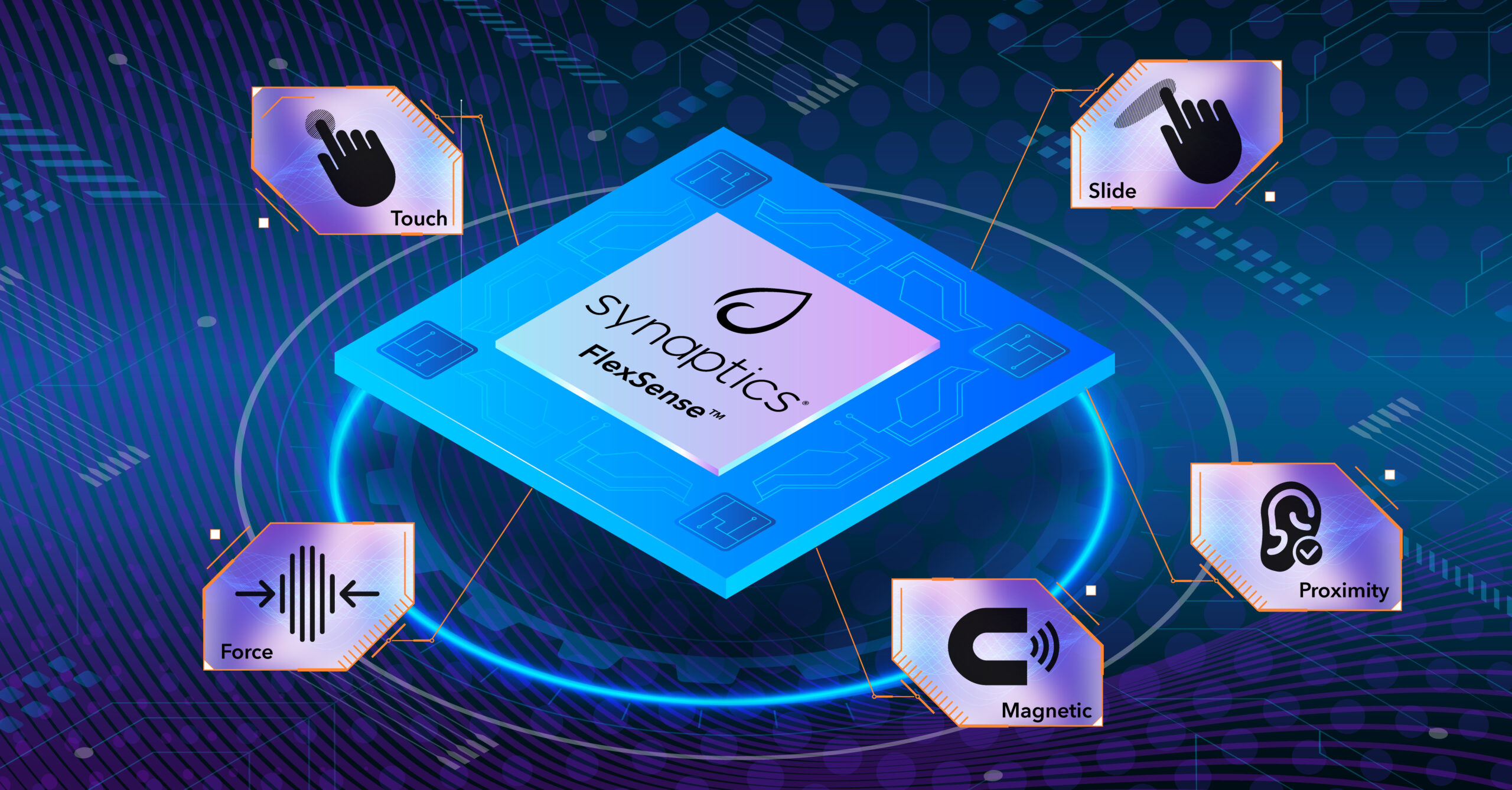 How it works
The FlexSense consists of a central microcontroller that connects to two proprietary low-power, fast analog front end (AFE) engines, which sense and digitize data from the capacitive and inductive elements on the touch surfaces of an IoT product. Capacitive sensing is typically used to detect finer grain touch, proximity, and actions such as fingers sliding on a surface, said Synaptics, while inductive sensing can distinguish coarse grain touch, up to 256 levels of force, and actions such as knob rotation.
The Hall-effect sensors, which detect magnetic fields, are implemented via metal plates on the device, while an on-chip temperature sensor measures the ambient temperature.
The FlexSense architecture enables the use of multi-sensor combinations and higher-order, sophisticated algorithms to detect and implement more complex interactions with an IoT device. It also provides real-time analysis of incoming data.
Some multi-sensor combo examples include the following:
Touch + force using capacitive and inductive sensors to determine more reliably intent and reduce mis-touches
Temperature + force + touch using capacitive, inductive, and temperature sensors to improve accuracy in wet or high moisture environments
Proximity + dock detect using capacitive, inductive, and hall sensors to avoid false activations when a device is set down
The FlexSense family provides a configurable, out-of-the box solution with a single processor and up to eight analog input channels that can be configured to mix and match up to four different sensors. Developers can use Synaptics' FlexSense Configuration Tool to tune all inputs through a single interface. FlexSense is sampling now. The evaluation kit is available on request.
Synaptics also recently introduced its Katana Edge AI evaluation kit to help designers develop AI vision and sensor fusion applications for the IoT.
[
via
]