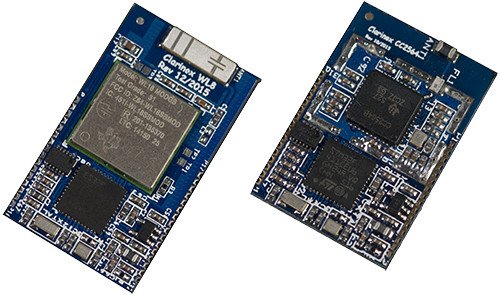 Clarinox Technologies Pty Ltd was formed with the aim of providing cost effective and innovative wireless embedded systems solutions to business. Due to the experience of the Clarinox team, more embedded systems are designed to develop leading edge solutions. In addition to delivering flexible and robust wireless protocol software for embedded systems developments.
Clarinox hottest products are Koala® Connect Modules! A compact option for adding Wi-Fi® and / or Bluetooth® to new and existing projects.
These modules will give you a stable environment while used with Koala® EVM, the first and only development board to support development for all major wireless technologies. It enables embedded systems developers to create both low and high power wireless systems communicating over Wi-Fi, Bluetooth Classic and Bluetooth Low Energy. It provides a fast and cost effective way to commence embedded wireless development with all major wireless technologies.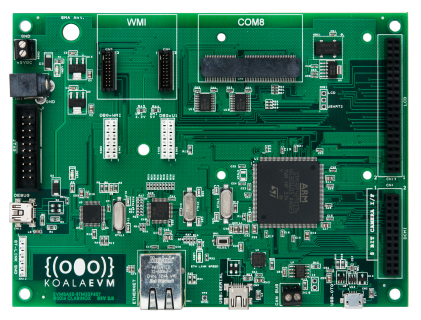 Each module features a single onboard processor to drive the user application in addition to multiple wireless protocols. The modules available are:
Koala® Connect Modules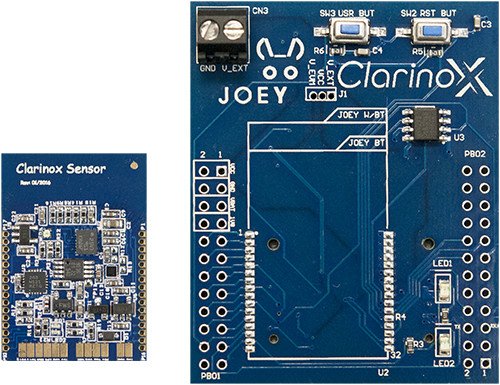 KM-141201 (20 x 30mm BT/BLE)
KM-153101 (20 x 34mm Wi-Fi+BT/BLE)
Carrier Board for Koala® Connect
KC-018102
Sensor Modules
KM-990501 Sensor Board
The Koala EVM and wireless module family will help shorten development time, reduce development costs, and open the door to new possibilities for wireless device features.
And these are the specifications
Hardware Specifications
MCU: STM32F411 (Bluetooth/BLE), STM32F412 (Wi-Fi + Bluetooth/BLE)
Wi-Fi Radio: TI WL1831MOD / WL1837MOD
802.11 a/b/g/n
2.4 GHz & 5 GHz
-96.3dBm RX Sensitivity
STA, AP & Wi-Fi Direct Modes
Bluetooth / Bluetooth LE Radio: TI WL1831MOD / WL1837MOD
Dual-mode Bluetooth & Bluetooth Low Energy
Bluetooth v4.1 Compliance and CSA2 Support
Host Controller Interface (HCI) Transport for Bluetooth Over UART
I/O Signals: ADC, GPIO, I2C, I2S, SPI, UART, USB
Industrial Temperature Grade: -40°C to +85°C
Software Specifications
Supported Technologies: Wi-Fi WLAN, Wi-Fi Direct Concurrent Operation (Multichannel, Multirole), Bluetooth, Bluetooth LE
You can get your own products from Clarinox by filling this inquiry. More details about Koala Connect Modules are available here, also a start manual for KoalaEVM is available here.
Join 97,426 other subscribers

Archives