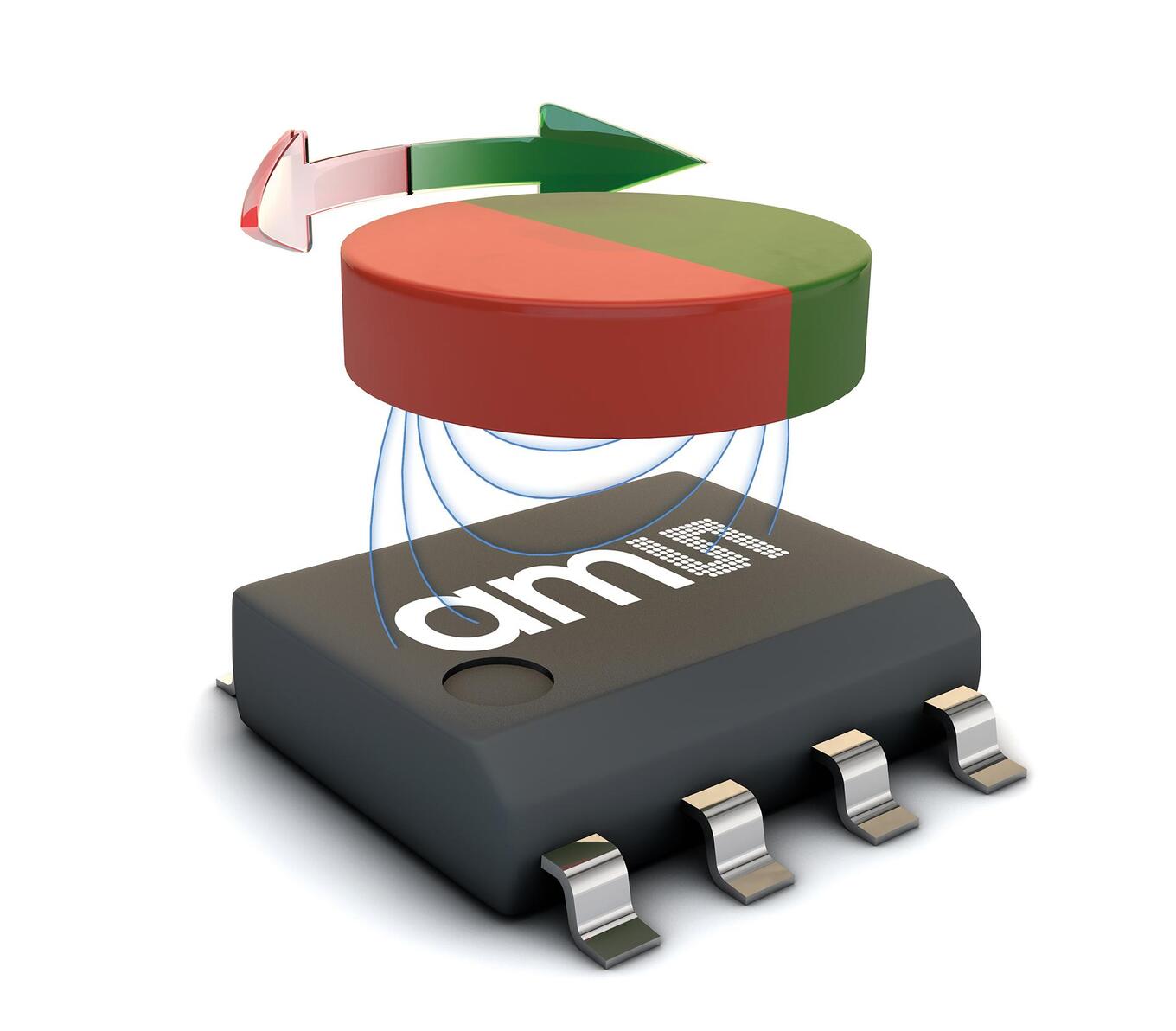 ams OSRAM AS5070 On-Axis Magnetic Angular Position Sensors
ams OSRAM AS5070 On-Axis Magnetic Angular Position Sensors are high-resolution, Hall-based rotary magnetic position sensors that utilize CMOS technology and provide precise absolute angle measurements. The AS5070 is available with an analog output interface (AS5070A) or a digital output interface (AS5070B). The AS5070B can be programmed as a PWM or a SENT-compliant output interface. These sensors measure the orthogonal component of the flux density (Bz) over a full turn rotation and compensate for external stray magnetic fields with a robust architecture based on a 14-bit sensor array and analog front-end (AFE). A sub-range can be programmed to achieve ideal application resolution.
A simple two-pole magnet rotating over the center of the package is required to measure the angle. The magnet may be placed above or below the device. The absolute angle measurement provides an instant indication of the magnet's angular position. The AS5070 operates at a supply voltage of 5V, and the supply and output pins are protected against overvoltage up to +20V. In addition, the supply pins are protected against reverse polarity up to -20V.
Features
Hall-based rotary magnetic position sensor using CMOS technology
Resolvessmall angular excursion with high accuracy
12-bit resolution at 90° minimum arc
Low output noise, low inherent INL
Magnetic stray field immunity
Programmable output
CORDIC block (Coordinate-Rotation Digital Computer)
High durability and low system costs
Embedded linearization algorithm
3x output interfaces

Analog ratiometric (AS5070A)
Digital PWM (AS5070B)
SENT (AS5070B)
Specifications
Operating

4.5V to 5.5V supply voltage range
3.3V to 3.6V regulated voltage range
Supply current range

4mA to 12mA for the AS5070A
4mA to 10mA for the AS5070B

2.5mA to 10mA start-up supply current at 2.25V
10ms start-up time

Electrical

14-bit core resolution
12-bit analog (AS5070A) and digital (AS5070B) resolutions
±0.5° to ±0.9° integral non-linearity (optimum) range
±1.4° integral non-linearity
125µs typical sampling time

Magnet

Orthogonal magnet field strength

30mT to 70mT range
10mT to 90mT in extended mode

0.5mm typical displacement radius

Power management, supply monitor, and timing

Undervoltage thresholds

3.5VDD to 4.5VDD upper range
3.0VDD to 4.0VDD lower range

300mV to 900mV undervoltage hysteresis, 500mV typical
10µs to 250µs undervoltage detection/recovery time range, 50µs typical
Overvoltage threshold

6.0V to 7.0V upper range
5.5V to 6.5V lower range

300V to 900V overvoltage hysteresis range, 500V typical
500µs to 2000µs overvoltage detection/recovery time range
12ms maximum WatchDog error detection time
Block Diagram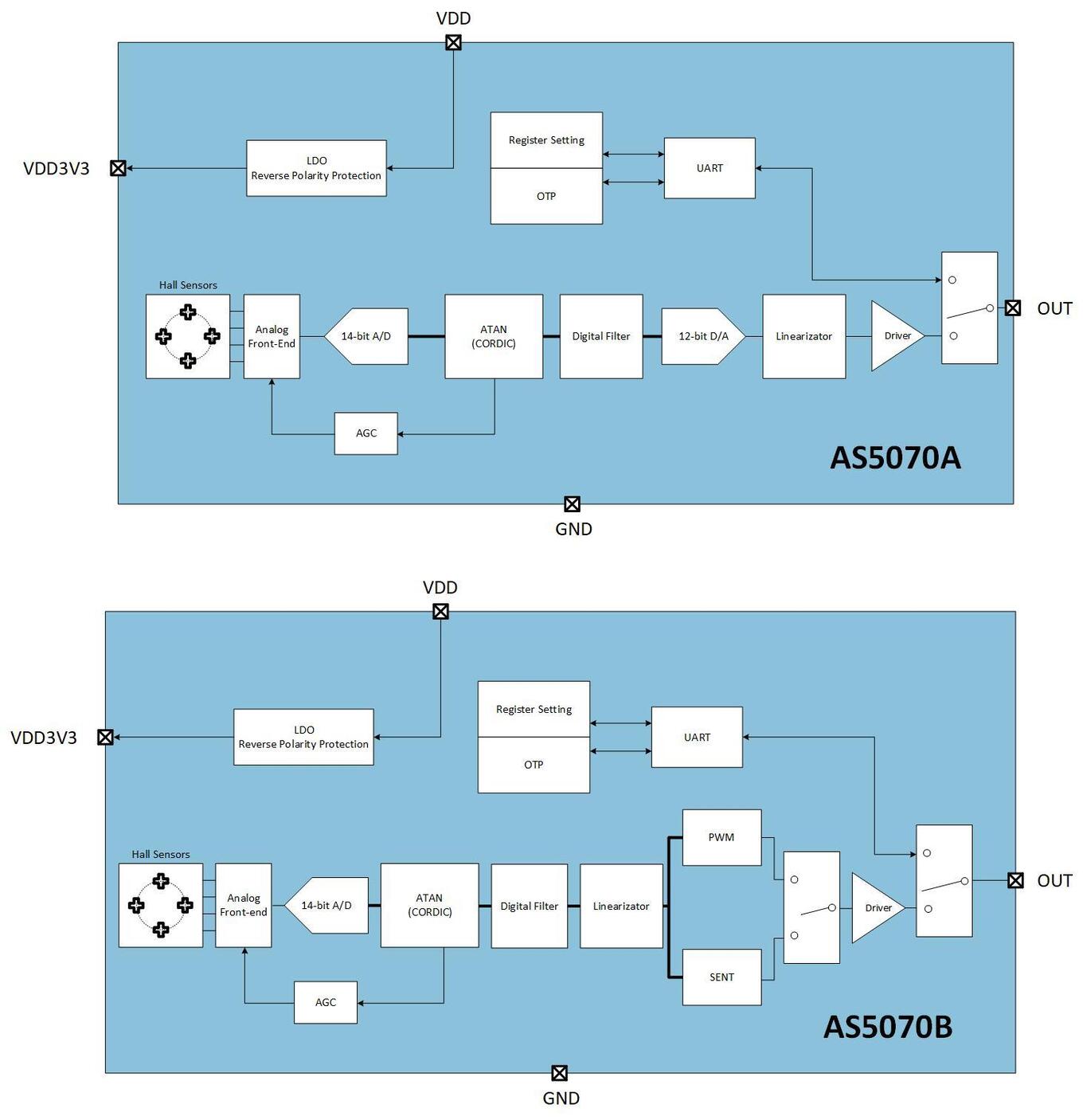 more information: https://ams.com/en/as5070
Subscribe to Blog via Email
Join 97,591 other subscribers
Archives