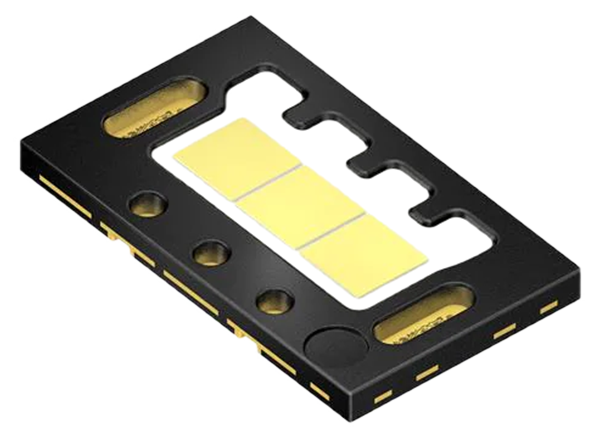 ams OSRAM OSLON® Black Flat X LEDs
ams OSRAM OSLON® Black Flat X LEDs (3-Chip Version) are high-performance LED Light Emitting Diodes offering 1350lm (typical) at 1000mA. The Black Flat X LEDs are optimized for forward lighting applications with a high focus on system cost. These SMT devices are very stable, durable, and can be used with standard processes. The pad geometry of the OSLON Black platform offers excellent thermal performance, enabling developers to reduce heatsink size or remove it from the application design entirely.
The ams OSRAM OSLON® Black Flat X LED has an extremely high contrast 1:200 design due to its black case material and TiO2 casting. These devices feature a compact 6.37mm x 3.75mm x 0.50mm package.
Features
AEC-Q102 qualified
SMD epoxy package
UX:3 chip technology
Luminous flux

KW3 HNL631.TK-6TTB-4L05M0-JCAB: 1230lm to 1535lm
KW3 HNL631.TK-7TTC-6L07M0-JCAB: 1275lm to 1535lm

120° (Lambertian emitter) typical radiation
4M07L0 color binning
Ultra-White color

Cx = 0.321
Cy = 0.339 according to CIE 1931

Corrosion Robustness Class: 3B
Color over angle: Better than passus 3.7.2.1 of supplement proposal 7 to ECE reg. 128
ESD: 8kV acc. to ANSI/ESDA/JEDEC JS-001 (HBM, Class 3B)
-40°C to +135°C operating temperature range
6.37mm x 3.75mm x 0.50mm package
more information: https://www.osram.com/os/products/product-promotions/led-for-automotive-industry-and-consumer-applications/oslon_black_flat_family.jsp
Join 97,426 other subscribers

Archives