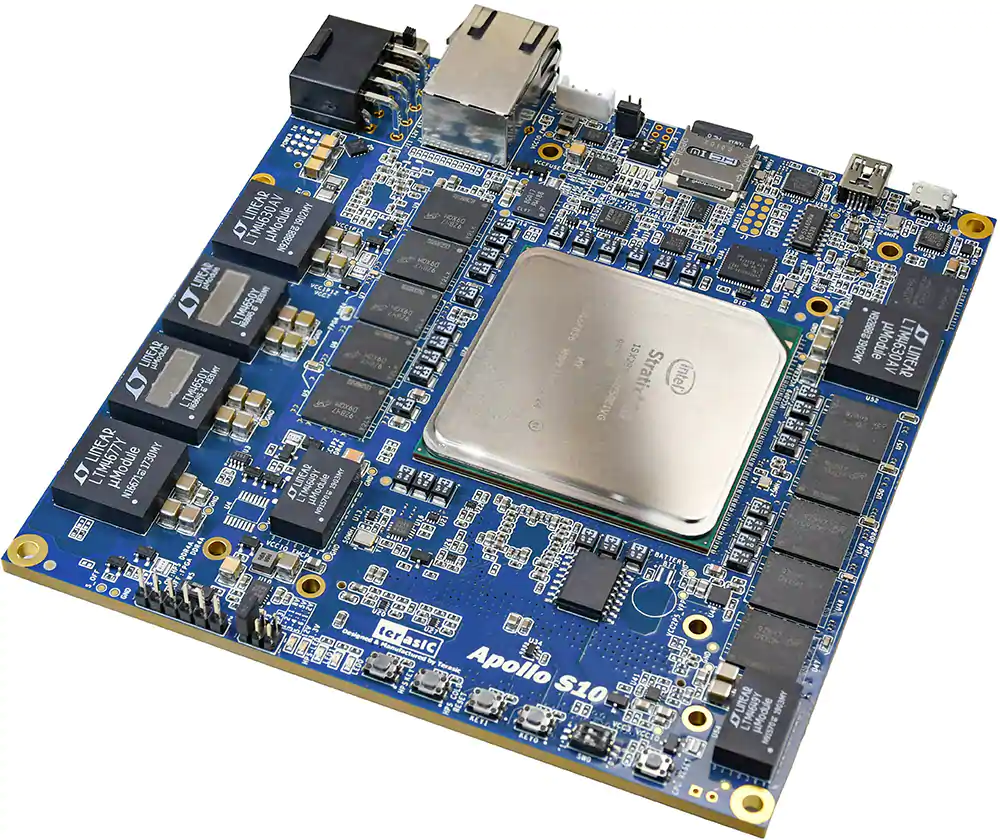 Apollo S10 SOM
Terasic's Apollo S10 SOM for scalable FPGA prototyping and HPC solutions which provide up to 90x performance increase over CPUs for critical workloads.
Terasic's Apollo S10 system on module (SOM) is designed for modular and scalable high-performance FPGA prototyping and high-performance computing (HPC) solutions. The Apollo S10 SOM packs unbeatable performance and energy efficiency into a tiny form factor. It provides up to 90x performance increase over CPUs for critical workloads such as simulation acceleration, molecular dynamics, and machine learning.
Apollo S10 SOM takes advantage of the latest Intel® Stratix® 10 SoC with 2800 K logic elements to obtain speed and power breakthrough (with up to 70% lower power). Combining several high-end hardware interfaces, such as high-capacity and high-bandwidth DDR4 SDRAM (up to 32 GB), on-board USB-Blaster™ II, and FMC/FMC+ connectors for I/O expansion, the board delivers more than 2x the performance of previous-generation development kits.
Features
Apollo S10 module board

Stratix 10 SX FPGA with 2800 K logic elements

Core speed grade: -2
Transceiver speed grade: -1

On-board USB-Blaster II for programming Stratix 10 and EPCQ/microSD™ card for booting device
Two independent banks of DDR4 on-board memory with error correction code (ECC), up to 16 GB at 1066 MHz for each bank
FMC+ and FMC connectors for interface expansion

Support 336 FPGA I/O
34 high speed transceivers

Support USB 2.0 OTG, USB to UART, and Gigabit PHY interface for HPS communication
Apollo developer kit

Includes Apollo S10 module board and Apollo carrier board
The carrier board is an I/O based board for developers to experience the peripherals of the module board

Apollo carrier board

Provides 12 VDC to Apollo S10 via SAMTEC 2 x 6 power connector
PCIe® Gen3 x4 via Thunderbolt 3 (Type-C connector)
Two QSFP28 connectors (40 G Ethernet)
Supp
Apollo S10 SOM is also extensible. Apollo carrier board is designed to assist Terasic clients' development of Apollo S10 SOM. The carrier board features two ultra-low-latency, straight connections, 40 Gbps QSFP+ module, and Thunderbolt™ 3 to evaluate the I/O planned for systems and build custom systems around it.