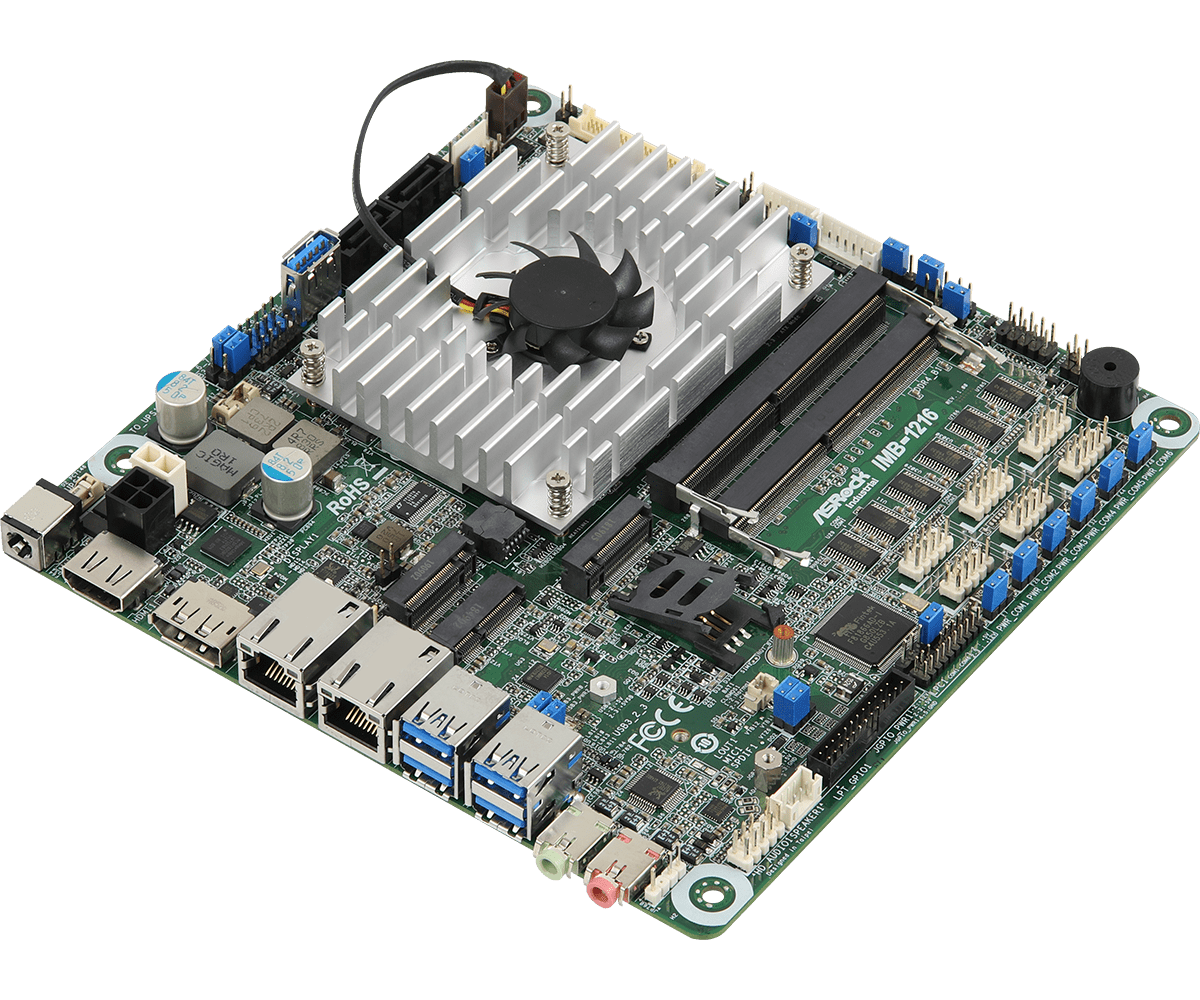 ASRock announces four Whiskey Lake-U based products
ASRock Industrial has announced four new products based on Intel's 8th Gen Whiskey Lake-U: a thin Mini-ITX "IMB-1216" board, a 3.5-inch "SBC-350," a NUC 4×4 form-factor "iBox-8365U" mini-PC and NUC-8365U mainboard. The IMB-1216 thin Mini-ITX board and the 3.5-inch SBC-350 boards run the quad-core, dual-threaded Core i5-8365U, clocking at 1.6GHz (4.1GHz Turbo). The iBox-8365U mini-PC and the NUC-8365U board that enables it, features the i5-8365U in a BGA 1528 package and also supports the 1.8GHz (4.6GHz Turbo), quad-core Core i7-8565U and the dual-core, 1.8GHz (3.9GHz Turbo) Core i3-8145U. Similar to the i5 model, these are both dual-threaded and enables Intel Gen9 UHD Graphics 620 with 24 EUs and a 15-25W TDP.

ASRock's announcement mentions only Windows 10 support, but other sites list Linux support. The iBox-8365U runs Linux 2.6. The four products offer up to up to 32GB of dual-channel, 2400MHz DDR4, including ECC RAM. The IMB-1216 offers a 170 x 170mm Mini-ITX design with a low profile, with support for industrial applications with a semi-extended 0 to 60°C range and offers a choice of 12V or 19-28V DC inputs with an AT/ATX switch. The IMB-1216 is fitted with 2x Gigabit Ethernet ports (Intel and Realtek) and 2x SATA III ports, and also a SATA power output. It utilizes the Whiskey Lake support for USB 3.1, and offers 4x USB 3.1 host ports and a fifth internal 3.1 interface. Available also, are three USB 2.0 headers, with 2x RS232/422/485, 3x RS-232, and 8x GPIO interfaces. Its triple display feature is supported via 4K-ready HDMI and DP++ 1.2 ports and internal VGA and LVDS (or eDP) headers.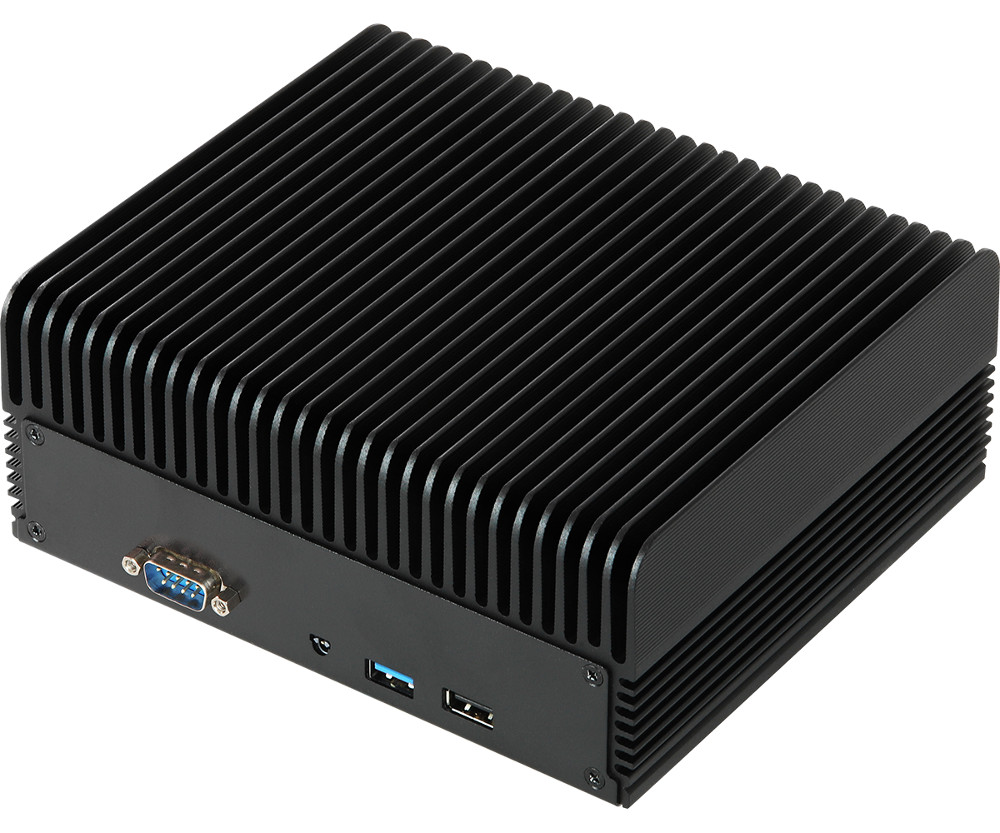 Other features include dual audio jacks, a speaker header, watchdog and TPM security, triple M.2 slots are available, a Key-M (2242/2260/2280) socket with PCIe x4 or SATA III, and a Key-B (3042) with USB 2.0 for 4G, which is accompanied by a SIM slot. The SBC- 350 board offers a 0 to 60°C range and enables either a 12V or 12-36V input with an AT/ATX switch.
The SBC-350 is also equipped with 2x Intel-based GbE ports, 2x DisplayPort, and 4x USB 3.1 ports on the coastline. It also includes an LVDS interface, which enables triple simultaneous displays, and a SATA III port. 4x USB 2.0, 4x RS232/422/485, and 4x in/4xout GPIO are available. The SBC-350 is equipped with a Key-M (2242/2260/2280) socket for storage and a Key-E (2230) for wireless. Available also is a speaker, TPM, and SATA power headers.
There are no details on the separately available NUC-8365U, but it seems to be the board inside the iBox-8365U. The iBox-8365U mini-PC is similar to Ryzen's R1000 based iBox-R1000, which similarly adopts the 4×4 NUC form-factor. The 171.8 x 150 x 71.5mm, 2.2 kg PC ships with an active heatsink referred to as "fansink." The skin supports 0 to 50℃ temperatures. Available also is a standard 12V DC input and Kensington Lock support. The iBox-8365U is further equipped with a 2.5-inch SATA III bay, and 2x GbE ports (Intel and Realtek). Triple display feature is enabled via 2x DP and a single HDMI port. Other features include 3x USB 3.1 ports and a DB9 port with RS232/422/485. Internal interfaces features include a second USB 2.0, 2x RS-232, and an audio header, with watchdog being on board. There is no pricing or availability information provided for the "preliminary" IMB-1216, iBox-8365U, and NUC-8365U or the "coming soon" SBC-350.
More information can be found in ASRock Industrial's announcement, and also IMB-1216, SBC-350, and iBox-8365U product pages.
Join 97,426 other subscribers

Archives