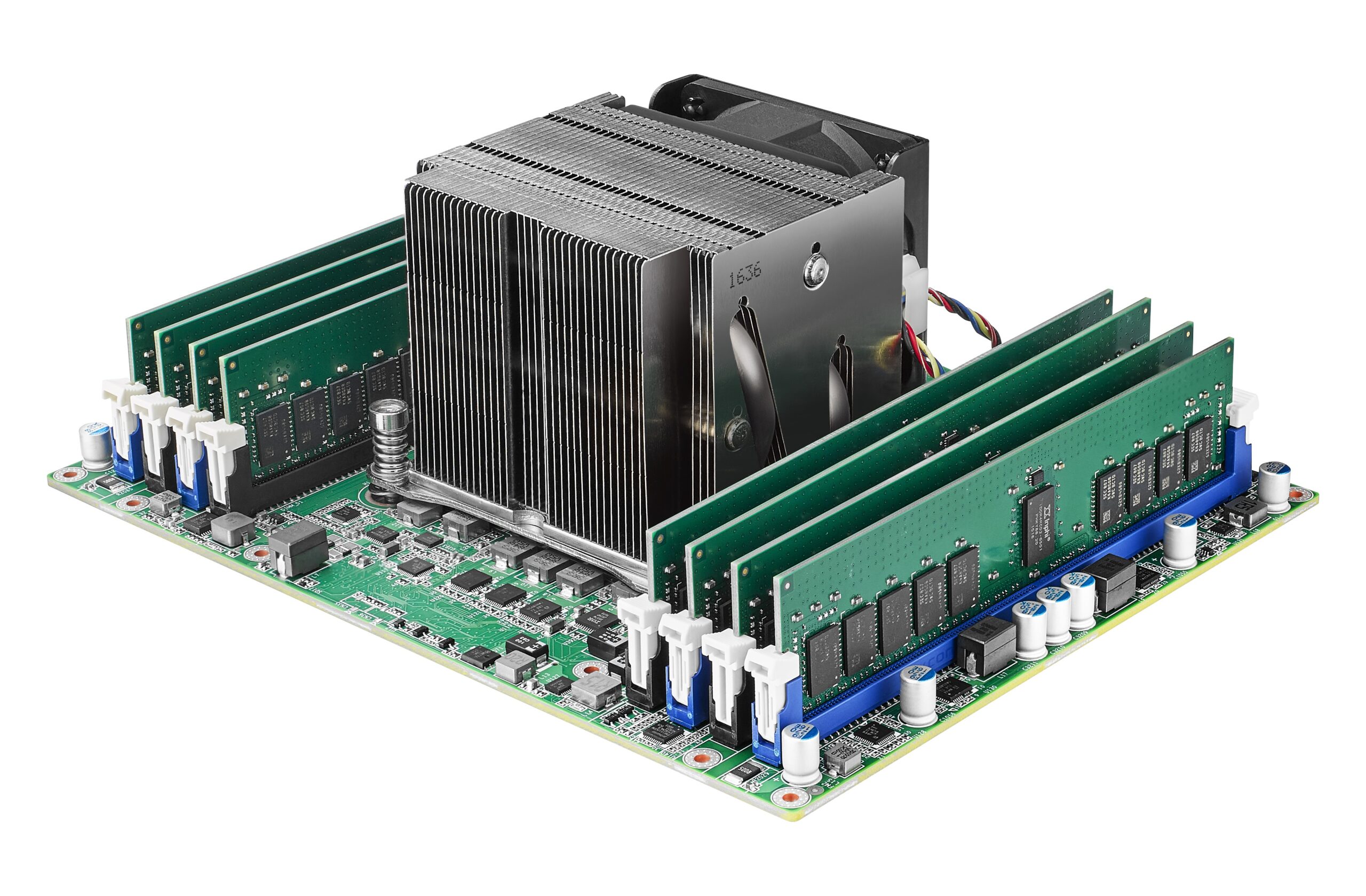 COM-HPC — Next Generation Standard for Industrial Server Grade Computer-on-Modules
Advantech, a member of the PICMG COM-HPC subcommittee and the leading solution provider for A-IoT platforms and building blocks, announces COM-HPC. The new standard will be the technological platform for a series of high-performance Computer-on-Modules to be released by Advantech as an extension of its portfolio. They will be designed to meet the exacting requirements of next-generation IoT markets, where they have to handle and process with very high quantities of data.
This new standard was necessary as the existing standard COM Express Type 7, in place since 2016, is not able to handle the demands of new requirements, such as 5G-data communication. Upcoming applications will be the real time data synchronization and the processing of machinery in factory lines – or different locations – for industrial automation. Defense-systems, medical imaging applications and warehouses employing robots will also be typical use-cases for this high-performance module.
"PICMG Is excited about the pending completion of the COM-HPC specification. Advantech continues to be a leader in IoT intelligent systems and embedded platforms. Their commitment to the development of COM-HPC will lead to the rapid adoption of the forthcoming open specification."
said by Jessica Isquith, PICMG President.
Advantech played an important role in defining the specifications for more than two years. The standard is scheduled for ratification at the end of 2020.
High Core Count and Memory Capacity Delivers Improved Performance
All five COM-HPC module standards (A ~ E) will utilize 800 pins via two new high-speed connectors with at least 4 x 100 pins each and 2 x 400-pin board -to-board connectors.
Besides other improvements, this allows an increased power input and optimized I/O expansion capabilities. The available board sizes enable the adoption of high-level processors. Larger model COM-HPC modules are compatible with 4 ~ 8 pcs long DIMM memory expansion sockets. Additionally, the module's TDP supports 110W processors (in comparison: COM-Express only supports up to 65 Watts). COM-HPC accepts power inputs higher than 300W to deliver excellent performance with powerful devices. Size E features up to 1TB memory via 8x pcs long DIMM memory capacity. Size C offers 128GB via 4x pcs SODIMM (Figure 1).
Key Features will be:
Intel® Xeon® D 16Core/TDP 110W processor
Up to 512GB memory with 8pcs 288pin RDIMM/LRDIMM
Up to 45 lanes PCIe Gen. 3 (x16, x8, x4, x1), 4x ports USB 3.0, & 2x ports SATA III
Up to 4x ports 10GBASE-KR, and 1x port 1000BASE-T
Pinout: COM-HPC Server type
Dimensions: Size E 200 x 160 mm (0.65 x 0.52 in)
Advanced Data Transmission and I/O Expansion
COM-HPC supports higher bandwidths via innovative BGA-type board-to-board connectors. These solutions offer PCIe 4.0 and PCIe Gen 5 (32GT/s) support, and can be scaled up to 65 lanes. They feature ports for 4x USB 4.0 or USB 3.2 Gen. 2 x 2, up to 10GBASE-T and 8x ports 25GBASE-KR with sideband signals. COM-HPC also offers more low power I/O such as 12x GPIO, SPI, IPMB, I2C, and SMBus for intelligent system management.
Coming soon:
Advantech will release a COM-HPC evaluation kit called SOM-8990 and a carrier board called SOM-DB8900, in the fourth quarter of 2020. This will be a server pinout equipped with Intel Xeon® D processor.
For more information regarding COM-HPC or other Advantech products and services, please visit our website at http://bit.ly/Advantech_COM-HPC or contact your local sales support team under 00800-2426-8081 or embedded@advantech.eu. Learn more as well about Advantech's local customization options under http://bit.ly/AdvantechDMS
Join 97,426 other subscribers

Archives