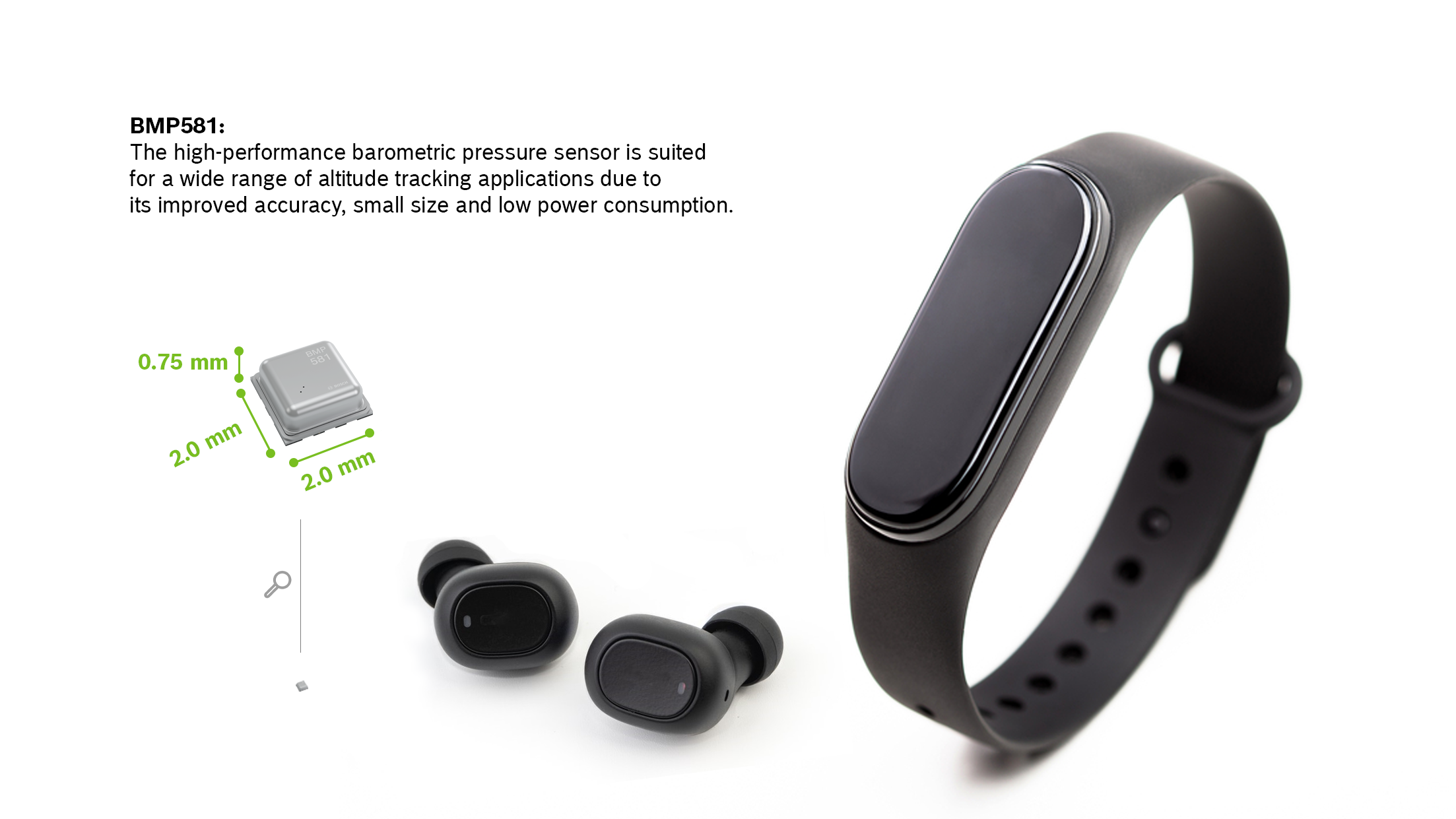 Barometric pressure sensor claims a new level of accuracy

Bosch Sensortec's BMP581 barometric pressure sensor claims a new level of accuracy, with low power consumption, for mobile device applications.
Bosch Sensortec GmbH has claimed a new level of accuracy to provide altitude tracking in a small form factor with the introduction of the BMP581 barometric pressure sensor. The BMP581, Bosch's first capacitive barometric pressure sensor, also delivers low power consumption for longer battery life in mobile devices such as wearables, hearables, GPS modules, and IoT devices.
The BMP581, measuring 2.0 × 2.0 × 0.75 mm3, provides a relative accuracy of +/-0.06 hPa and a typical absolute accuracy of +/-0.3 hPa. The company said the accuracy of the barometric pressure fluctuation is "equivalent to one-thousandth of the weight of a mosquito (7.6 μg)." Full accuracy is available over a wide measurement range from 300 hPa to 1100 hPa.
The typical current consumption of the BMP581 is 1.3 μA at 1 Hz, which "substantially extends battery life," said Bosch, while the deep standby mode draws 0.5 μA.
Other key specs include a typical temperature coefficient offset (TCO) of +/-0.5 Pa/K, low RMS noise of 0.08 Pa @ 1000 hPa (typical), and long-term drift over 12 months of +/-0.1 hPa. Interfaces include I2C, I3C, and SPI (3-wire/4-wire) digital, serial interface.
Features
300 hPa to 1250 hPa measurement range (full accuracy)
±30 Pa absolute accuracy
±6 Pa relative accuracy pressure
±0.1 hPa long term drift (12 months)
1.65 V to 3.6 V supply voltage (VDD)
1.2 V to 3.6 V I/O supply voltage (VDDIO)
Interfaces

I2C up to 3.4 MHz
SPI 3- and 4-wire, up to 10 MHz

Average typical current

1.3 nA at 1 Hz pressure and temperature
0.5 nA in deep standby mode

0.08 Pa noise in pressure lowest bandwidth, highest resolution
±0.5 Pa/K temperature coefficient offset
0.3 hPa solder drift
480 Hz (continuous mode) maximum sampling rate
2.0 mm x 2.0 mm x 0.75 mm metal-lid LGA-10 package
Bosch has reinvented the barometric pressure sensor with a new core MEMS technology as well as a new ASIC and package design to deliver best-in-class performance, quality, and reliability, said Thomas Block, senior product manager, for magnetic and environmental sensors, Bosch Sensortec, in a video presentation.
The BMP581 also achieves a new benchmark due to its unique parameters in the market, which is also ensured in mass production, he added. The BMP581 uses a capacitive MEMS sensor and "it is the first time that Bosch is using this technology."
Bosch previously used piezoresistive technology and still has many sensors with this alternative technology in production, Block said.
The new BMP-581 has shown "impressive improvements for all performance parameters," and is significantly improved compared to previous generations of piezoresistive sensors, he said. Compared to the previous generation BMP390 barometric pressure sensors, as an example, the BMP581 reduces current consumption by 85 percent, improves noise by 80 percent, and lowers TCO by 33%.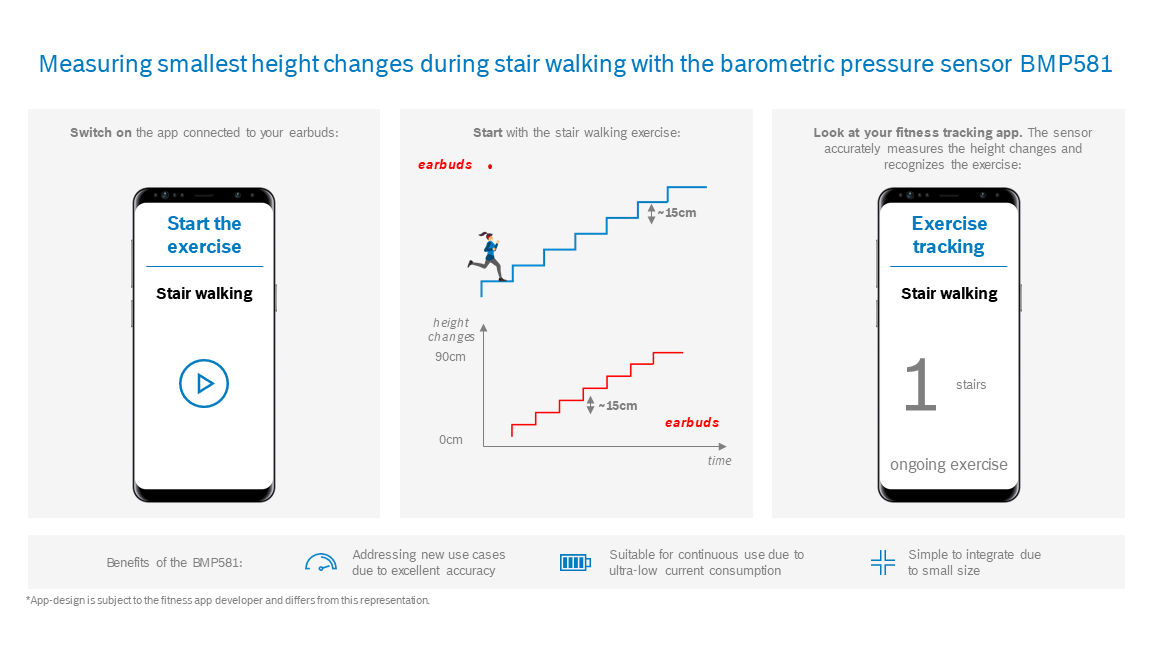 The extremely high accuracy, which allows the sensor to detect an altitude change of a few centimeters, is said to enable new use cases that were previously impossible. Applications include fitness tracking, fall detection, indoor localization, and indoor navigation. The sensor can monitor movement in fitness applications, and highly accurate location information for indoor localization, navigation, and floor detection for emergency call requirements (E-911).
Other applications cited include monitoring flight stability and landing accuracy in drones and helping to detect water levels in household appliances.
There are three key areas, out of many, where the BMP581 realizes new use cases or improves existing solutions, said Block. "These are fitness applications, indoor localization, and indoor navigation. The BMP581 is simple to integrate due to its small size of 2 ×2-mm square at a height of 0.75 mm and it is suitable for continuous use due to the ultra-low current consumption."
The sensor solution can address new use cases due to its high accuracy, he added. "Push-ups, sit-ups, stair walking, and bicep curls can now be measured on a very high accuracy level and battery devices can now be used for longer times due to the very low current consumption."
The BMP581 is housed in a 10-pin LGA package shielded by a metal cover. The BMP581 and evaluation boards are available through Bosch's distributors, including Arrow Electronics, Digi-Key, Future Electronics, Mouser Electronics, and Rutronik.
Learn more about Bosch Sensortec: https://www.bosch-sensortec.com/products/environmental-sensors/pressure-sensors/bmp580/
Join 97,426 other subscribers

Archives