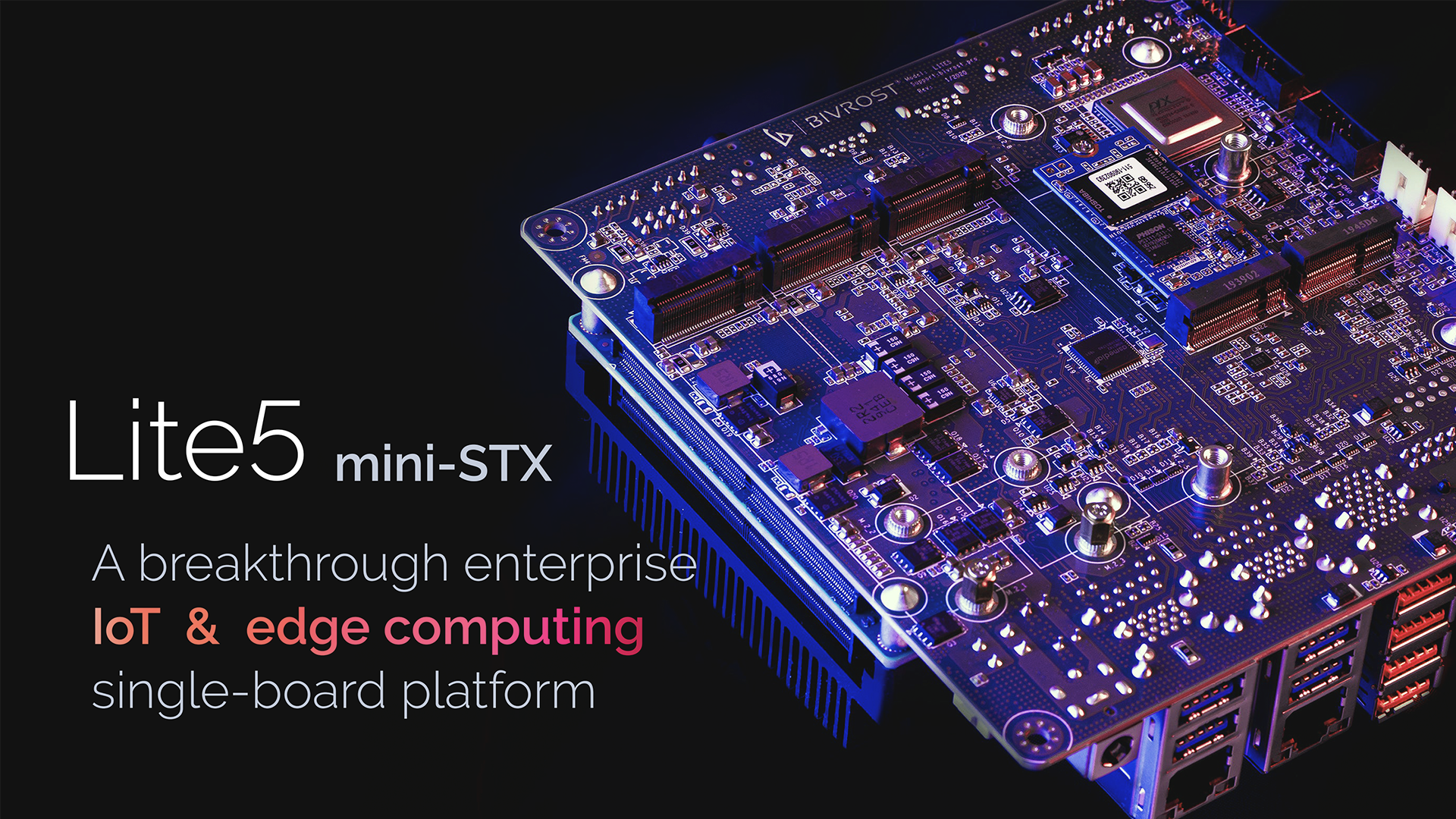 BIVROST® LITE5 – a breakthrough IoT and edge computing enterprise single-board platform
BIVROST® Lite5 is an extremely compact industrial computer that breaks through I/O bandwidth barriers for the most demanding applications, including machine vision and the edge computing work model based on neural network accelerators. Using Intel Xeon and Intel Core processors and supporting 5 M.2 slots, only 5 inches in size (mini-STX standard), the data processing capabilities found in enterprise-class solutions were compressed.
BIVROST® Lite5 platform is a combination of a universal motherboard with carrier-board characteristics with a module in the COM Express architecture (Basic Module Type 6), on which the processor and operating memory are embedded. This solution ensures a long project life, increase fault tolerance, and reduce the costs of migrating to newer processors in the future. By default, the Intel Core i7-8850H processor (6 cores / 12 threads, 2.6 GHz – 4.3 GHz, 9 MB cache, 45 W TDP) is offered along with 16/32/64/96 GB DDR4 memory. The 8th and 9th generations of Intel embedded processors are supported, and the 11th and 12th generation will join this year.
The essence of BIVROST® Lite5 is to provide extreme capacity on all available I/O interfaces used in industry. Of the five available M.2 slots, three are high-throughput M-key, providing a transfer rate of 32 Gbps (size 2280, PCIe 3.0 x4 lines). They enable the installation of neural network (AI) accelerators based on Intel, Coral, Hailo systems or fast and independent NVME disks. The independent speed of the slots allows the use of video capture cards or individual specialized FPGAs embedded on the M.2 interface.
The Lite5 project was born out of our own need. The design challenge was the necessity to connect multiple industrial cameras Pixelink (Navitar) with 8Gbps data capacity each simultaneously, image analysis using a neural network model on a dedicated accelerator and simultaneous recording of this data. And all to increase the efficiency and reliability of the automated production line. Due to information security, the project had to be free from cloud data analysis, work 24/7 and offline.
says Paweł Surgiel, President of the Management Board of BIVROST Sp. z o.o.
The Lite5 provides a wide range of input-output interfaces, including GPIO, I2C, LVDS, USB (3.2 gen2, 3.2 gen1, 2.0), UART, M.2 (key B, key E, key M), HDMI 2.0. The special 4 USB slots in the 3.2 gen2 standard provide a guaranteed total bandwidth of 32 Gbps thanks to the use of independent root hub chips and independent PCI Express lanes.
Key features:
Architecture: COM Express Type 6, extended support provided (embedded class)
CPU / GPU (default): Intel Core i7-8850H i Intel® UHD 630 GPU (6 cores, 12 threads, 2.6GHz – 4,3 Ghz, 45W / 35W CPU TDP)
Memory: 3 slots DDR4, max 96 GB, default 16 GB
I/O for embedded systems: GPIO, I2C, LVDS, 2x HDMI 2.0, SPDIF, 2x LAN 1Gbps
2: 3x universal (M key, size 2280, PCIe 3.0 x4 lanes), 1x SATA (B key), 1x WiFi (E key)
USB ports with dedicated, unshared bandwidth
Compact size: 5-inches (mini-STX),
Compatibility OS: Windows 10, Windows 11, Ubuntu Linux
BIVROST is the project leader. It was created by an international team with the support of Intel engineers, and the Taiwanese company Advantech is responsible for production. Technical support is provided in 24 countries. Lite5 is targeted at the most demanding industrial applications, especially in image analysis, as a runtime environment for neural network accelerators, in multimedia and digital signage projects, and in the security industry.
Join 97,426 other subscribers

Archives