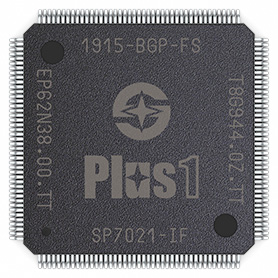 Tibbo Technology's Plus1 SP7021 SoC with Linux-capable Processing
Generally, the SoCs have complex integration processes for deployment purposes. Even if the integration is simple then there is a compromise with the performance factor of the device. Tibbo Technology's Plus1 SP7021 SoC ensures simple integration with efficient performance comparable with Linux-capable processing. Also, the I/O ports for easy interfacing make it a good fit for IoT applications.
Plus1 SP7021 SoC comes with multi-core processors and up to 512MB of DDR3 memory with I/O ports in a single LQFP package. Also, the core includes quad-core ARM Cortex-A7 working up to 960MHz with NEON multimedia processing engine for multimedia applications. It comes with an ARM926 real-time core with an operating frequency of 202 MHz. It also features a low-power 8051 with selectable operating speeds.
GPIO ports include nine 8-bit ports (P0-8) out of which P1-8 are 5V-tolerant. All the GPIO lines of Plus1 SP7021 SoC have 3.3V logic levels along with 16mA source/sink current for all lines of port 0. It features 8 separate interrupt lines that can be configured as wake-up lines of the chip. Also, each GPIO line can be individually tri-stated to work as an input or enabled to work as outputs. There are two ways of controlling GPIO lines through the 8-bit registers or by using the bitwise access to individual lines.
Technical Specifications
Easy-to-use 20x20mm LQFP176-EP package
Quad-core ARM Cortex-A7 (CA7) with 16KB L1 I-cache and 16KB L1 D-cache and 512KB unified L2 cache
ARM926 real-time core with 16KB I/D cache and 32KB L1 I-cache and 32KB L1 D-cache
8051 low-power core with Intended to be used as a supervisory core with 500uA consumption for IC.
Single 3.3V power with on-device regulators for 1.5V, 1.2V, and 0.9V power
DDR3 DRAM with SP7021-IS: 128MB and SP7021-IF: 512MB
General-purpose I/O (GPIO) ports
Dual PinMuxable Ethernet MACs with support for half and full-duplex communications
Five UARTs include Four PinMuxable Enhanced UARTs, one fixed console UART (TX and RX lines only) in P0, and also Baudrates up to 921,600bps
Flash interface comes with eMMC, SPI NAND, and SPI NOR memories and supports BCH error correction
Four PinMuxable SPI modules
Up to four 8-bit or up to two 16-bit PinMuxable timers/counters
Four PinMuxable capture modules
MIPI video interface supports resolutions up to 1366×768/1312×816
HDMI 1.4 video interface supports resolutions up to 720p
TFT LCD controller with parallel bus interface (res. up to 320x240x24)
I2S/SPDIF/PWM audio output for up to five channels
PDM interface for 8-channel MEMS microphone array
32-bit FPGA bus IO (FBIO) interface
Temperature sensor for estimating the internal temperature of the IC
Real-time clock (RTC) with alarm function with a dedicated output pin and backup power input
128-byte one-time programmable (OTP) memory with 64 bytes are available to the user
SWD and JTAG debug interfaces
Watchdog timer
Secure boot with boot image verified by ED25519 algorithm
Crypto engines include PKA engine (RSA), Hash engine (SHA3, MD5), and Encryption/decryption engine (AES)
Integration of Plus1 SP7021 SoC
The device comes with a MIPI-CSI camera port that supports up to two cameras compliant with MIPI CSI-2 and MIPI D-PHY interface specifications. The supported modes of the interface include high-speed mode at 1.0Gbps per lane and low-power mode at 10Mbps per lane. The camera resolution offers up to 1328×864 including non-image data. It features a frame rate of up to 60fps with 10 bits per pixel color depth and hence a total bandwidth of 810Mbps.Plus1 SP7021 SoC features flexible peripheral multiplexing with lines of the peripherals interfacing with any line of P1-8. It also includes dual Ethernet MACs, SDIO interface, 2 PWM modules, 4 SPI modules, 4 I2C modules, 4 timers/counters, and 8 interrupts.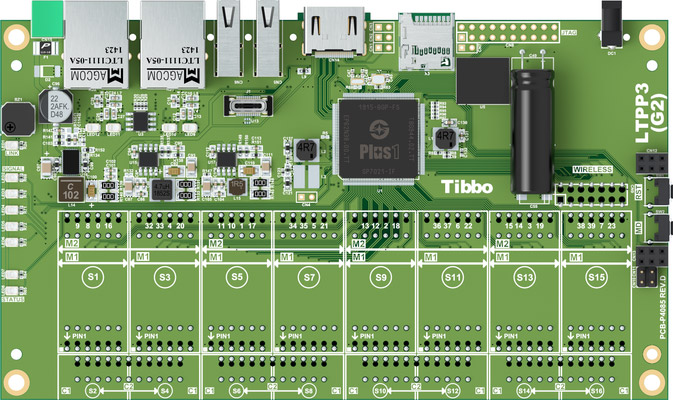 The company also has the LTPP3(G2) development board which is a Linux-based Tibbo Project PCB. The board comes with a quad-core 1GHz Cortex-A7 Plus1 SP7021 SoC. It supports I/O ports located directly on the board along with dual Ethernet ports allowing interfacing with other Ethernet devices. It also features integrated HDMI and serial-over-USB console ports along with the two USB 2.0 Host ports with Type-A connectors and an onboard microSD slot.
Plus1 SP7021 has an industrial operating temperature ranging from -40°C to 85°C. It supports Modern and Yocto-based Linux distribution. It comes with 2 OTG USB2.0 ports with Linux boot and USB video class support. The SoC is available for 20$ at the Tibbo store. Images and technical specifications have also been taken from the Tibbo store's product page.
Join 97,426 other subscribers

Archives