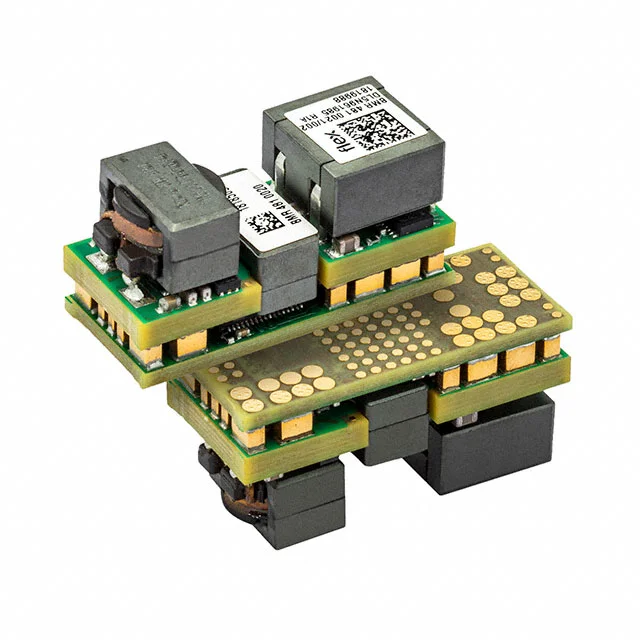 BMR481 48 V-to-Load Direct Conversion DC/DC Converters
Flex Power Modules' BMR481 DC/DC converter addresses the growing need for higher energy efficiency levels in datacenters and cloud computing infrastructures. This converter offers an input range of 40 V to 60 V targeting 48 V to 54 V nominal supplies and a programmable 0.5 V to 1.35 V output. The 12 mm x 27.7 mm footprint of the main module provides a maximum output current of 70 A and incorporates a digital interface for monitoring, configuration, and control purposes. This main unit can then be supported by up to five additional 'satellite' modules resulting in a total current rating that reaches 420 A.
The single-stage BMR481 provides an ideal alternative to the conventional two-stage intermediate bus converter (IBC) and point-of-load (POL) architecture which requires an extra conversion step, taking up more space and impacts operational performance. This groundbreaking direct conversion module presents engineers with a more streamlined and economical solution. The converter can achieve up to 92% efficiency from a 1 V output at 53 VIN which is 2% to 3% higher than what the equivalent IBC-based deployment can deliver. The BMR481 reduces board area by up to 50%. MTBF is more than 8.7 Mhrs for the main module.
Optimized efficiency is achieved by automatic enabling and disabling of phases/satellite modules depending on the required load, along with dynamic voltage adjustment to provide optimum supply rails to the connected ICs. Output ripple and noise is an extremely low 1 mVp-p (typical) due to the zero voltage/zero current switching employed. Load and line regulation are typically kept at 1 mV. At 53 V input and 0.5 V output, the full 70 A output current is available from the main module to over +75°C ambient temperature with 0.5 m/s airflow and over +90°C with 2 m/s airflow. Full digital control is implemented with a PMBus v1.3 interface compliant with PMBus or AVS/SVID. Isolation is rated at 1,500 VDC (functional).
Features
48 V-to-load direct conversion technology addresses demands of data centers
Enables more compact, higher-efficiency, and cost-effective power system implementations
Compliant with PMBus, AVSBus, and Intel SVID
Supporting tools: Flex Power Designer Tool
Applications
High-power data centers that operate from a nominal input of 48 V
High-current CPUs and GPUs
Contact for company information: Tuuli Waern, Technical Marketing Manager, Flex Power Modules Email: tuuli.waern@flex.com
Join 97,426 other subscribers

Archives