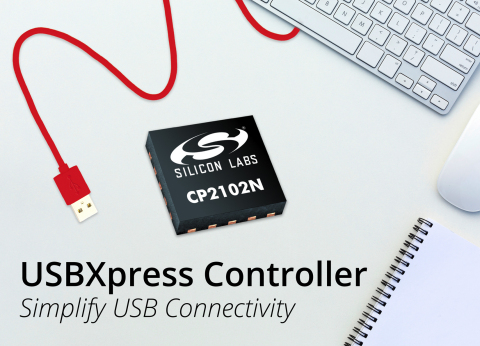 Recently, Silicon Labs announced a new USB controller called CP2102N which is part of the USBXpress™ bridge devices family.
CP2102N have a battery charger detect functionality to notify an external battery charger with the amount of current available from the USB interface (100 mA, 500 mA or 1.5A). CP2102N also have up to 7 GPIOs that can be controlled from the host, and a RS485 pin which is an optional control pin that can be connected to the DE and RE inputs of the transceiver to be asserted during UART data transmission.
The key features according to the datasheet:
Integrated USB transceiver; no external resistors required.
Integrated clock; no external crystal required.
Internal 960-byte programmable ROM for vendor ID, product ID, serial number, power descriptor, release number, and product description strings.
On-chip voltage regulator — 3.3 V output.
USB 2.0 full-speed compatible Data transfer rates up to 3 Mbaud USB.
Battery Charger Detection (USB BCS 1.2 Specification).
Remote wakeup for waking a suspended host.
Low operating current : 9.5 mA.
Royalty-free Virtual COM port drivers.
The new chip is available in the following packages QFN20, QFN24, or QFN28.
The price per unit is $0.91 (USD) in 10,000-unit quantities according to the press release, and an evaluation kit for CP2102N-EK is available at $25.00.
Via: circuitcellar