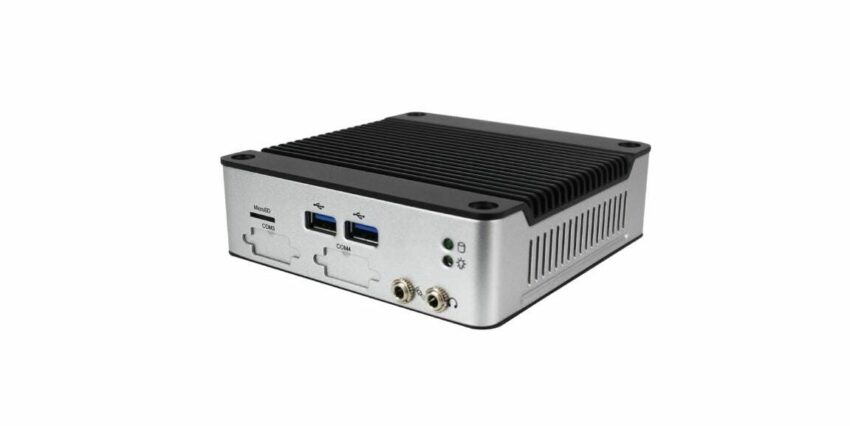 EBOX-58 Industrial Mini PC comes with a range of Connectivity Options and Modern OS Support
Industrial mini PCs are compact computers designed for use in industrial environments. They are typically ruggedized and designed to withstand harsh conditions such as temperatures, vibrations, and dust. They also often come in a compact size, making them suitable for use in applications where a traditional desktop or laptop computer may not be suitable. Industrial mini PCs are equipped with powerful hardware including fast processors and plenty of memory and storage, to ensure they can handle the demands of industrial applications.
There are many different industrial mini PC options available on the market and there are still more to come, but for now, we will be introducing you to one of the most recent models designed by a company that manufactures a range of industrial computing products: EBOX-58 mini PC from ICOP Technology.
The new EBOX-58 is a fanless industrial computer offered with the Intel Atom x5-E8000 or Intel Celeron N3160 processors. It has up to 8GB of DDR3 memory and a range of connectivity options including Ethernet, digital I/O, USB, and optional serial ports. It is housed in a rugged, compact enclosure and is designed to withstand extreme temperatures, vibration, and other challenges encountered in industrial settings.
The fanless computer hardware product is suitable for a variety of applications, including factory automation, data acquisition, machine control, transportation systems, and digital signage. It has a number of features that make it suitable for use in industrial environments, including a rugged design, a wide temperature range, and support for various I/O interfaces. The mini PC supports DOS, Win 7/10/11, QNX, Android-x86 operating systems, and many others.
Some of its Key Features Include:
Compact size – can easily be installed in small spaces
Fanless design – makes it reliable and durable
Wide operating temperature range – suitable for use in a wide range of environments
Multiple connectivity options – makes it suitable for a variety of applications
Industrial-grade components – can withstand shock, vibration, and other environmental stresses
Specifications:
Processors:

Intel Atom x5-E8000 processor running at up to 2.0GHz; 2MB cache; 5W
Intel Celeron N3100 processor running at up to 2.34 GHz; 2MB L2 Cache; 6W TDP

Up to 8GB of DDR3L-1600 SO-DIMM slots
1x SATA Gen3
1x microSD card reader
1x HDMI 1.4b
1x M.2 2230 E-Key
2x GbE RJ45 port
4x USB 3.0 ports
2x RS-232/485/TTL
TPM 2.0 and VESA/Din Rail support (optional)
Power On Automatic Feature
PXE diskless boot
Power: 8-16V DC
Temperature range: 0 – 60°C
Dimensions: 115 mm x 115 mm x 35 mm
Certifications: CE, FCC, VCCI
Operating Systems: DOS, Win 7/10/11, QNX, VxWorks, Android-x86,
Overall, the EBOX-58 is a reliable and durable industrial computer, good enough for a variety of applications. The product is currently available on wdlsystems.com; the variant with Atom processor sells for $231 and the one with the Celeron N3160 processor and 4GB RAM goes for about $330. Other useful details can be found here.
Join 97,426 other subscribers

Archives