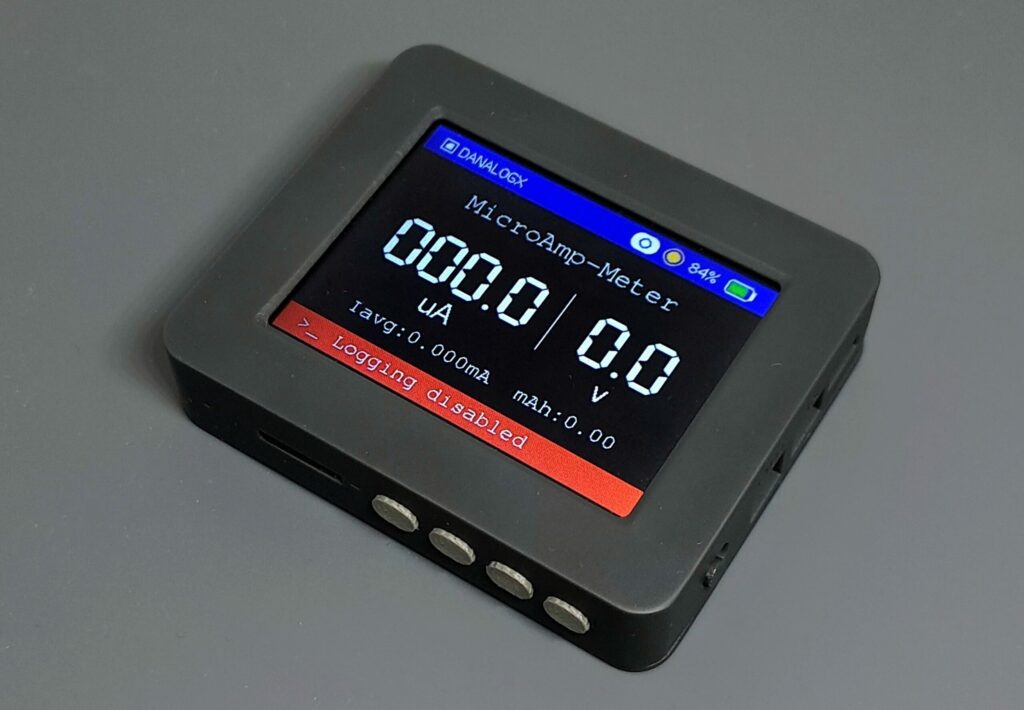 Danalogx's Microamp-Meter- High-speed Wi-fi Current Meter and Micro SD card Logger – A Review
MicroAmp-Meter
The DanalogX MicroAmp-Meter is a device that functions as a high-speed Wi-Fi current profiler and Micro SD card logger. The MicroAmp-Meter is a highly efficient portable current meter that can quickly measure and plot the current consumption of embedded devices. It is an excellent tool, and with its automatic shunt-switching mechanism, it is able to measure current levels from 1uA to 1Amp.
Advantages of MicroAmp-Meter
The MicroAmp-Meter is a great device with built-in Wi-Fi that displays the current consumption of the load in a web browser interface, including real-time graphical representation. The bi-directional Wi-Fi communication and remote power cycle control are some of its impressive features. It is an ideal tool for displaying current waveforms over time, similar to an oscilloscope over Wi-Fi. It also comes with a micro SD card slot and logging capability. This device is ideal for field testing as it allows you to measure the current profile over a long period, logging several parameters for over 12 hours. It is incredibly compact and portable, making it easy to carry. Ideally, it has a battery life of over 12 hours!
The MicroAmp-Meter is a reliable device with an automatic shunt-switching mechanism that precisely measures electrical current within the microamps to amps range. This wide range makes accurate and precise current measurements for embedded devices possible. The MicroAmp-Meter boasts a high ADC sampling rate and a core that runs at 80MHz. This device effectively captures noise and other short events by measuring current and voltage 4000 times per second. Its maximum voltage drop of 35 mV across all shunt ranges guarantees the accurate functioning of devices under test.
Wi-Fi-based current monitoring is an excellent approach to simplify the testing process! You can easily monitor the current performance of your device using just your mobile phone, tablet, or PC without the hassle of USB cables. This feature lets you conveniently manage your device from a distance, making it ideal for Hardware-in-the-loop testing.  This great tool empowers us to test devices anytime and anywhere. The MicroAmp-Meter is an ideal pick for students and hobbyists on a budget due to its affordability.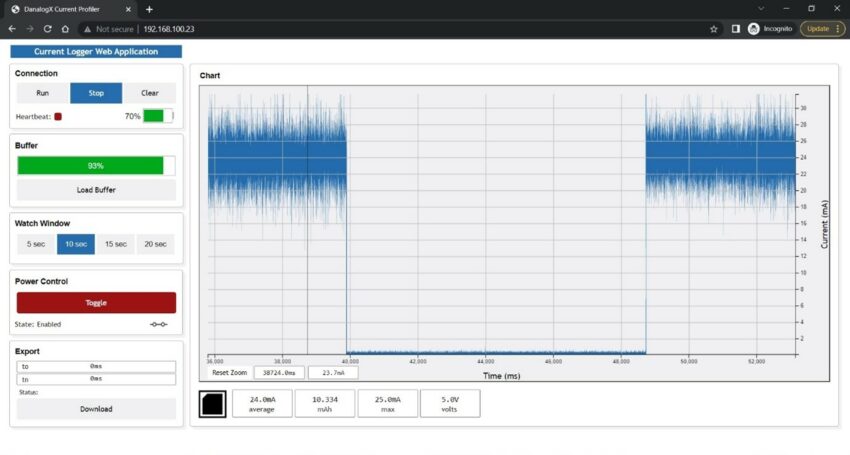 The hardware overvoltage protection circuit clamps the input to the ADC's range. Due to their minimal forward voltage drop, Schottky diodes are utilized. The 3.3 V system rail that can sink current and the ground are connected to the Schottky diodes. The series resistor that comes after the Schottky diodes also aids in controlling the current flowing into the ADC. Additionally, there are indicators for measured voltage over range on LCD and Buzzer.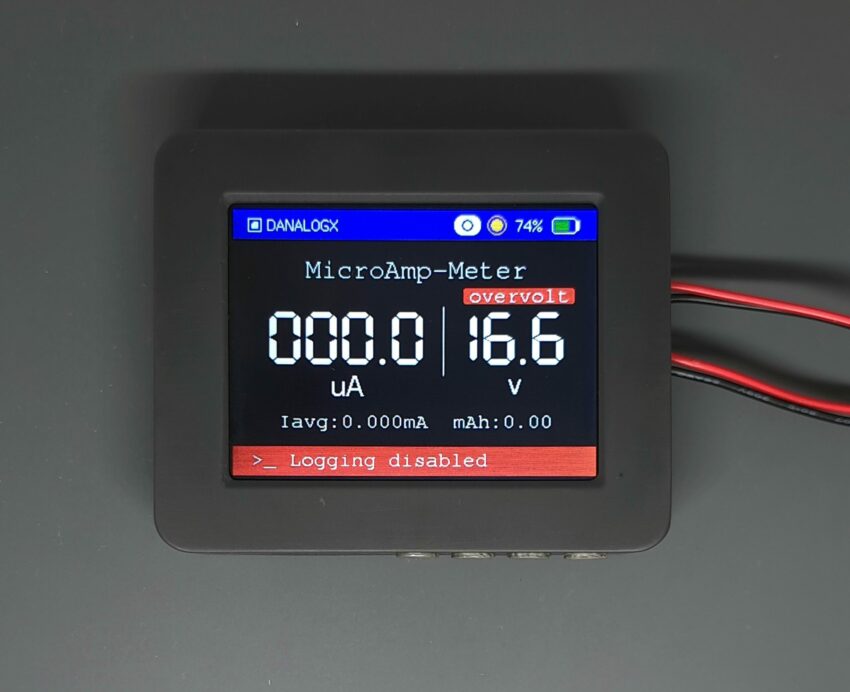 The overcurrent protection is handled by software. MicroAmp-Meter automatically turns off output if the current exceeds 1000mA. This feature is implemented with the highest software priority to execute the routine in less than 150us.
Block Diagram

Specifications
Processor- Dual core ESP32  at 80Mhz. Built-in Websocket server application
– Each core is pinned to a separate task in RTOS.
-The primary core of ESP32 reads analog data from external ADC, calculating current and switching shunts accordingly.
-The secondary core handles LCD, voltage, battery SOC, micro SD card, and Wi-Fi functionalities.
Power- 1.8-12V up to 1000 mA
Filter- Hardware low pass filter
– Software butterworth filter
Display – 2.4 inch TFT
Battery- 1500 mAh LiPo battery
– Fast charging rate up to 0.6c. Battery charging time is less than two hours.
– MAX17048G fuel gauge to detect battery SOC.
Three shunt stages:
0-1000 uA
1-300 mA
300-1000 mA
Low burden voltage (max 30mV)
Range 1: 30 µV/µA
Range 2:100 µV/mA
Range 3: 30 µV/mA
Ultrafast shunt switching in less than 200 microseconds.
Others-
-Output control button.
-TFT brightness control button.
-Button for SD card logging
-Button for turning on WIFI
Button for LCD brightness adjustment. Save power during SD card logging mode. LCD has 3 brightness levels.
– Level 0 – Backlight completely turned OFF
– Level 1 – Backlight intensity 50%
– Level 2 – Backlight intensity 100%
Buffer for voltage over range indication, overload indication, and low battery indication.
Dimension- 5.67 cm x 6.9cm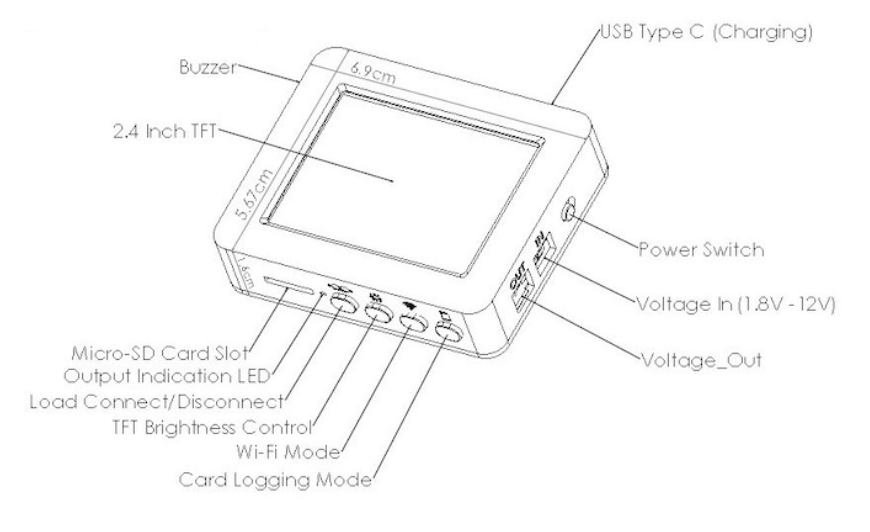 Parameters
Current reading (Noise is filtered, and the reading is smoothed out using a Butterworth filter on this parameter)
Voltage reading
Average current value (T-1 and T time interval). This parameter shows raw current data over 1 second.
Current peak value
mAh (milliampere-hour). It is the standard for determining a battery's energy capability. The parameter is highly helpful for determining the DUT battery timing calculation.
The website for this product includes an easy-to-follow guide for starting with the device.
Purchase Information
The Kickstarter page states a $100 or more Pledge to get a MicroAmp-Meter (including 2 x JST Cable). Pledge of $125 or more for MicroAmp-Meter with Micro SD Card/MicroAmp-Meter with Power Adapter. Pledge $150 or more for a complete MicroAmp-Meter Starter Kit. The estimated time of delivery is around Sep 2023.
Join 97,426 other subscribers

Archives