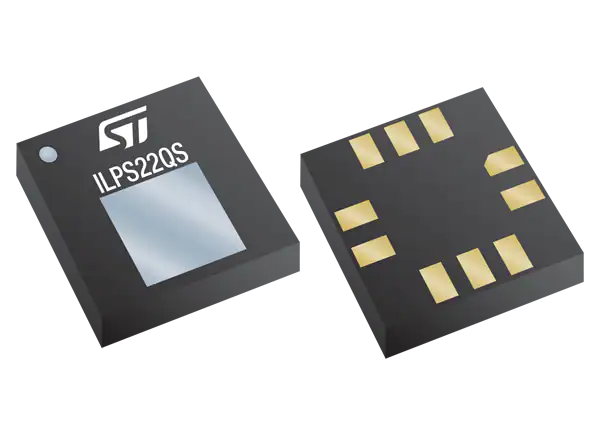 Dual full-scale, absolute digital output barometer with embedded Qvar electrostatic sensor
STMicroelectronics ILPS22QS Absolute Digital Output Barometer is an ultra-compact piezoresistive absolute pressure sensor that operates as a digital output barometer. The ILPS22QS supports dual full-scale up to user-selectable 4060hPa. The ILPS22QS features ultra-low pressure noise with very low power consumption.
The STM ILPS22QS Absolute Digital Output Barometer combines a sensing element and an IC interface that communicates over I2C, MIPI I3CSM, or SPI interfaces from the sensing element to the application. The sensing element that detects absolute pressure consists of a suspended membrane manufactured using a dedicated process developed by ST.
The ILPS22QS is offered in a full-mold, holed LGA package (HLGA) and operates over an extended temperature range from -40°C to +105°C. The LGA package is holed to allow external pressure to reach the sensing element.
Features
Selectable dual full-scale absolute pressure range

Mode 1 at 260hPa ~ 1260hPa
Mode 2 at 260hPa ~ 4060hPa

Current consumption down to 1.8µA
0.5hPa absolute pressure accuracy
0.34Pa low-pressure sensor noise
High-performance TCO at 0.45Pa/°C
Embedded temperature compensation
Extended temperature range from -40°C to +105°C
24-bit pressure data output
ODR from 1Hz to 200Hz
SPI, I2C, or MIPI I3CSM interfaces
Supports 1.08V digital interface
Embedded FIFO
Embedded analog hub for processing analog input data
Embedded Qvar for detecting electric charge variation
Interrupt functions: data-ready, FIFO flags, pressure thresholds
1.7V to 3.6V supply voltage
22,000g High shock survivability
Small and thin package
ECOPACK lead-free compliant
more information: https://www.st.com/en/mems-and-sensors/ilps22qs.html
Join 97,426 other subscribers

Archives