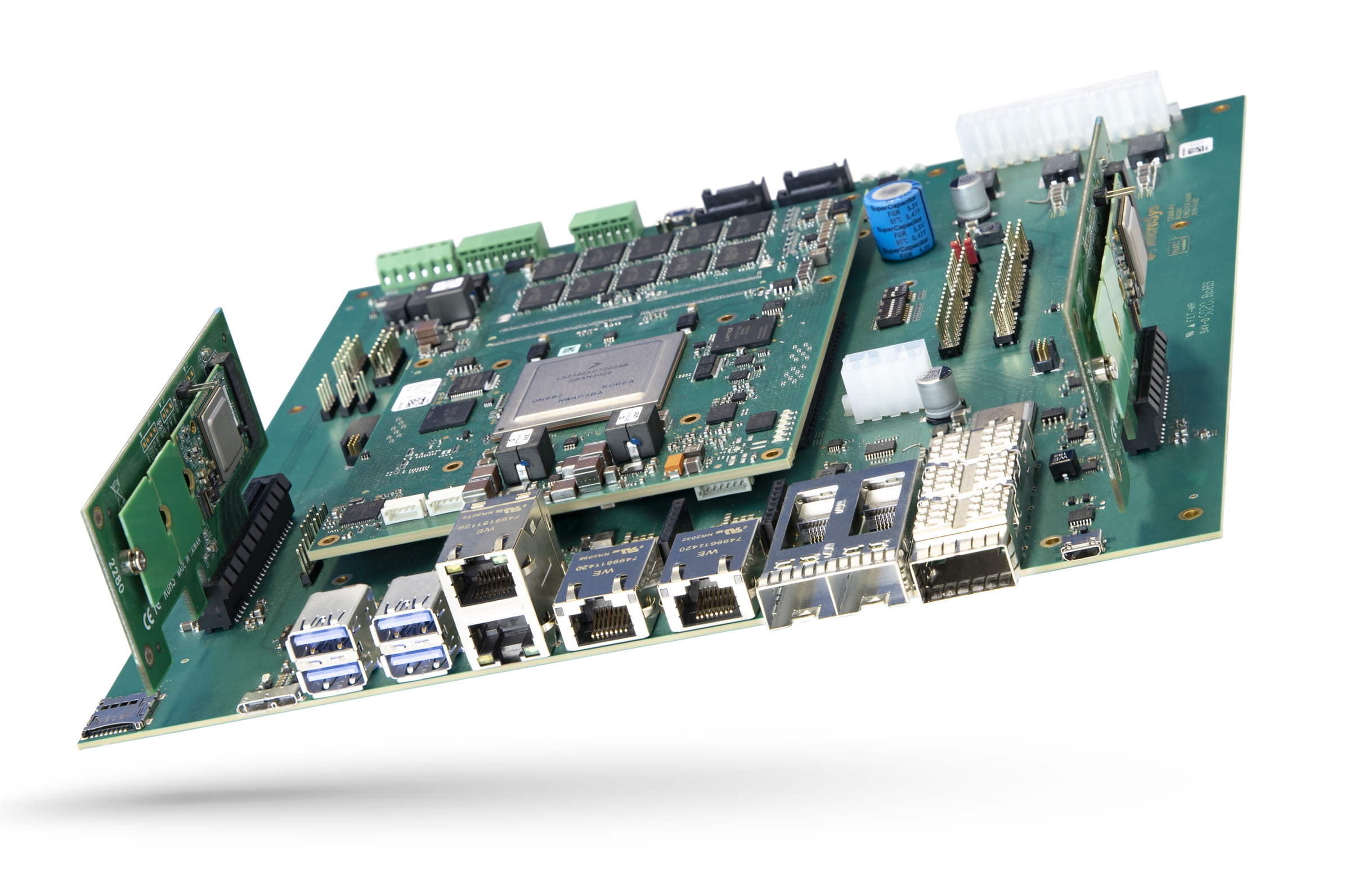 Embedded AI platform combines 16-core NXP Layerscape LX2160A processor with up to 5x Hailo-8 NPUs
MicroSys Electronics, a world leader in embedded systems, has gone into partnership with Leading AI chipmaker, Hailo, to launch a scalable embedded platform for AI processing at the edge.
The company released a miriac® AIP-LX2160A dev kit with up to 5x integrated Hailo-8™ AI accelerator modules for processing performance up to 130 TOPS. They also released a miriac® MPX-LX2160A module which is used as a foundation for the kit.
The AIP-LX2160A kit is equipped with 2x 25GbE, 2x 10GbE, 2x 1GbE ports as well as 16x PCIe lanes (PCIe x8, PCIe x4, and PCIe x4, each with 2.5, 5 or 8Gbps support). The dev kit also has 4x SATA III, 1x microSD, 4x USB 3.0 host, a micro-USB 3.0 OTG port, 3x serial ports (UART/USB console, TTL, and RS485) JTAG, FlexSPI, 2x I2C, 6x-in/6x-out SPS, 4x LEDs, temperature sensors, fan controller, boot select, an RTC, a 12V input and ATX power supply with a 200W minimum, and 0 ~ 80°C operating range.
The MPX-LX2160A module, on the other hand, runs Linux on NXP's 16-core, Cortex-A72 Layerscape LX2160A, which we have seen on high-end networking boards. The module also offers 2 Gbits Octal SPI flash, 8GB to 256GB eMMC, and up to 128GB of DDR4.
Hailo's Hailo-8 M.2 AI acceleration module for AI applications offers industry-leading AI performance for edge devices. The combination of the Hailo-8™ AI acceleration module and the Arm® Cortex® NXP® Layerscape® platforms offers the benefit of integrating highly efficient AI in connected edge appliances. According to MicroSys, the embedded platform is the first ever to deploy up to 5x Hailo-8 cards on a single device and the aim is to help users get the most out of AI and neural networks.
"Hailo's AI processor allows edge devices to run full-scale deep learning applications more efficiently, effectively, and sustainably while significantly lowering costs. In combination with our NXP processor-based platforms, our customers get one of the most powerful AI solutions that can be developed for edge applications,"
says Managing Director at MicroSys Electronics.
Features:
5x parallel Hailo-8 AI modules for massive processing performance up to 130 TOPS
Full Hailo-8 performance combined with maximum power efficiency (FPS / W ratio)
Up to 955 YOLOv5m / 6145 Resnet_v1_50 / 5200 Ssd_mobilenet_v1 object detection frames (416×416) per second performance
Hailo AI ecosystem incl. AI toolchain and developer tools
Deep learning pre-trained models for various computer vision tasks
Applications:
The high-performance application-ready AI platform is perfect for a wide range of applications in fields like Industry 4.0, automotive and heavy machinery. These include:
predictive maintenance
collaborative robotics,
video surveillance servers in systems with distributed cameras
communication servers for autonomous vehicles in logistics and agriculture
heavy equipment for construction, as well as,
edge servers in trains where multiple GigE Vision camera streams are analyzed with AI
There are no details on the price and availability of both the miriac AIP-LX2160A kit or miriac MPX-LX2160A module but further details may be found on the product page or the company's announcement page.
Join 97,426 other subscribers

Archives