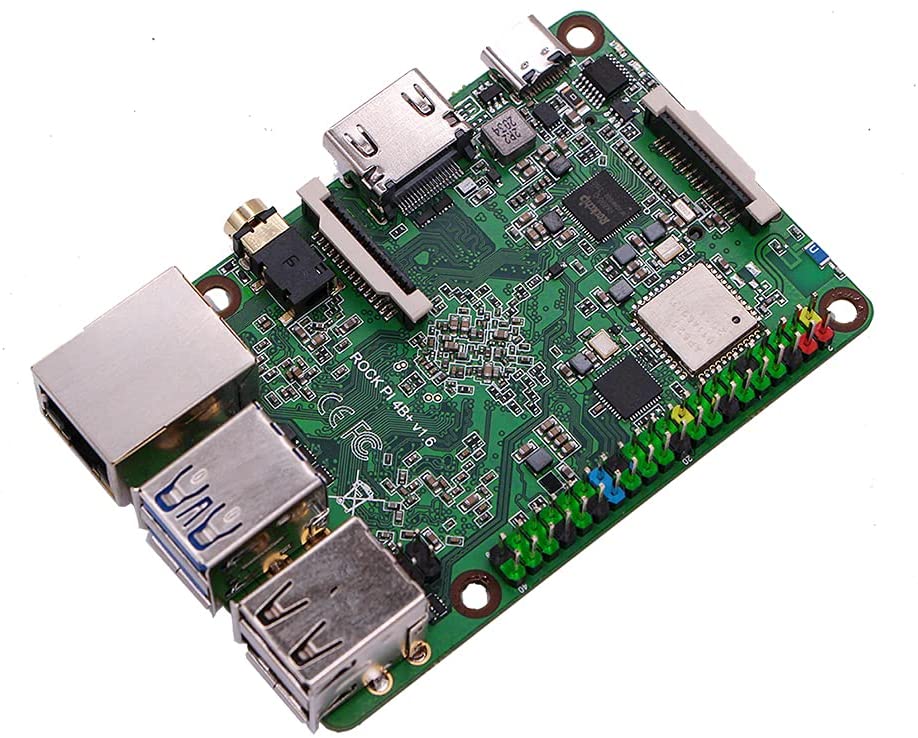 Rock Pi 4 Plus SBC Features Rockchip OP1 Processor and eMMC Storage with Twister OS Armbian
Radxa launched the Rock Pi 4 Plus series of single-board computers with the Rockchip OP1 Processor, as an alternative to the Raspberry Pi. The new Rock Pi 4 Plus has been upgraded to a Rockchip OP1 processor, a powerful hexa-core ARM-based RK3399 SoC. Hence, it should be 11% faster than its predecessors. Additionally, the SBC delivers class-leading performance while leveraging excellent mechanical compatibility, making it a good choice for IoT enthusiasts and hobbyists.
The onboard RK3399 SoC packs a quad-core 1.4GHz Cortex-A53 with a dual-core 2GHz Cortex-A72 along with a Mali T860MP4 graphic processing unit (GPU). This high-performance SoC is used in ASUS Tinker Board 2. The Plus version additionally has onboard eMMC storage and comes pre-loaded with the Armbian-based Twister OS.
The new Rock Pi 4 Plus features Gigabit Ethernet (GbE) with PoE support (additional HAT is necessary). The board is equipped with two-lane MIPI-DSI and -CSI interfaces and a 4K-ready HDMI 2.0 port for display interface. With the small form factor of 85 x 54 mm, the SBC comes with a rich set of physical connectivity through 40-pin GPIOs, and a pair each of USB 3.0 and 2.0 ports.
Interface Description of Rock Pi 4 Plus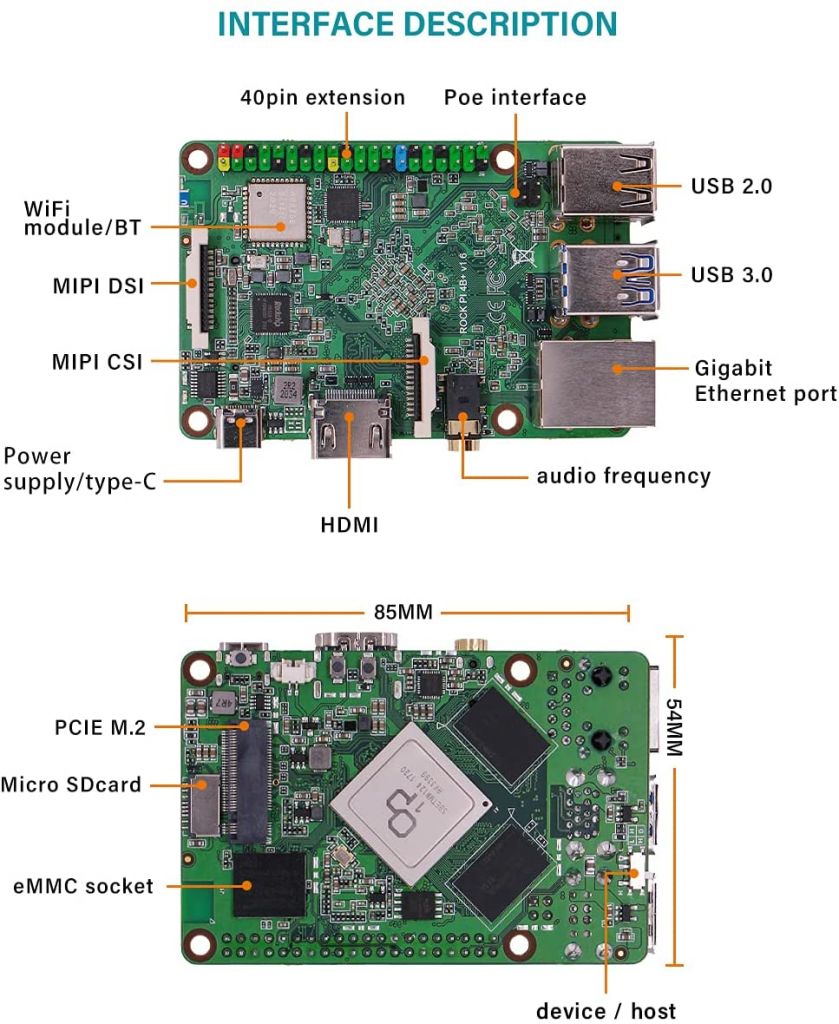 Furthermore, instead of depending on an optional eMMC module, the board includes 16 to 128 GB of eMMC memory. It also offers a microSD card slot and an M.2 socket with support for the NVMe SSD storage. Additionally, the company also packs an audio jack with a mic and a real-time clock(RTC). It also comes with a USB Type-C port for charging.
Radxa offers two versions of Rock Pi 4 Plus— Model A and Model B, both featuring the same SoC and most of the same hardware. However, the 4A+ and 4B+ are similar to the previous Rock Pi 4A and 4B. But it comes with the exception that the 4B+ SBC includes built-in WiFi and Bluetooth. Hence, the Rock Pi 4B+ is the perfect choice for personal or commercial applications.
According to the post by Linux Gizmos, Radxa intends to sell the Rock Pi 4 Plus in four variations as follows:
Model A — 2GB LPDDR4 + 16GB eMMC — $49
Model A — 4GB LPDDR4 + 32GB eMMC — $65
Model B — 2GB LPDDR4 + 16GB eMMC — $59
Model B — 4GB LPDDR4 + 32GB eMMC — $75
Talking about the software ecosystem, the new Rock Pi 4 Plus board comes pre-loaded with Twister OS Armbian. It is a fast and lightweight desktop operating system based on Armbian Focal 20.04.1 LTS for RK3399-based SBCs. Additionally, Twister OS strongly recommends using an RK3399-based SBC with 4 GB of RAM and 16 GB of microSD/eMMC storage. According to Radxa, the Armbian-based Twister OS "brings recent Linux kernel, supports HW decoding and 2D/3D GPU acceleration to the Rock Pi Plus."
Currently, only Rock Pi 4B+ with 4GB RAM, 32GB of eMMC flash, and WiFi/Bluetooth is available for $95 on Amazon. For more information visit Radxa's Rock Pi community website.
Join 97,426 other subscribers

Archives