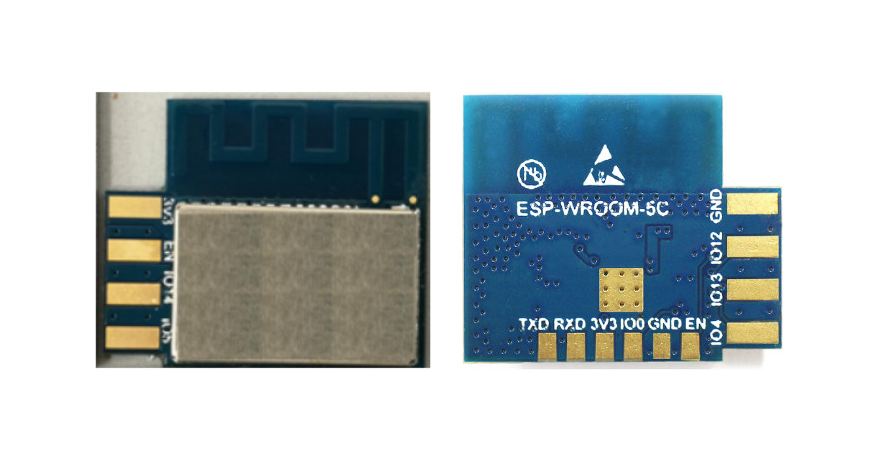 ESP-WROOM-5C is a Side-Mounted ESP8285 WiFi Module
Seems we don't have enough ESP8266 or ESP8285 WiFi modules in the market, and based on an FCC listing, we now know that Espressif Systems has been working on another ESP8285 WiFi module – ESP-WROOM-5C – designed to be side-mounted on a PCB.
ESP-WROOM-5C specifications:
SoC – Espressif Systems ESP8285
Wi-Fi802.11 b/g/n WiFi 4 @ 2412 MHz ~2462 MHz;
Station/SoftAP/SoftAP + Station modes
WPA/WPA2 security with EP/TKIP/AES encryption
PCB antenna
Peripheral interfaceI2C/IR Remote Control
GPIO/PWM
Operating voltage – 2.7V ~ 3.6V
Operating current – Average: 80 mA
Minimum current delivered by power supply – 500 mA
Dimensions – 19 x 16 x 3.2 mm
Temperature Range – -40°C ~ 105°C
Reliability Tests – HTOL/HTSL/uHAST/TCT/ESD
The module supports firmware upgrade over UART or OTA (Over-The-Air). Software development can be done with the IDF SDK for custom firmware, but "Cloud Server development" is also possible, and an Android/iOS app can be provided for user configuration.
There isn't more information about ESP-WROOM-5C publicly available and you can find the user manual (PDF) for more technical details.