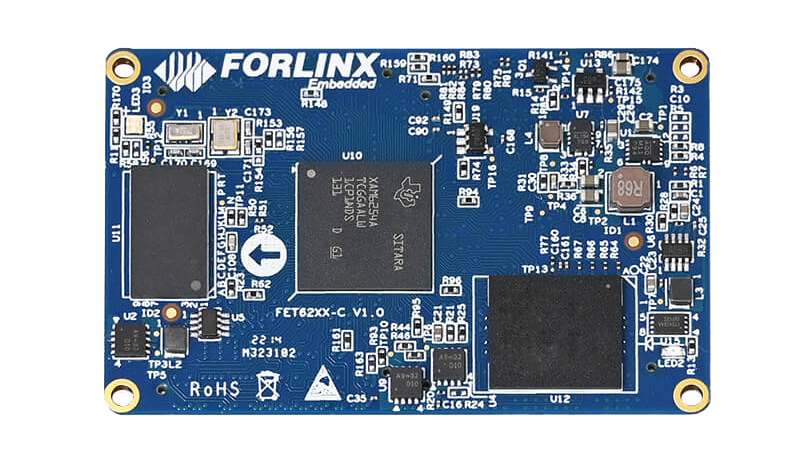 Forlinx Introduces SBC powered by TI's newest quad-core Sitara AM6254 processor
Forlinx Embedded, a leading manufacturer and supplier focused on designing and providing customers with trusted, ready-to-use, and easy-going ARM single board computers have introduced a new OK6254-C single board computer compatible with a FET6254-C SoM which is based on the quad-core Sitara AM6254 processor from Texas Instruments. The OK6254-C SBC boasts up to 8GB of eMMC, 2Kbit EEPROM, and up to three displays (one 16-bit RGB parallel interface and two dual-channel LVDS ports).
The FET6254-C SoM is a cost-effective and high-performance SoM based on AM62x series industrial grade SoCs. These SoCs, powered by 1.4GHz ARM Cortex-A53 cores, come with dual display support, a 3D graphics processing unit, one general-purpose memory controller, and high-speed interfaces.
The SoM is designed with ultra-thin connectors on its back for mating with the carrier board and has a combined height of only 2mm that allows for plug operations and maintenance. The SoM also has rich peripheral interface resources including dual GbE LAN ports, USB 2.0, RGB parallel, UART, CAN-FD, Camera, and Audio.
The SoM is widely applicable in projects like edge computing, retail automation, medical and laboratory equipment, appliance user interface and connectivity, industrial computer, industry 4.0, Human Machine Interfaces (HMI), 3D Re-configurable automotive instrument cluster, Telematics Control Unit (TCU), etc.
Key Features and Specifications of the FET625x-C SoM Include:
Processor: TI AM6254

CPU: 64-bit ARM Cortex-A53 quad-core processor (up to 1.4GHz)
MCU: Cortex-M4F (up to 400MHz)
GPU: AXE1-16M GPU that supports OpenGL ES 3.1 and OpenCL 3.0 and Vulkan 1.2

1GB DDR4 (option for 2GB)
8GB eMMC
-40 to +85℃ operating temperature range
5V DC working voltage
Dimensions: 60 mm x 38 mm; 4 x 80-pin board-to-board connector
OS: Linux 5.10.87 + QT5.14.2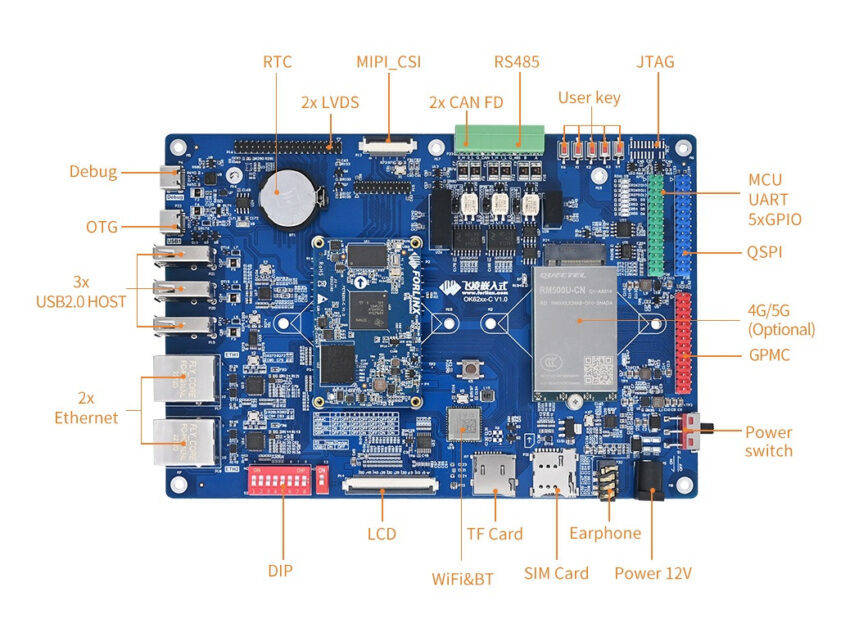 OK6254-C Carrier Board Specifications Include:
128 Mbit QSPI
2 Kbit EEPROM
1x microSD card slot (up to 104 MB/s)
1x LVDS dual asynchronous channel (up to 1080×800 @60fps)
1x 16-bit RGB parallel via FPC connector (up to 1024×600 @60fps)
1x headphone output, 1x MIC input
1x FPC connector
2x GbE LAN ports
IEEE 802.11 a/b/g/n/ac dual-band Wi-Fi (via On-board AW-CM358M, up to 433.3Mbps)
Bluetooth 5.0 (up to 3Mbps)
1x MicroSIM card slot (optional)
3x USB 2.0 Host
1x USB 2.0 OTG
1x RS485
2x CAN FD, 2x I2C, 1x SPI (via pin headers)
16x ADC pins (via pin headers)
1x 20-pin JTAG
3x Debug UART
1x Onboard RTC
Power: DC 5V/3A (Type-C)
Dimensions: 190 mm x 130mm
Other useful details on the SoM, SBC, and recommended accessories can also be found on the product page. The company however did not state how much they cost at the moment.
Join 97,426 other subscribers

Archives