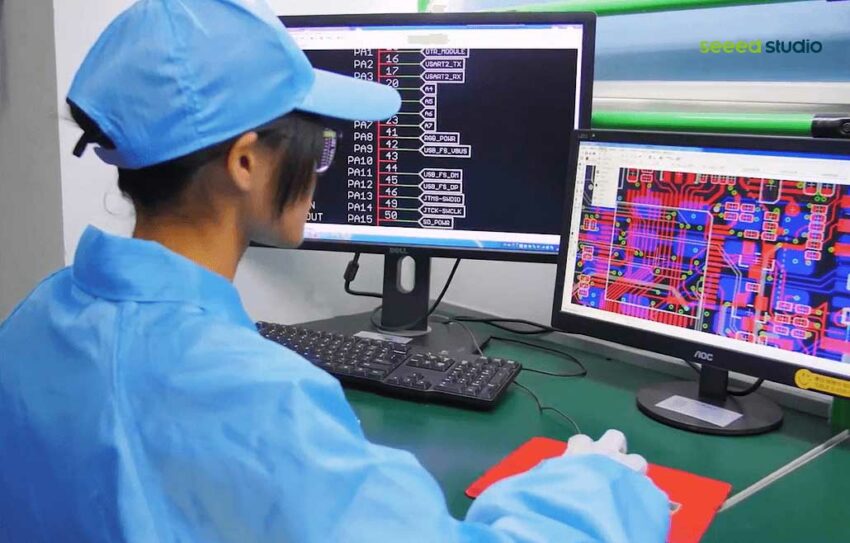 Free Functional Testing For All PCBA Orders | Enjoy Agile Service by Seeed Fusion Right Now!
Exciting Announcement!!! A Brand New Free Functional Testing launched!
With the aim to guarantee superior product quality and enhance customer satisfaction, Seeed Fusion introduced Free Functional Testing Plan two years ago, which garnered tremendous positive responses. Today, we are thrilled to announce a major service upgrade: from now on, Free Functional Testing is available without any limitations on all PCBA orders! You can enjoy this enhanced service with every single PCBA order you place.
PCBA manufacturing is a complex process that involves multiple intricate steps. Consequently, functional testing emerges as a vital quality control method to guarantee optimal performance of the assembled PCB. At Seeed Fusion, we acknowledge the utmost significance of testing. That's why we are thrilled to announce the official launch of our Free Functional Testing service for all PCBA orders.
Why is testing important?
Nothing is more disappointing than receiving a product dead on arrival, including PCB assemblies. The consequences are costly, both economically and in terms of time, and may be difficult to remedy, especially without the necessary re-work equipment. With small-batch manufacturing, it may not be feasible to utilize more expensive testing methods such as AOI, or x-ray inspection (AXI). That is where functional testing can help.
What is PCBA Functional Testing?
The final quality assurance step in the entire production process, functional testing verifies that the boards do what they are supposed to do, by simulating the real operating environment. This can be as simple as an on/off power test, LED test, or running of a comprehensive software program.
Seeed now provides free functional testing for all PCBA orders to ensure the quality of your PCBA products and avoid costly delays.
As always in manufacturing, the earlier problems are found, the cheaper and easier they are to remedy. By allowing Seeed engineers to take care of testing before the boards are shipped to you, any defective boards can be reworked on-site, ensuring that all boards leaving the production floor work as intended. Our technicians can also perform point-to-point voltage tests, create custom test jigs, and handle burning firmware in-house.
How to Get Free PCBA Functional Testing?
By testing a single piece, you can identify errors that may go unnoticed through visual inspection alone and validate the entire turnkey process. Be among the early adopters to benefit from this service, which is both straightforward and expeditious.
First, as usual, upload your Gerber files and BOM file to Seeed Fusion PCB/PCBA order page, and select the board's parameters and any other features. The system will generate the PCBA quotation as usual.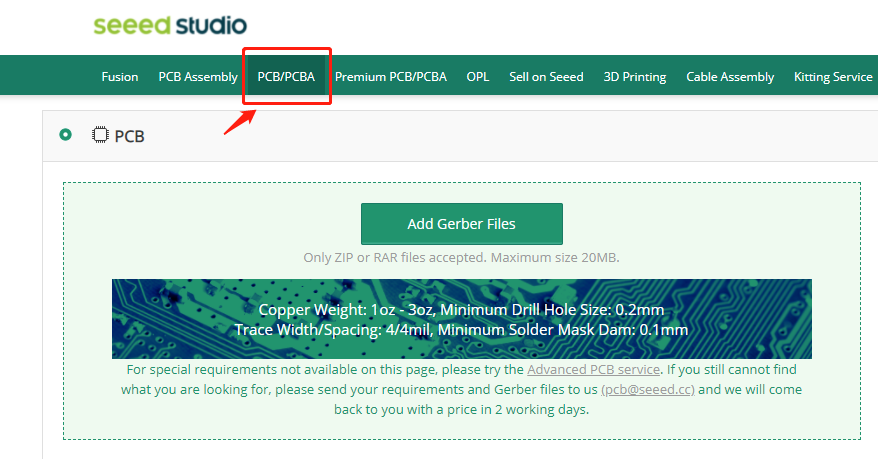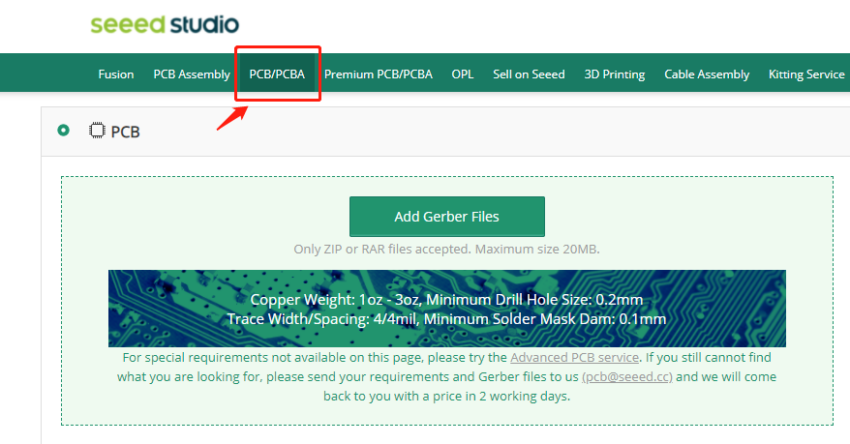 After completing the above, navigate to the functional testing section below and select [100% Functional Testing]. Then, upload the test plan instructing us how to test the board functions as expected. You can also upload the test plan before the boards are completed later.
Notes: Functional testing for one piece will typically increase the lead time by around two working days. High precision testing and high voltage testing or any testing that poses a health risk to technicians will not be accepted. Customers will be expected to pay for any specialist tools or materials required for testing.
For more information on our testing procedures and capabilities, please refer to the PCBA functional test FAQ.
With the help of Seeed Fusion functional testing, realize improved yield, greater efficiency, and cheaper turnkey PCB assembly. Get a quotation now and become one of the first to take advantage of free Seeed PCBA functional testing.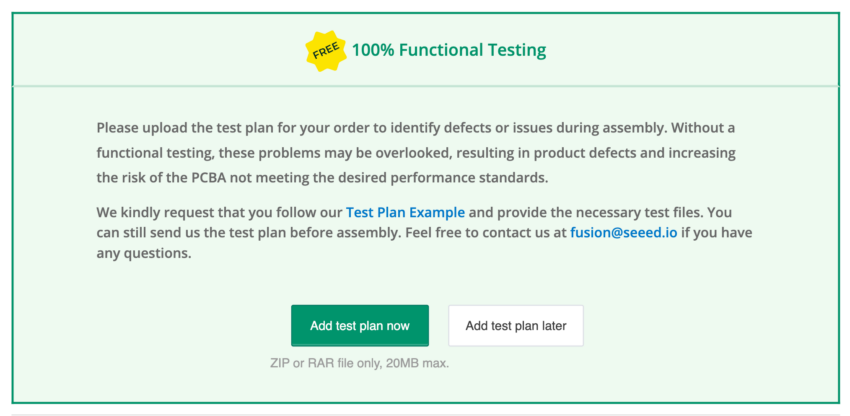 Besides free Functional Testing with every PCBA order, Seeed also provides free DFM & DFA reviews to maximize yield and minimize assembly complications.
Seeed has been engaged in the electronic design and production industry for more than 12 years. With extensive manufacturing experience, and ISO9001 quality management standards, Seeed is well aware of the importance of eliminating errors as soon as possible in the production cycle.
That is why, in addition to free PCB Design for Manufacture (DFM) review, we also provide PCBA design for assembly (DFA) review for free with every PCBA order. Now, we are delighted to add free functional testing to our turnkey PCB assembly package. We sincerely hope you will realize the benefits!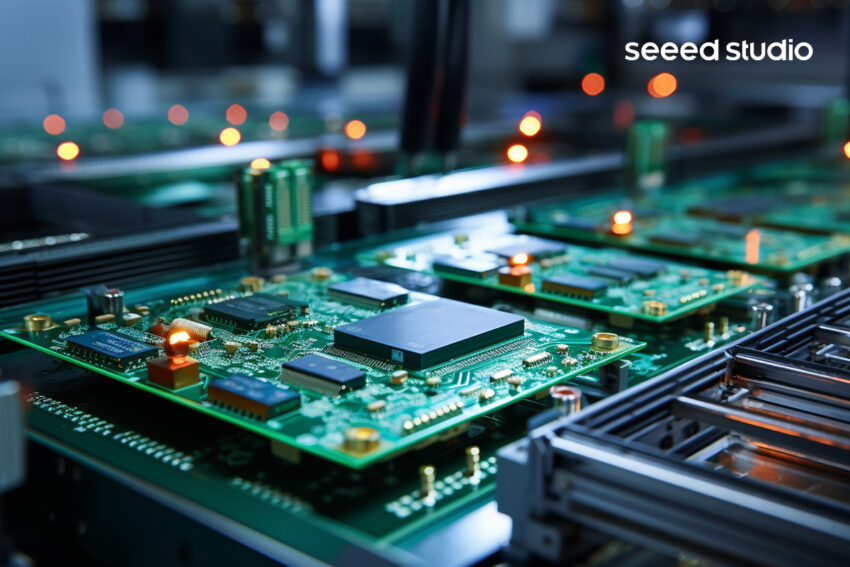 If you are very interested in our product but do not want to draw the schematic and layout by yourself for some reason, you are welcome to experience our ODM service. For more information, please contact fusion@seeed.io for help.
Join 97,426 other subscribers

Archives