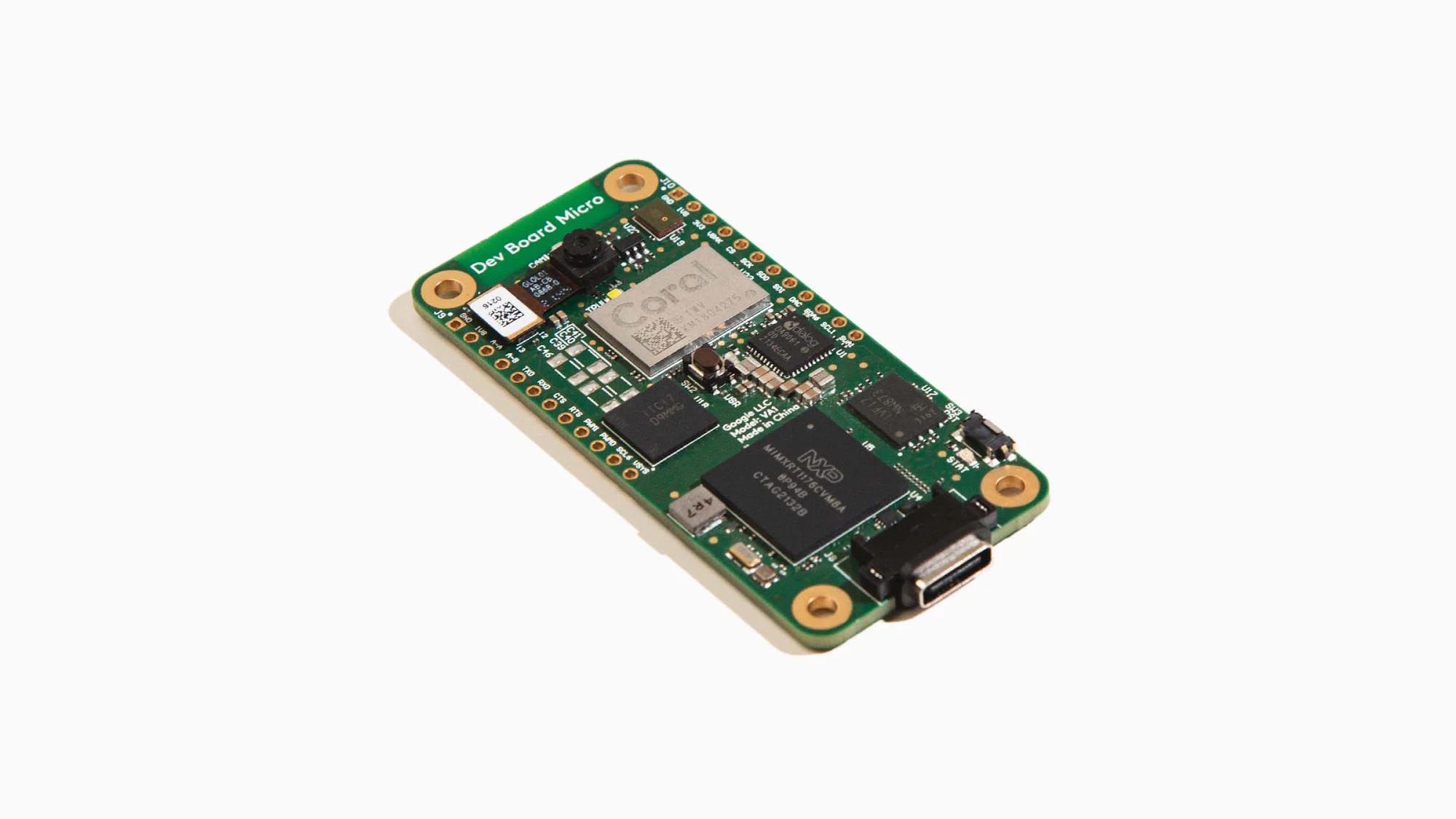 Google Coral Dev Board Micro Enables Computing in Small Form Factor
With the mission to build intelligent devices with fast neural network inferencing, Coral is about to release the new Coral Dev Board Micro. This embedded board enables more complex Machine Learning (ML) inferencing while still preserving its power efficiency. The Coral Dev Board is a microcontroller board with a built-in camera, microphone, and Coral Edge TPU.
The Coral Dev Board Mini comes with a Himax HM01B0 camera of 324×324 pixels with a 110 degrees FOV and f/2.0 focal ratio. Thus, the board should specialize in computer vision applications such as gestures, proximity sensing, tracking, and object identification. Nextly, it also has a PDM mono microphone, hence expanding the use cases involving input audio.

Technical Specifications of Coral Dev Board
Arm Cortex-M4 (up to 400 MHz) and Arm Cortex-M7 (up to 800 MHz) processors
RAM 64 MB
Flash memory 128 MiB
Himax color camera (324 x 324 px)
PDM mono microphone
Coral Wi-Fi/Bluetooth Module Board
Coral Ethernet/POE Board
The Coral Edge TPU (4 TOPS) is a small application-specific integrated circuit designed by Google that accelerates TensorFlow Lite models in a power-efficient manner. The Edge TPU  of the board is capable of performing 4 TOPS, with a dedicated function for inference linking of the neural networks. The on-device ML processing reduces latency, increases data privacy, and removes the need for a constant internet connection.
For input and output, the coral dev board provides a 2x 12-pin through-hole interface, 2x 100-pin board-to-board connectors, USB Type-C (USB 2.0), PWM, UART, I2C, SPI, DAC, etc. For the user interface, there are On-Board LEDs (one of which is user programmable) and two switch buttons-one as a reset button, and the other one is user programmable.
The user can set up a wireless add-on board as well as a Power over Ethernet (PoE) Add-on board. Amongst the many peculiar applications of the Coral Dev Board Micro, one of them is to build apps with FreeRTOS. It allows multitasking which is rare to find on microcontrollers. One can also tap into various multi-core applications as the dev board has both M4 and M7 processors.
The board is available for preorder on the official product page. It also redirects to the documentation and tutorial pages of applications of the board.
Join 97,426 other subscribers

Archives