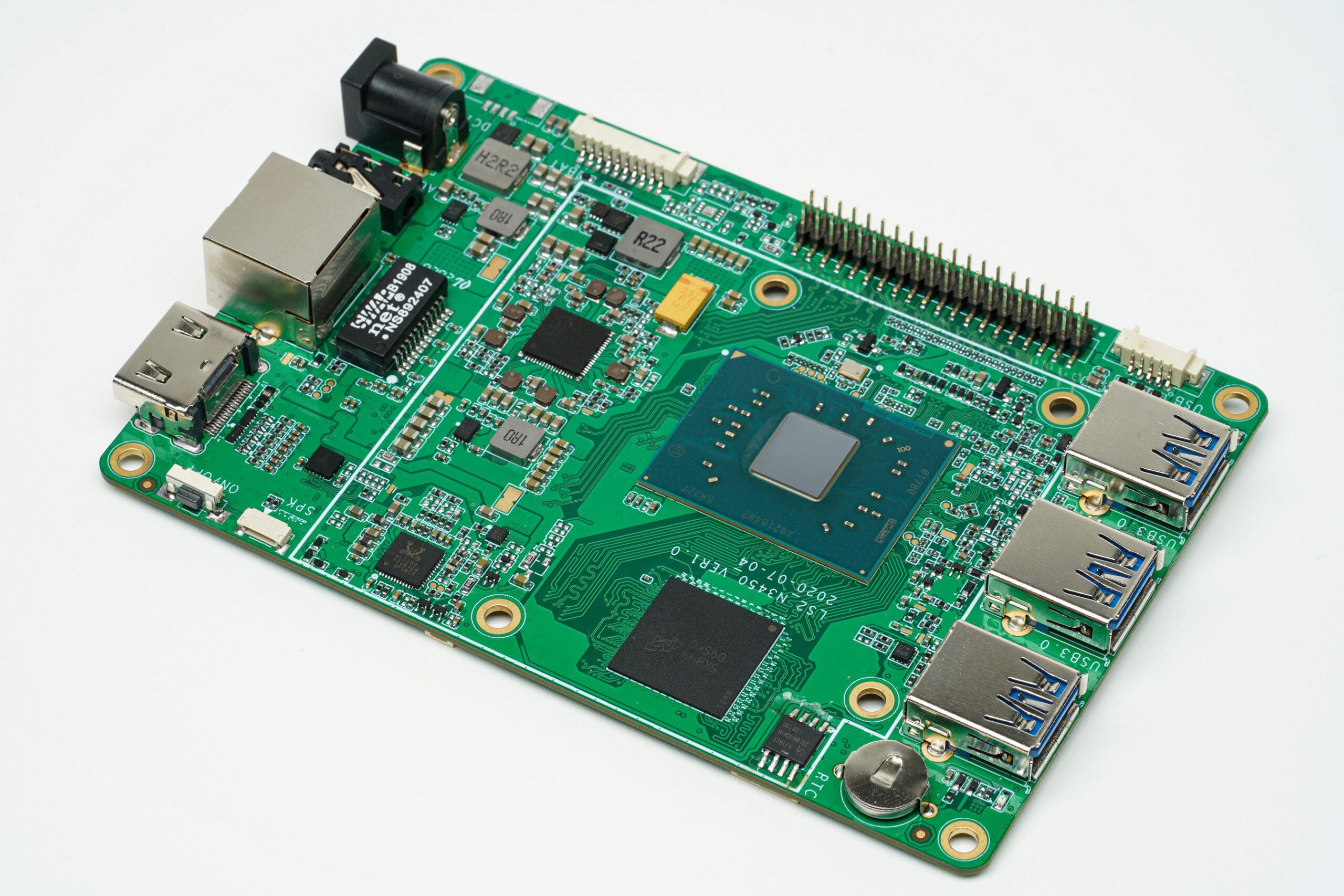 Hackboard 2 Intel Gemini Lake Based SBC Features Windows 10 Pro
Hackboard, a Texas-based startup has launched a campaign on Crowdsupply for Hackboard 2, which is a new single-board computer (SBC) designed from the ground up to be one of the most powerful and affordable Windows-capable, Intel-based computers ever. The SBC features optional 4G or 5G connectivity, and it is ideal for students, teachers, families, makers, and hobbyists alike. Unlike the Raspberry Pi, Hackboard 2 is based on a powerful Intel processor capable of running Windows, and unlike other Intel-based SBCs, Hackboard 2 is incredibly affordable. The Hackboard 2 features a dual-core 1.1GHz/2.8GHz Celeron N4020, with a 6W TDP from the second wave of Gemini Lake RefreshSoCs. The SBC also ships with 4GB DDR4 and 64GB eMMC and provides M.2 B- and B/M-key slots. For low-power expansion, the SBC features a 40-pin GPIO header which is compatible with Raspberry Pi HATs. Python is pre-installed for hacking the GPIO. The board also features a GbE port, 802.11ac with Bluetooth 5.1, and 3x USB 3.0 ports.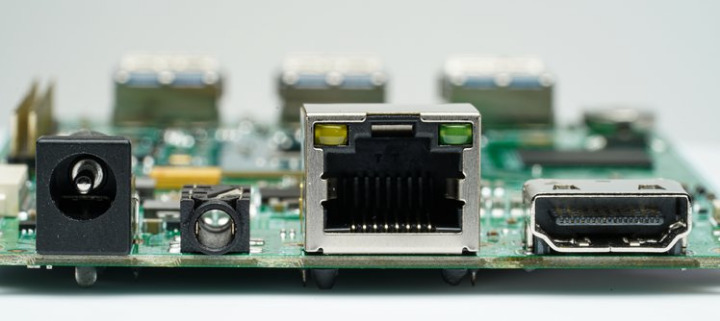 Hackboard 2 is a reliable, high-performance platform that is well suited to a large and diverse set of possible projects. Application of the Hackboard 2 includes:
Entertainment systems like media servers, game consoles, and digital audio hubs
Home automation controllers and smart-home peripherals like IoT appliances and security systems
Sensor gateways such as industrial monitors and controls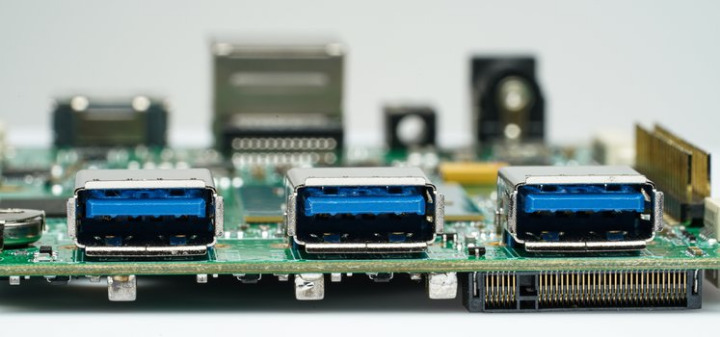 The standard version of Hackboard 2 features preinstalled Windows 10 Pro, a full-featured version of Windows that retails for more than the price of Hackboard 2 itself, and also comes preinstalled with the powerful Python programming language for accessing Hackboard 2's GPIO.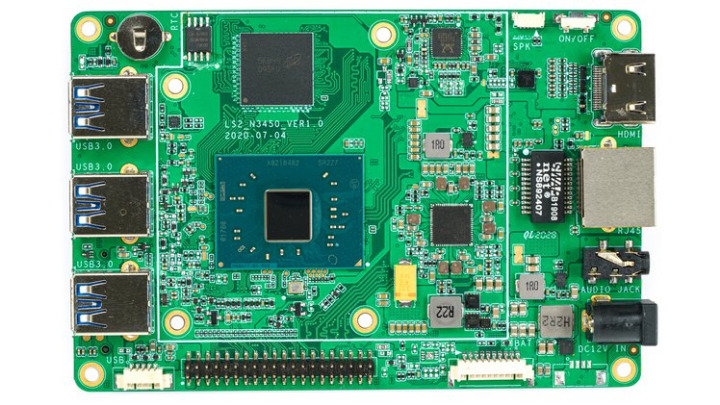 There is a limited edition version of Hackboard 2, which is preinstalled with Ubuntu Linux and it will be available only during the Crowd Supply campaign. The hardware is identical, but it features Linux instead of Windows. The Hackboard 2 Starter Kit features everything you need to hook up Hackboard 2 to your own monitor or TV and be productive right away. It includes a Hackboard 2 with Windows 10 Pro, a 12 VDC / 3 A international power supply, a heatsink, two board-mountable antennas, a protective ABS plastic case, a 1080p USB 2 video camera, and a wireless keyboard with integrated trackpad, all slim and lightweight enough to take on the go. Optional 4G and 5G cellular modems are available separately.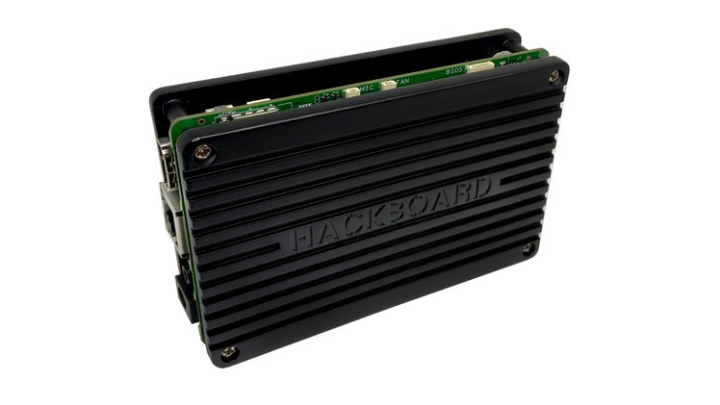 The Hackboard 2 Complete Kit features everything you need to carry out your work right away. It includes everything that comes with a Hackboard 2 Starter Kit, plus a portable 13.3″ IPS 1080p HD display with integrated speakers, USB C and HDMI inputs, a mini USB B power supply (5 V / 3 A), and a protective cover that doubles as a stand, all slim and lightweight enough to take on the go. Optional 4G and 5G cellular modems are available separately.
Features & Specifications:
Processor – Intel Celeron N4020
-Dual-core, 64-bit
-Up to 2.8 GHz clock
-4 MB cache
Memory & Storage
-4 GB DDR4 RAM
-64 GB onboard eMMC flash
-Two NVMe M.2 slots accommodate up to 4 TB additional storage
Video & Audio
-Intel UHD Graphics 600
-4K HDMI 2.1 output
-30-pin eDP 11.6″-15.6″ screen connector
-6-pin touchscreen interface
-3.5 mm CTIA audio jack (stereo + mic)
-5-pin stereo speaker connector
Connectivity
-Wi-Fi – Intel dual-band AC95060 rated at 1.73 Gb/s
-Bluetooth 5.1
-Gigabit Ethernet
-Optional 4G or 5G cellular modem
Expandability
-3 x USB 3.0 ports
-5-pin USB 2 camera connection
-40-pin GPIO header (RPi-HAT-compatible with pass-through adapter)
-NVMe M.2 B key slot
-NVMe M.2 B & M key slot
Power – included
-12 VDC, 3 A international power supply
-10-pin 3.7 V rechargeable battery input connector
-Heatsink
-Small cell battery for up to two years BIOS backup
Dimensions
-120 mm x 80 mm
-Corner mounting holes centered 5 mm from edges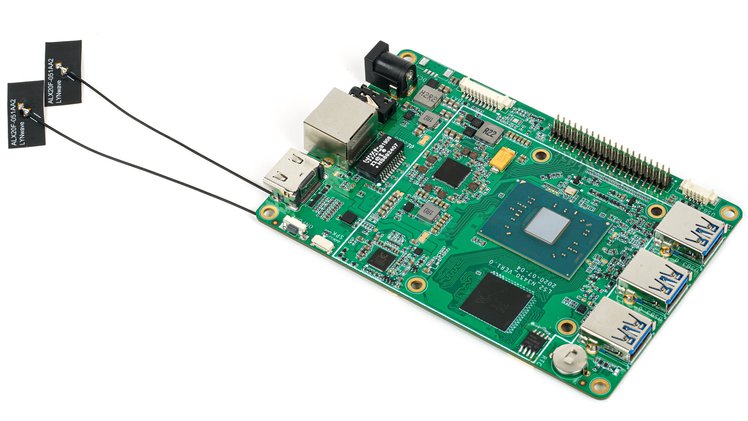 The Hackboard 2 is available on Crowd Supply till Jan. 15, with pricing starting at $99 with Ubuntu, and $140 with Win 10 Pro. Shipments are due April 30, 2021, with shipping costing $8 in the US and $20 to other parts of the world. You can find more information on Hackboard's announcement and on the Hackboard 2 Crowd Supply page and the Hackboard website.
Join 97,426 other subscribers

Archives