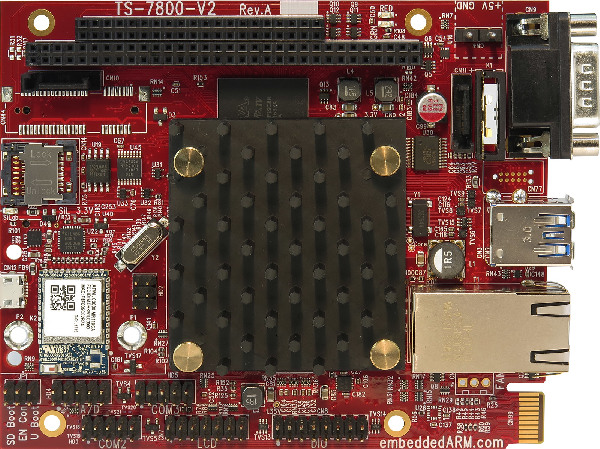 High Performance SBC TS-7800-V2 Runs Debian With Linux 4.4.8
Back in 2007, Technologic Systems announced the TS-7800, a single-board computer (SBC) that was able to boot Linux 2.6 in under two seconds. At its core, The TS-7800 is equipped with a Marvel 500MHz ARM9 CPU and includes a user-programmable on-board FPGA (Field-Programmable Gate Array) with 12,000 LUTs (look-up tables). The TS-7800 was a powerful board at that point and a template for other SBCs to follow in the years to come.
March 2018, Technologic Systems announced their latest single board computer, the TS-7800-V2. The TS-7800-V2 is a significant upgrade of their 2017 debuted TS-7800 V1 SBC and replaced the core features of the TS-7800. Technologic has swapped out the old ARM9 based, 500MHz Marvel Orion 88F5182 processor for the faster Marvell 1.3GHz Armada 385 ARM Cortex A9 high-performance dual-core CPU. The Marvel Armada 385 is designed to provide extreme performance for applications which demand high reliability, fast bootup/startup, and consistent connectivity.
Just like the TS-7800 offers backward compatibility to the TS-72xx boards, the TS-7800-V2 also maintains compatibility to the V1 model in areas of electrical, mechanical, software and measures just about 119 x 97mm.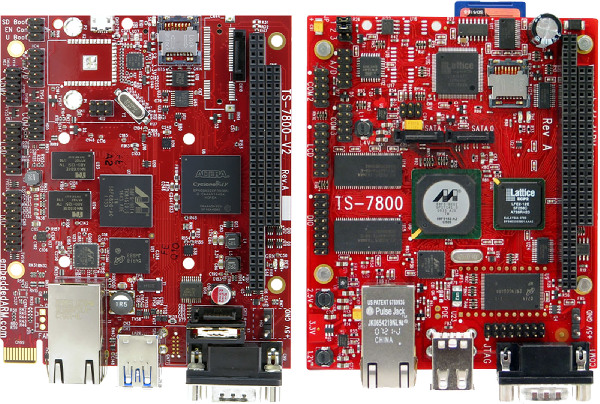 The TS-7800-V2 CPU, the Armada 385 can work up to 1.8GHz if one goes with the commercial temperature option instead of the default -40 to 85°C version. It also offers a faster companion FPGA at 20K LUTs as compared to the 12K LUT of the TS-7800. The TS-7800-V2 ships with 1GB RAM, 2GB to 64GB eMMC, and both SD and microSD slots. Additionally it offers a SATA interface, an option for increasing the device memory space and PC/104 expansion slot. The TS-7800-V2 is equipped with Gigabit Ethernet port for networking, dual USB host ports, a micro-USB console port, an RS232 port, a CAN header, accelerometer, watchdog, an onboard ADC, Real-time clock, DAC and other features.
The following are the device specifications:
Processor – Marvell Armada 385 Dual-Core 1.3GHz ARM CPU
RAM – 1 GB RAM
Flash – 4GB MLC eMMC, which can be configured to a more robust 2GB SLC eMMC
Networking –

Gigabit Ethernet
Optional WiFi 802.11 b/g/n and Bluetooth 4.0 BLE module

External Storage –

Full-size SD socket
microSD socket
2X SATA port
Optional mSATA socket

Other I/O –

2x USB 3.0 host ports
1x USB device port for console
10x Serial/COM port
2x RS-485 or optional 1x full duplex RS-485/RS-422 port
CAN Bus
SPI Bus
I2C Bus
110x GPIO

FPGA – 20k LUT Cyclone FPGA (145 various I/O pins)
Power – 5 VDC  with optional daughter card for 8V-28V support
Operating Temperature – Fanless industrial range of -40 to 85 °C
Dimensions – 97 x 119mm
Operating system – Debian Linux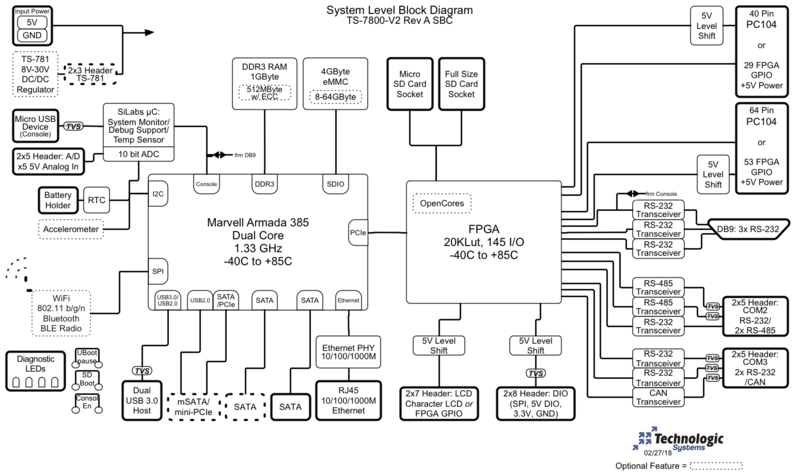 The TS-7800-V2 SBC runs Debian Jessie with Linux Kernel 4.4.8. The SBC starts at $279 in single units, with volume discounts reaching $229. More information may be found on Technologic Systems TS-7800-V2 product page.
The TS-7800-V2 is truly a high end, general purpose single board computer ideal for smart devices, auto entertainment systems, medical systems, enterprise-class intelligent control, plant automation, or any industrial embedded systems.
Subscribe to Blog via Email
Join 97,477 other subscribers
Archives