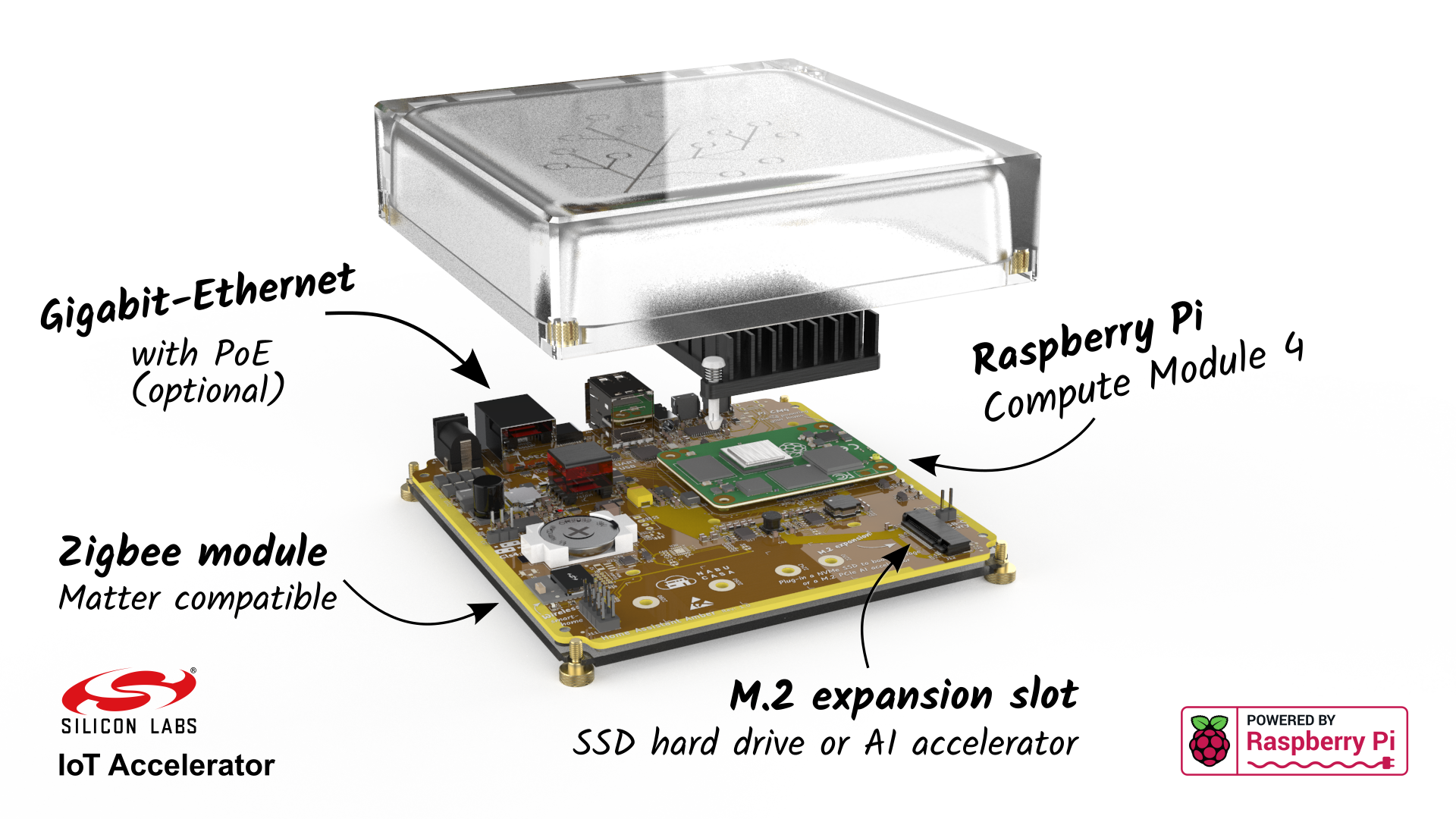 Home Assistant Amber, Now Available on Crowd Supply
Crowd Supply, the leading product development platform connecting hardware creators with early adopters and enthusiastic backers, announces the launch of Home Assistant Amber, a purpose-built hardware solution for the operation of home automation software. Built by the developers of the popular Home Assistant software ecosystem, Amber offers a privacy-focused, open-source alternative to proprietary platforms like Google Home and Philips Hue. Home Assistant Amber is ready to work out of the box and boasts more than 1,000 integrations for unifying networks of smart home products including Nest, Sonos, and Amazon Alexa.
Features & Specifications
Carrier board for Raspberry Pi Compute Module 4 (CM4)

CM4 board-to-board connector
Supports direct boot from NVMe devices (e.g., for CM4 Lite)
12 cm x 12 cm
Compatible with all 32 variants of CM4

Quad-core Cortex-A72 (ARMv8) 64-bit / 1.5 GHz
Up to 8 GB RAM
Up to 32 GB eMMC
Regulatory approval does not cover wireless variants

Integrated smart-home wireless (Silicon Labs MGM210P Mighty Gecko Module)

Supports Zigbee 3.0, OpenThread, and Matter
2.4 GHz radio with TX power up to +20 dBm
1024 KB flash program memory, 96 KB RAM data memory
Pre-installed with Zigbee 3.0 firmware (EZSP), can be upgraded

Expansion slot

For NVMe SSDs or Google Coral AI Accelerator (M-Key)
M.2 socket M-Key
Supports 2230, 2242, 2260, and 2280 modules
PCIe x1

Gigabit Ethernet
2 x USB 2.0 Type-A host port
1 x USB-C 2.0 device port (Silicon Labs CP2102N USBXpress USB bridge)

UART mode (default): debug USB-to-serial adapter
USB mode: CM4 USB 2.0 interface for USB recovery

High-quality stereo audio DAC

2 V RMS line-out on 3.5 mm audio jack
SNR 106 dB

2 x Push button

Red: Factory reset
Blue: To be determined

RTC backed by CR2032 battery
Status LEDs (can be powered off during regular operation)

Green: Power
Red: Disk usage
Yellow: Home Assistant system state

Power

12 V / 2 A through barrel DC power jack (5.5 mm x 2.1 mm)
Ethernet: PoE+ IEEE 802.3at-2009 Class 3 or 4 (selectable via jumper)
Typical power usage

Idle ~1.5 W
Idle with NVMe ~2.5 W
Load ~5-9 W

Enclosure

123 mm x 123 mm x 36 mm
Translucent injection-molded polycarbonate plastic
Tool-free assembly
Accommodates custom heat sink (included)
Amber, developed by the makers of Home Assistant and launched with support from Crowd Supply as part of the Silicon Labs IoT Accelerator, is designed around the Raspberry Pi Compute Module 4, which can be easily upgraded to scale alongside your home automation needs. The new Home Assistant hardware device communicates with other devices using an integrated Zigbee radio by Silicon Labs, offering a forward-compatible solution with the Matter home automation protocol. Home Assistant Amber also features an onboard M.2 slot to facilitate expanded SSD storage or other peripherals.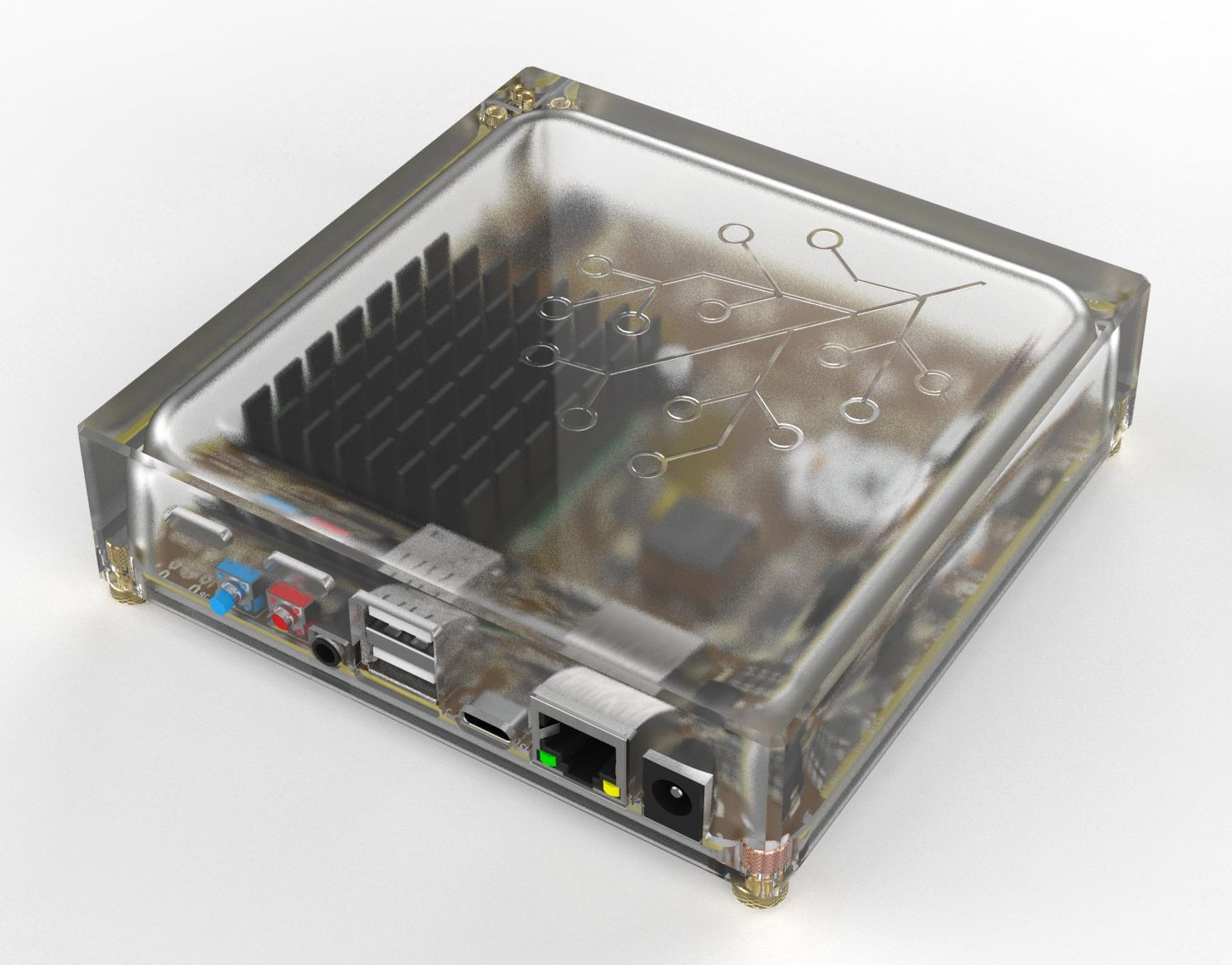 Home Assistant Amber is available in three configurations. The flagship version operates immediately after plugging in the Ethernet cable and power supply, and the package includes a pre-installed Raspberry Pi Compute Module 4 (CM4). Another kit is a suitable option for those who already own a CM4, as it features all other necessary components for operation, including a CM4 carrier board, heat sink, transparent polycarbonate enclosure, power supply, and Ethernet cable. Finally, a PoE kit features a Power-over-Ethernet-enabled CM4 carrier board for single-wire operation.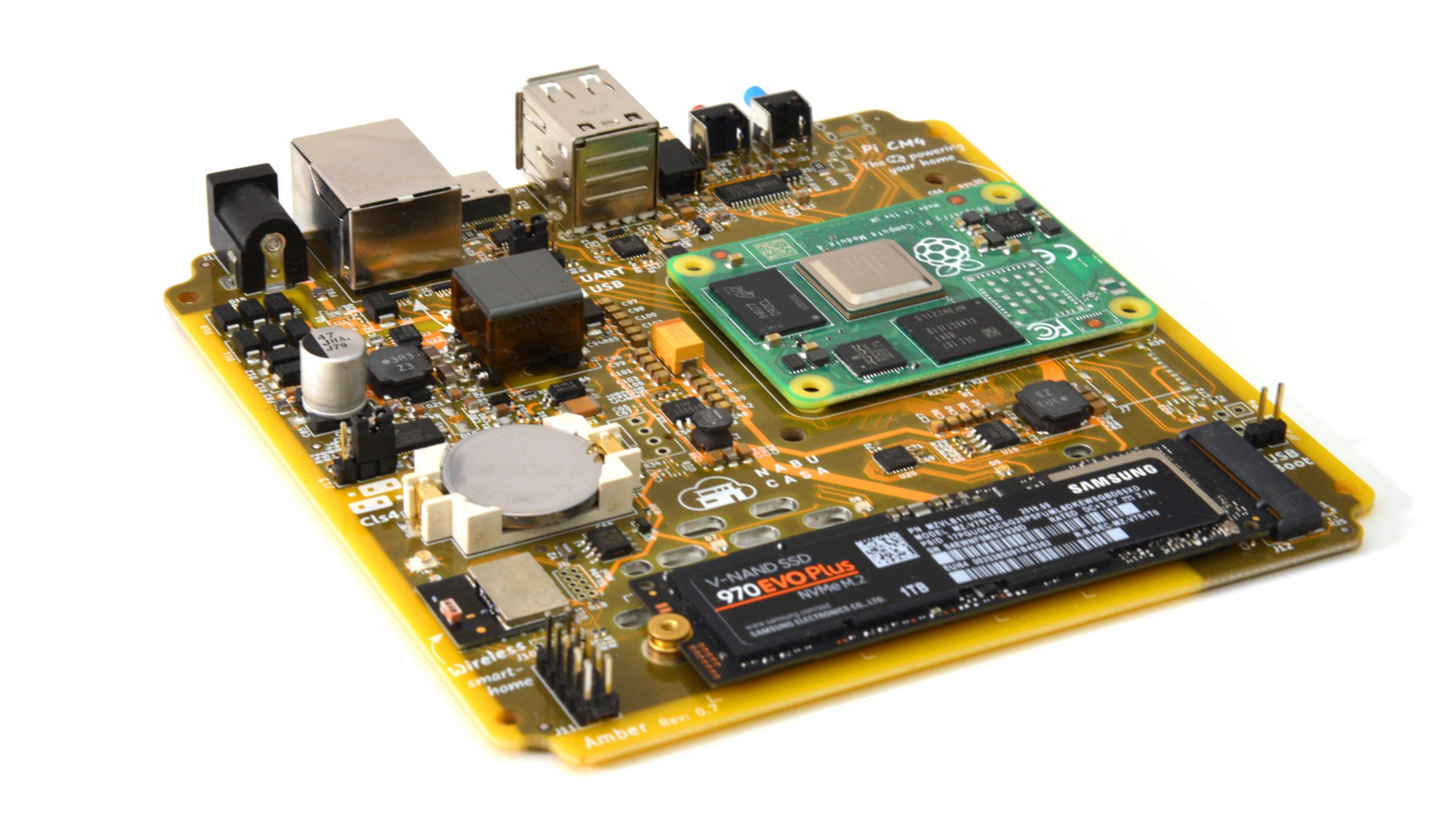 To learn more about Home Assistant Amber, visit https://www.crowdsupply.com/nabu-casa/home-assistant-amber
Join 97,426 other subscribers

Archives