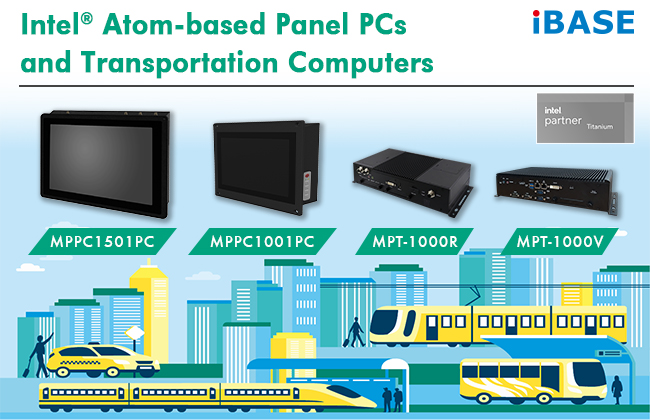 IBASE Adds a New Line of Intel® Atom-based Railway Computing Solutions
IBASE Technology Inc., a leading provider of embedded computing solutions, unveils a new range of railway computing systems integrated with the Intel® Atom™ quad-core E3950 processor (formerly Apollo Lake) which offers up to 1.5x CPU and 3x graphics performance over the previous generation Atom™ E3845 CPU.
Designed to meet railway compliance regulations and for rolling stock environment, these EN50155-certified products include the 15" MPPC1501PC and the 10.4" MPPC1001PC panel PCs plus the MPT-1000R railway computer system. Another model being launched that supports the same processor is the E-mark-certified MPT-1000V in-vehicle system. All of these Intel® Atom™ E3950-based platforms feature enhanced power efficiency, rich I/O connectivity and industrial-grade reliability that enable 24/7 operation in extended temperatures and empower real-time mission-critical applications.
IBASE's Intel® Atom™ E3950-based Systems for Transportation Applications:
MPPC1501PC – 15-inch EN50155-Certified Panel PC
Onboard 4GB DDR3L (8GB max.), 128G SSD storage
Supports ultra-long-life LCD panel, M12 connectors
Supports IP65, projected capacitive touch screen
Supports 24V DC or 72/110V DC power input
MPPC1001PC – 10.4-inch EN50155-Certified Panel PC
Onboard 4GB DDR3L (8GB max.), 64G SSD storage
Supports ultra-long-life LCD panel, M12 connectors
Supports IP65, projected capacitive touch screen
Supports 24V DC or 72/110V DC power input
MPT-1000R – EN50155-Certified Fanless Railway Computer
Onboard 4GB ECC DDR3L, 64G MLCC SSD
Supports M12 connectors for dual GbE & USB
Supports SIM socket for dual WWAN
Supports 9V~32V DC power input
MPT-1000V – E-mark-Certified Fanless In-Vehicle Computer
Onboard 8GB LPDDR4 with Intel® E3950 or 4GB with N3350 CPU
Supports CANbus, ignition power-on signal control
Supports Add-on card slot reset, RTC battery quick access
Supports SIM socket for dual WWAN, 12V~32V DC power input
more information: www.ibase.com.tw
Subscribe to Blog via Email
Join 97,954 other subscribers
Archives