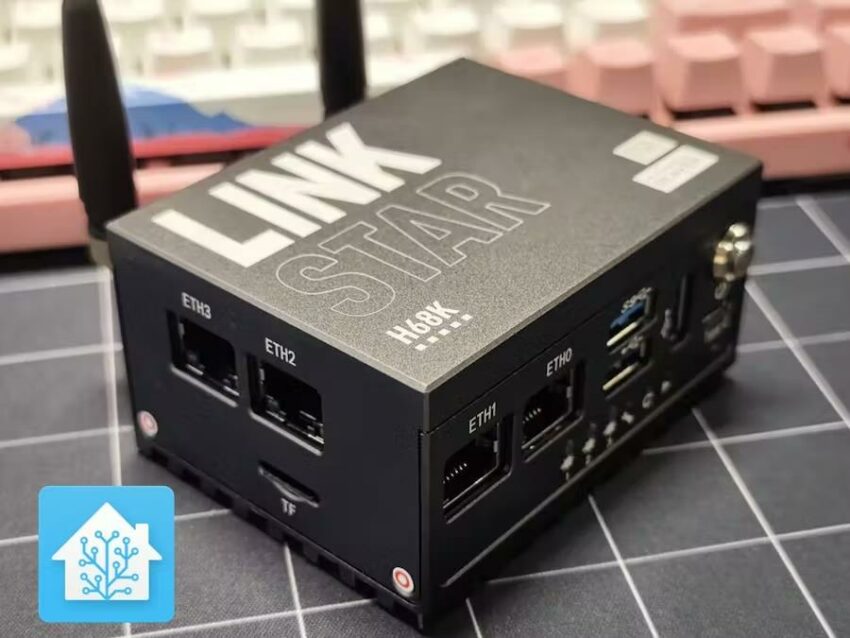 LinkStar-H68K – The Mini Computer Positioned as a Router
Introduction
IoT hardware specialist, Seeed Studio, recently released a very impressive 'Router' (more than a router actually) and we'll like to take an intensive look at it. So for this article, we will be reviewing the LinkStar-H68K multimedia router and discussing the features that make it stand out amongst others.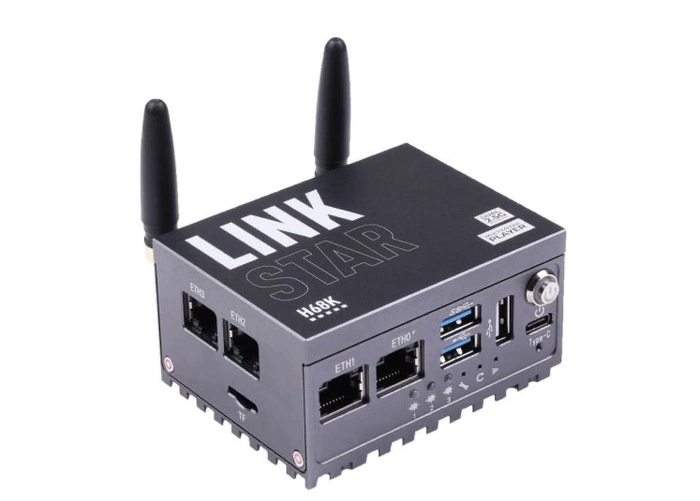 The first thing I noticed about the 'router' is its compact size. It is light and small; something you can actually lift with one hand and carry everywhere. It is also enclosed in a portable metal box for better heat dissipation.
The LinkStar-H68K Router is built with convenience and flexibility in mind. It comes with enough expansion ability and media player functionality, presenting you with a fully functional device that you can be used at home, in the office or just anywhere you travel.
At the heart of the router is Rockchip RK3568 quad-core Cortex-A55 processor with an ARM Mali-G52 2EE graphics and a Neural processing unit for up to 0.8 TOPS AI performance. The device is also equipped with up to 32GB of eMMC flash storage along with one SD card socket and one USB 3.0 Type-C port that supports an external hard drive for massive storage expansion. There's also a USB 3.0 Type-A and two USB 2.0 Type-A ports for further usage.
The device can also be used as a neat network player to instantly stream and display media given that it outputs up to 4K immersive visuals. You can also use it to access online services like YouTube or Spotify.
Overall, the LinkStar-H68K Router has up to 4x Ethernet interfaces for 2x 2.5G and 2x 1Gb, so you can use it to establish network-attached storage to store and retrieve abundant information over a network with physical file transformation. The router doubles also as a rugged mini-computer that could be used for digital signage and other applications.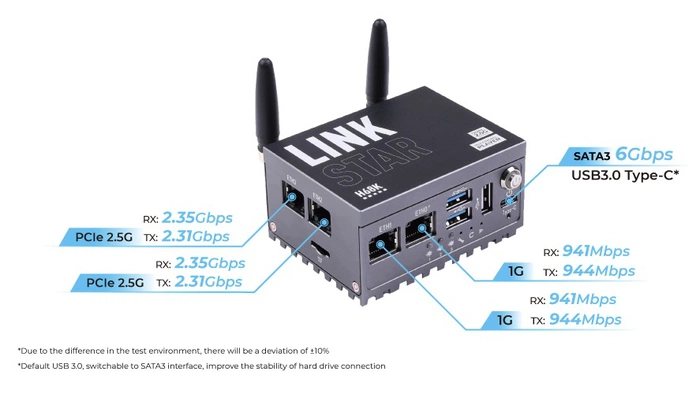 Another impressive feature of the LinkStar-H68K router is the outstanding dual-band Wifi 6 which offers faster throughput speeds and less bandwidth congestion. It can perform as a repeater connecting different WiFi at different places and linking all your devices, which is beneficial for your travel or business trip.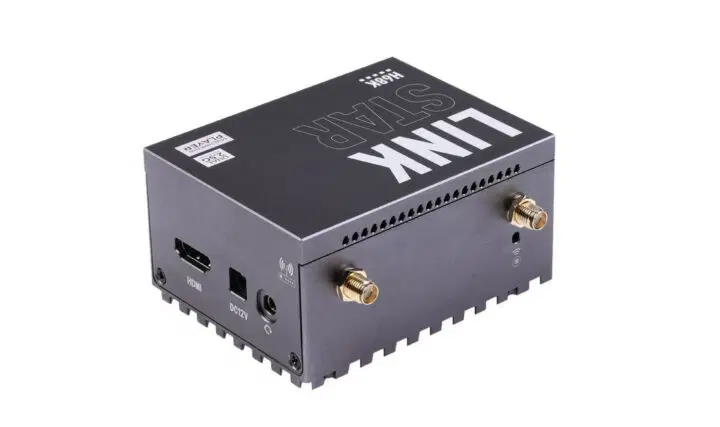 Specifications
Rockchip RK3568 quad-core Cortex-A55 processor @ up to 2.0 GHz
Arm Mali-G52 2EE GPU
0.8 TOPS AI accelerator
4Kp60 H.265/H.264/VP9 video decoder
1080p60 H.264/H.265 video encoder
4GB of LPDDR4X memory
32GB of eMMC flash storage
1x microSD card socket
1x HDMI 2.1 port up to 4Kp60
3.5mm audio jack
2x 2.5Gb Ethernet RJ45 ports via 2x Realtek RTL8125B tested up to 2.35/2.31 Gbps
2x 1Gb Ethernet RJ45 ports via 2x Realtek RTL8211F tested up to 944/941 Mbps
Optional Wifi 6 up to 1200 Mbps
Bluetooth 5.2 via MT7921 PCIe module and two external antennas
1x USB 3.0 Type-C port
1x USB 3.0 Type-A port
2x USB 2.0 Type-A ports
Power button and IR receiver
3x LEDs
Pin holes for firmware updates, factory reset and reboot
Power Supply: 5 to 24V DC via power adaptor or 5V via USB Type-C connector
Power consumption: 8W
Temperature range: -10 to 55 degrees celsius
Dimensions: 80 mm x 60 mm x 40 mm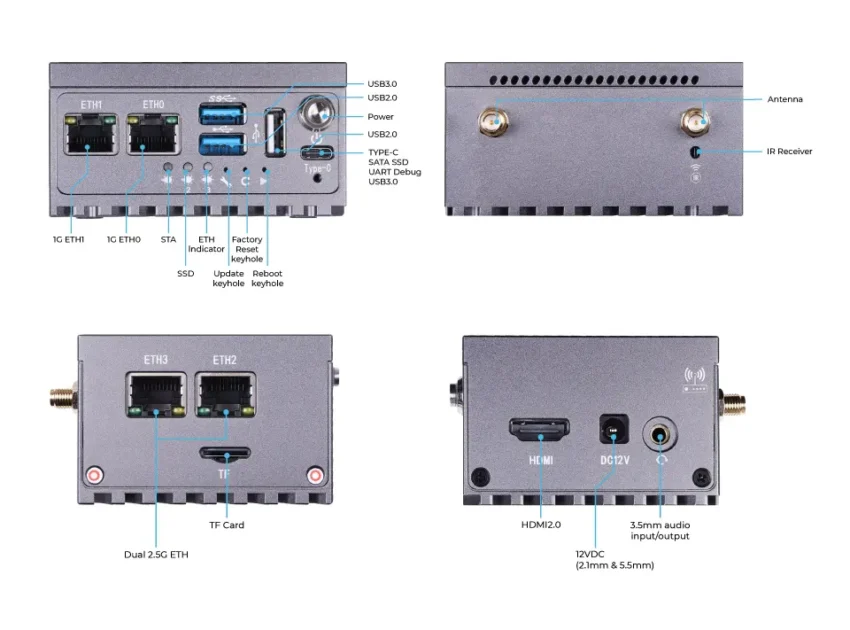 Highlights of the LinkStar-H68K Multimedia Router
Small and compact; it can be lifted with one hand and carried everywhere
Great wireless capability and high throughput performance with Bluetooth 5.2 and an outstanding WiFi 6 technology
Fast-speed router deployment
High storage capacity and great extensibility
4K multimedia player
Support for multiple operating systems including Ubuntu, OpenWRT, Android 11, etc.
The router comes pre-installed with Android 11 and has support for Ubuntu, Debian, OpenWrt, Android, Armbian, and Buildroot. The router is offered in two versions; an entry-level model without a wireless card and a more expensive version with MediaTek MT921 wireless module. Since the Android and Ubuntu images do not support the wireless module, you may have to switch to OpenWrt or Debian or just use your own wireless solution.
You can charge it via a 5V to 24V power barrel Jack or or a 5V via USB Type-C port. The router can also be operated between -10 to 55 degrees Celsius.
Conclusion
Seeed Studio is offering the LinkStar-H68K Router for $129 but you can buy it for less at $119 if you pre-order before the end of this month (December 30th). The price mentioned above is actually for the version with 4GB RAM/32GB eMMC storage with WiFi 6 but the one with 2GB RAM/32GB eMMC and without WiFi 6 sells for $99 (same $10 early bird discount applies).
Join 97,426 other subscribers

Archives