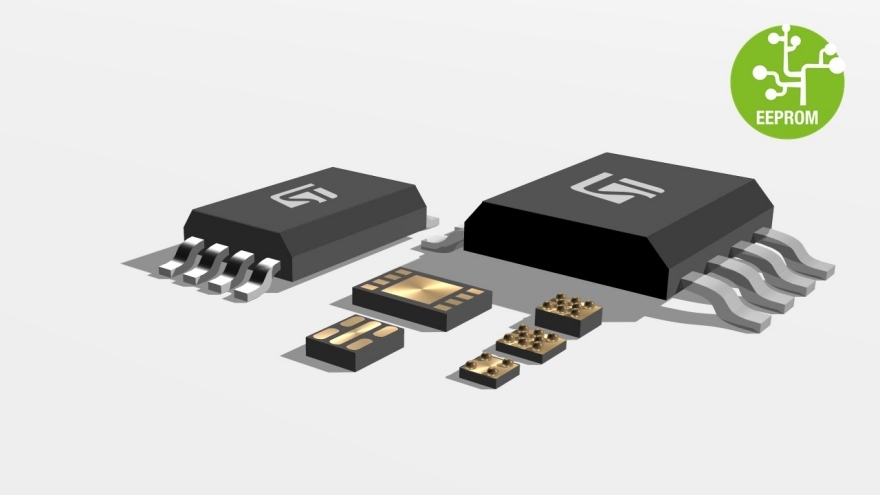 M95M04-DR – 4-Mbit serial SPI bus EEPROM
The M95M04-DR device is electrically erasable programmable memory (EEPROM) organized as 524288 x 8 bits, accessed through the SPI bus. The M95M04-DR can operate with a supply range from 1.8 to 5.5 V, and is guaranteed over the -40 °C/+85 °C temperature range.
Flexible and intensive datalog function is also facilitated with 4Million erase/write cycles per byte.
The SPI bus signals are C, D and Q, as shown in Figure 1 and Table 1 in the datasheet (see Related Documents on the right). The device is selected when Chip select (S) is driven low. Communications with the device can be interrupted when the HOLD is driven low.

Features
Compatible with the serial peripheral interface (SPI) bus
Memory array

4 Mbit (512 Kbytes) of EEPROM
Page size: 512 bytes
Additional write lockable page (identification page)

Write time

Byte write within 5 ms
Page write within 5 ms

Write protect

quarter array
half array
whole memory array

Max clock frequency:

10 MHz for VCC ≥ 2.5 V
5 MHz for VCC ≥ 1.8 V

Single supply voltage: 1.8 V to 5.5 V
Operating temperature range: from -40 °C up to +85 °C
Enhanced ESD protection (up to 4 kV in human body model)
More than 4 million write cycles
More than 40-year data retention
Packages

SO8N (ECOPACK2)
TSSOP8 (ECOPACK2)
WLCSP (ECOPACK2)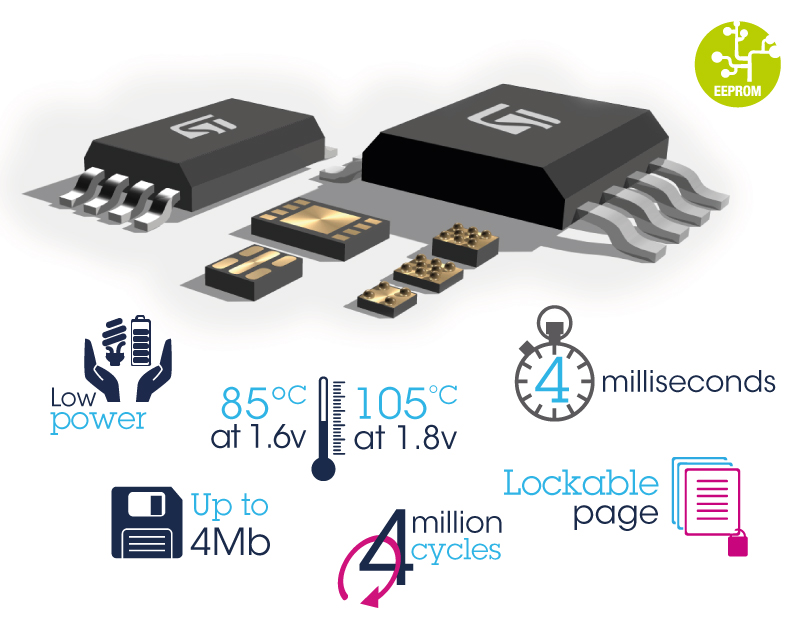 X-NUCLEO-EEPRMA2 – Standard I²C and SPI EEPROM memory expansion board based on M24xx and M95xx series for STM32 Nucleo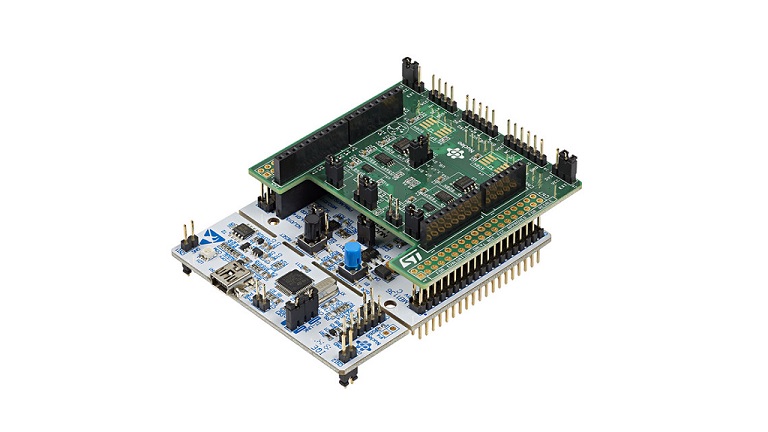 The X-NUCLEO-EEPRMA2 expansion board is designed for M24xx series I²C and M95xx series SPI EEPROM for data reading and writing. The expansion board acts as an external storage device that can be used to store data such as manufacturing traceability, calibration, user settings, error flags, data logs and monitoring data to make applications more flexible and accurate.
The X-NUCLEO-EEPRMA2 expansion board is compatible with the Arduino UNO R3 connector pin assignment and can be easily plugged to any STM32 Nucleo development board. You can mount the ST morpho connectors if required.
Features
Up to 1-Mbit serial I²C bus embedded EEPROM
Up to 4-Mbit SPI bus embedded EEPROM
Easy portability across different MCU families
Equipped with Arduino™ UNO R3 connector
Compatible with STM32 Nucleo boards
Free comprehensive development firmware library and sample implementation available when the X-NUCLEO-EEPRMA2 expansion board is plugged on top of a NUCLEO-F401RE or NUCLEO-L053R8 development board
Developer can choose and solder an EEPROM to be tested using the evaluation software provided
more information: https://www.st.com/content/ccc/resource/sales_and_marketing/presentation/product_presentation/group0/f4/3e/88/b1/ec/65/40/3b/Wolrd_first_4Mbit_SPI_EEPROM_presentation/files/Wolrd_first_4Mbit_SPI_EEPROM_presentation.pdf/jcr:content/translations/en.Wolrd_first_4Mbit_SPI_EEPROM_presentation.pdf
Join 97,426 other subscribers

Archives