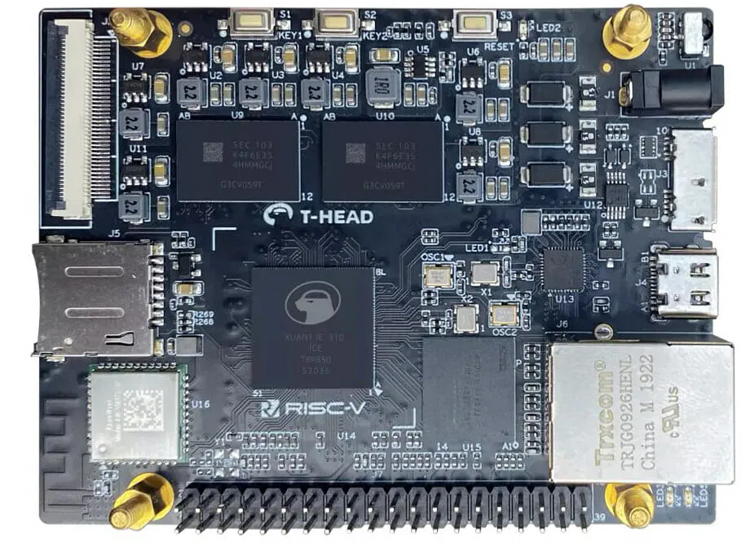 Meet Alibaba T-Head RVB-ICE RISC-V SBC – Supports Android 10/Debian 11 and 3D GPU Acceleration
Single-board computers (SBC) have seen widespread application in the hardware ecosystem owing to the growing demand for mobile, portable, and embedded systems with reduced system's overall cost and connectors problems. Amongst the variety of SBC architectures available in the market, the RISC architecture has become makers' favorite for its low number of cycles per instruction (CPI), through its load/store design to support very high-speed devices. However, a large number of RISC SBCs still lack the ability to offer 3D GPU acceleration that is in demand.
Sipeed's new launch is targeted to solve this problem. The board aptly called Alibaba T-Head RVB-ICE, proves to be the first RISC-V SBC that is 3D GPU capable.
Alibaba T-Head RVB-ICE is designed on the architecture of Alibaba T-Head ICE dual-core XuanTie C910, 1.2 GHz RISC-V processor furnished with Vivante GC8000UL GPU and an AI accelerator NPU. Its SoC incorporates an additional 1.2 GHz C910V core with 128-bit capable vector extension, a DDR4 with speed up to 2400 Mbps, a GMAC interface, and a single-core 3D GPU for 3D graphics acceleration. The board supports Debian 11 and Android 10, with support for a capacitive touchscreen display.
The board also debuts a 4 GB LPDDR4 system memory, a 16 GB eMMC flash, Wi-Fi and Bluetooth interface, LCD interface, a micro USB 3.0 OTG port of full-size Type-A USB ports, a USB-C serial port, and a 2×24-pin GPIOs header. It also supports interfaces like Bluetooth keyboard and mouse.
Key Features and Specifications Include:
Alibaba T-Head ICE with dual-core XuanTie C910 RISC-V processor @ 1.2 GHz, Vivante GC8000UL GPU, NPU
4GB LPDDR4
16 GB eMMC flash
MicroSD card slot
AI Accelerator: NPU present
Gigabit Ethernet RJ45 port, Wi-Fi and Bluetooth
RGB888 LCD interface up to 1080p; the devkit includes a 7-inch capacitive touchscreen display with 1024×600 resolution
1x micro USB 3.0 OTG port
1x USB-C port for serial and power
2x 24-pin header with GPIOs, 2xUART, I2C, 1x SPI, ADC
2x User buttons
1x reset button
1x LED
Power Supply: 5V via power barrel (or USB-C port)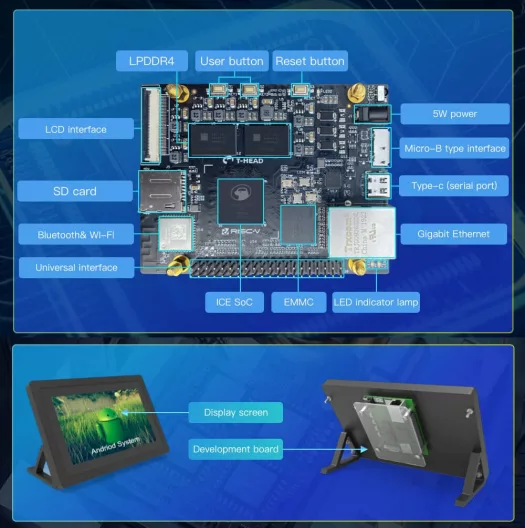 The Alibaba T-Head RVB-ICE is available for pre-order on RVB-ICE and Aliexpress for $399 alongside its 7-inch display. Patches and scripts for AOSP for the XuanTie RISC-V chip are available on T-head/RISCV-aosp's Github repository for a guide on successful development with the board. The cost is probably on the high side because it's only available in low quantities. Hopefully, with time, more lower-cost RISC-V boards with GPU should be released. Shipping for the Alibaba T-Head RVB-ICE board is scheduled to start next month.
Further details can be found on RVB-ICE and Github.
Join 97,426 other subscribers

Archives