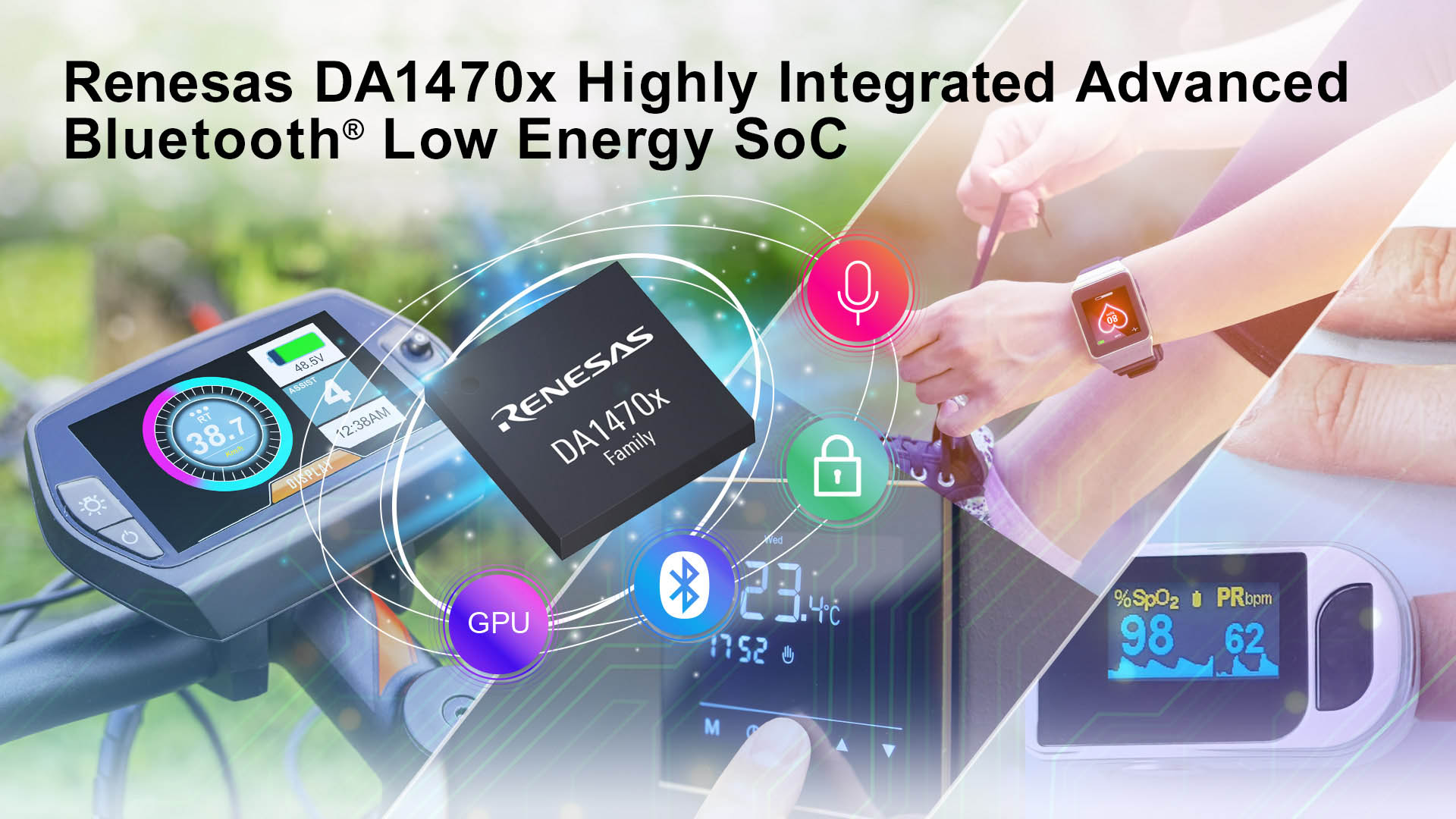 Meet SmartBond DA1470x Family of Bluetooth Low Energy ― the World's Most Integrated SoC for Wireless Connectivity
Renesas Electronics Corporation, a leading global provider of microcontrollers, has combined its expertise in embedded processing, analog, power, and connectivity, to build the world's most advanced integrated System-on-Chip family for wireless connectivity.
The SmartBond™ DA1470x Family of Bluetooth® low energy (LE) solutions is an advanced chip that enables small form factor IoT product designs. With its small form factor, integrated with 2D graphics processors, voice activity detector, power management, and Bluetooth LE connectivity, the new family of SoCs provides smart IoT devices with the most advanced sensor and graphical capabilities as well as seamless, ultra-low power always-on audio processing.
"The DA1470x family expands on our successful strategy of integrating more functions, including greater processing power, expanded memory and improved power modules, along with VAD for the always-on wake and command word detection," said Sean McGrath, Vice President of the Connectivity and Audio Business Sector. "This feature-packed SoC product family enables developers to push the boundaries of connected consumer and industrial applications and future-proof their IoT products to fit the needs of multiple applications, while optimizing their bill of materials."
With the chip, engineers can have: 
Significant cost savings on the Bill of materials thus allowing for cost-effective solutions
A reduction in component count on the PCB enables small form factor designs
More space for additional components or larger batteries
Improved reliability of the system, and eventually,
A reduction in the total cost of goods sold of the end product.
The DA1470x family of SoCs is suitable for a number of devices including: 
consumer medical devices
industrial automation and security systems
wearables like smartwatches and fitness trackers
home appliances with display
glucose monitor readers
Bluetooth consoles like e-bikes and gaming equipment
Features and Specifications of the DA1470x Wireless System-on-Chip Include:
Arm® Cortex®-M33 processor (main application core) and Cortex -M0+ (sensor node controller).
Integrated 2D GPU & Display controller supporting DPI, JDI parallel, DBI and Single, Dual or Quad SPI interfaces.
Integrated low quiescent current SIMO DC/DC converter of the PMU efficiently supplies internal system and external components
Ultra-low power hardware VAD enables seamless and always-on audio processing
Configurable MAC supporting Bluetooth Low Energy 5.2 and proprietary 2.4 GHz protocols.
Integrated 720mA JEITA-compliant USB charger supports rechargeable Li-ion/Li-Po batteries.
The four devices that constitute the DA1470x SoC family are already in mass production and readily available. More useful details about the devices, including links to some of the winning combinations the company made with the chipset, can be found on the product page.
Join 97,426 other subscribers

Archives