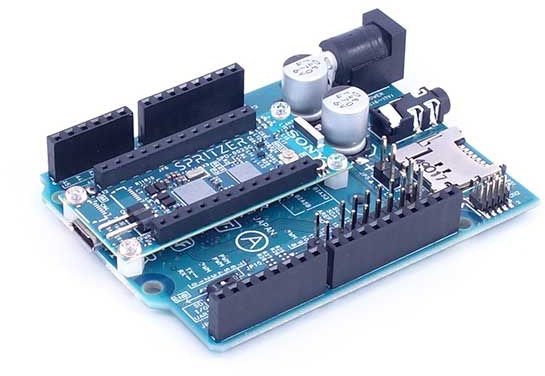 Sony has recently launched one of its new products, Spritzer! Spritzer is an Arduino-compatible board for IoT applications that has built-in GPS, audio codec, and low power consumption.
While it is Arduino-compatible, the board allows any developer to easily start app development using the free Arduino IDE and an ordinary USB cable. In fact, the board features a processing chip with a unique combination of low power consumption and a rapid clock speed of 156MHz. Thus, it is extremely versatile and it can be deployed for a vast range of use cases.
For the first time, the company demonstrated the board at Tokyo Maker Faire last month with a drone utilizing the GPS and the 6-axis sensor support, a smart speaker utilizing the audio functions, a self-driving line-tracing miniature car, and a low-power smart sensing IoT camera using the camera interface of Spritzer.
Sony Spritzer specifications
MCU – Sony CDX5602 ARM Cortex-M4F ×6 micro-controller clocked at up to 156 MHz with 1.5MB SRAM
Storage – 8MB Flash Memory, micro SD card
GNSS – GPS, GLONASS, supported
Audio – 3.5mm audio jack
Expansion I/Os

Digital I/O Pins – SPI, I2C, UART, PWM ×4 (3.3V)
Analog Pins – 6ch (3.3V range)
Audio I/O – 8ch Digital MICs or 4ch Analog MICs, Stereo Speaker, I2S, CXD5247 audio codec with 192 kHz/24bit High-Resolution audio
2x camera interfaces

USB – 1x micro USB port for programming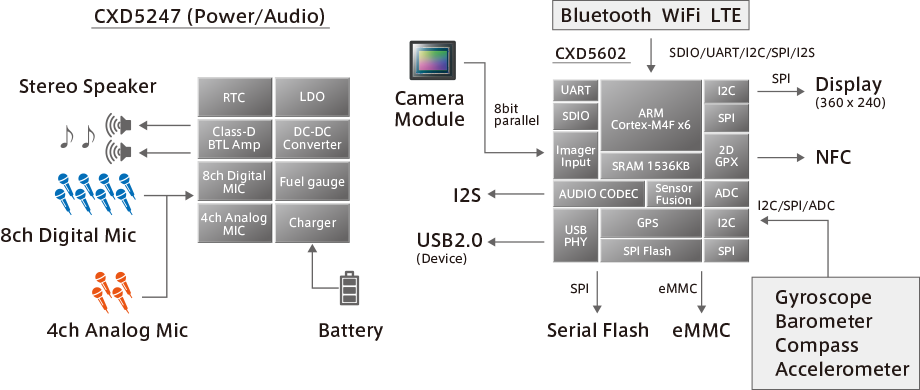 "You'll have to connect external module to get Bluetooth, WiFi, and LTE, a display up to 360×240 resolution can be used via SPI, all sort of sensors can be connected via the expansion header, the board is suitable for microphone arrays, and it can be powered by batteries thanks to a charger circuit and fuel gauge inside CXD5247 audio codec / PMU chip." – CNXSoft
More details about the board will be available by 2018. Until then, check this Japanese official page about Spritzer, or this translated page.
Subscribe to Blog via Email
Join 97,951 other subscribers
Archives