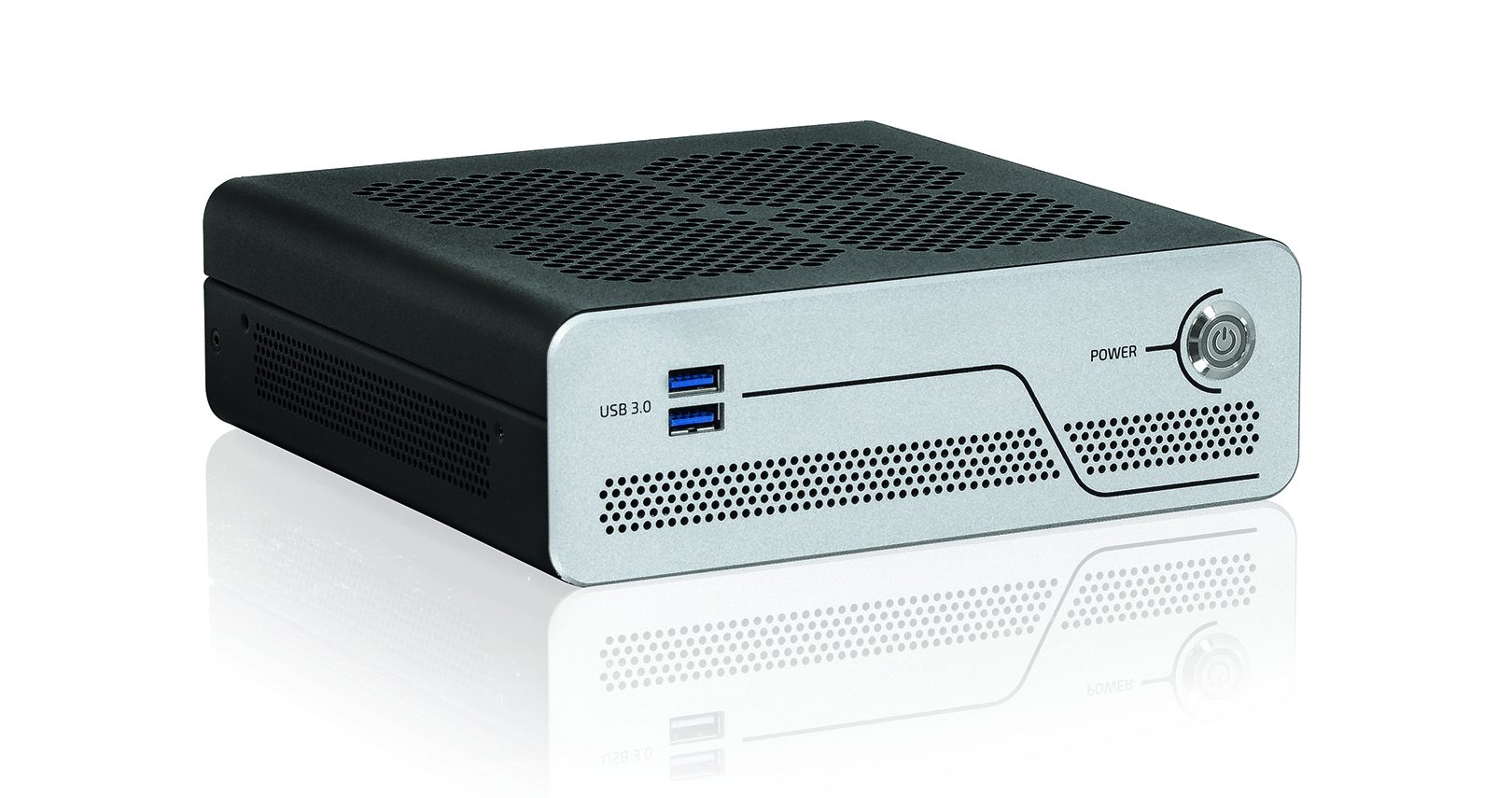 New Kontron KBox B-201-CFL Embedded Box PC
KBox B-201-CFL with Powerful 8th Generation Intel® Core™ i3/i5/i7 Processors – Compact Housing, Low-Noise Operation and Flexible Mounting Options
Kontron, a leading global provider of IoT/Embedded Computing Technology (ECT), introduces the KBox B-201-CFL to its family of embedded box PCs. The KBox B-201-CFL features high performance in a compact housing and with low noise level (maximum 34 dB(A)). Thanks to its 8th Gen Intel® Core™ i3/i5/i7 processors and the Intel® H310 Express chipset, the KBox B-201-CFL is geared towards compute-intensive processes and large amounts of data. This makes it particularly suitable for use in high-end image processing and plant data collection. In addition, the KBox is EN55032 class B-certified, complying with stricter radio interference limits than class A. This makes it ideal not only for use in industrial environments, but also for residential and commercial applications, or in their immediate vicinity. Along with its modern design, this makes the KBox B-201-CFL the ideal computer for architecture and graphics offices as well as music studios. The large number of interfaces, as well as the 2.5 inch SSD, and a fast M.2 SSD provide a wide range of applications.
The core of the KBox B-201-CFL is a motherboard in the Mini-ITX form factor (170×170 mm), and a CPU with up to six processor cores: Depending on the requirements, three 8th Gen Intel® Core™ i3/i5/i7 processors can be selected. Performance is enhanced by the Intel® H310 Express chipset.
Various mounting options guarantee maximum flexibility: Using a VESA mount, the KBox B-201-CFL can be operated directly behind a monitor, or as a desktop PC horizontally or vertically. Special brackets, which also enable horizontal and vertical operation, are available for mounting under the table, on the wall, or in the control cabinet.
The compact housing of the KBox B-201-CFL with the dimensions 190x60x190 mm is made of hot-dip zinc coated mild steel sheet (EN10215) and aluminium. The Box PC can be operated at a temperature range of 0°C to plus 45°C.
The system features a DisplayPort V1.2, which can operate up to four displays as well as a DVI-D connector. Numerous interfaces, such as three USB 2.0, two USB 3.0, and two USB 3.1 Gen 1 ports ensure high flexibility. The existing RS-232 interface can be used, for example, to connect POS terminals and measuring instruments. The Box PC can optionally be equipped with a Mini PCIe plug-in card in half-size format and a M.2 SSD (2260/2242), or a Mini PCIe plug-in card in full-size format in combination with a M.2 SSD (82242). In additon, two Ethernet ports 10/100/1000MBit/s (WoL) are available.
Data storage media for the operating system and data is available through a 2.5 inch SSD SATA III/ SATA-600 removable drive or an internal M.2 SSD (2280, 2260, 2242) slot. The Box PC supports Windows® 10 IoT Enterprise LTSB or Yocto Linux operating systems.
Specifications
High processing capability: 8th Gen Intel® Core™ i7/i5/i3
Small form factor with mITX motherboard
Removable 2,5" SSD
Low noise design, max 34 dB(A)
Various mounting options: desktop, directly behind a monitor, wall, control cabinet etc., likewise horizontal or vertical operation
The KBox B-201-CFL supports TPM V2.0 encryption for secure cloud connection. It optionally supports the Kontron APPROTECT security solution. The integrated security chip from Wibu-Systems in conjunction with a suitable software framework protects IP rights and provides copy and reverse engineering protection. Kontron APPROTECT Licensing also enables new business models such as "pay per use", demo versions for limited time periods, or activation/deactivation functions.
for more information visit: www.kontron.com
Join 97,426 other subscribers

Archives