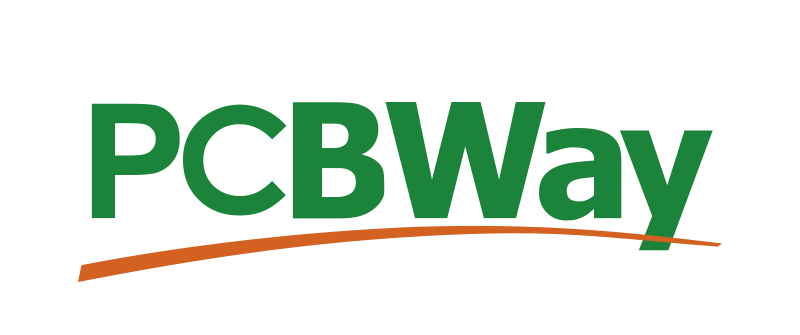 PCBWay.com Manufacturer Review
Printed circuit boards are an important part of electronic products and the ability to get them fabricated in time and at good quality and price, is key to ensuring the product stays on schedule with the time to market plans. The process of getting them done on time, and at the right quality, however, requires a PCB manufacturer with the tools, experience, and support required to deliver as specified. This requirement and the possible impact of failure makes the process of selecting a PCB manufacturing partner a very important and difficult task as there are tonnes of PCB manufacturing companies (including resellers posing as manufacturers) out there and the process of verifying them, can be tedious. To help with this, we review PCB manufacturers from time to time, and today, we will review one of the most formidable names in the PCB manufacturing Industry: PCBWay. We will cover their process, capacity, offerings/packages and every other thing we feel you may need to make decisions about their services.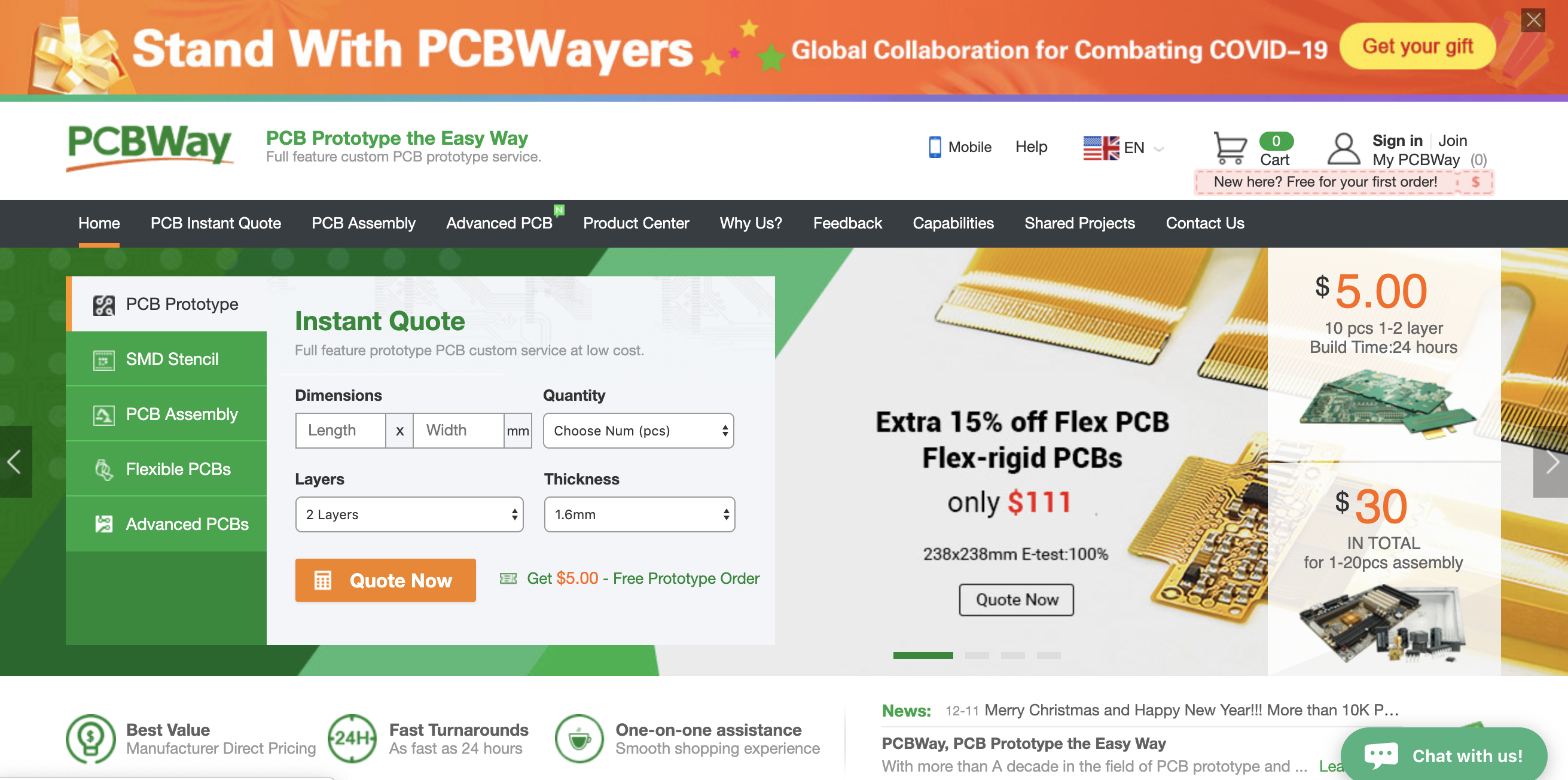 Located at the heart of the World's manufacturing capital; Shenzhen, PCBWay has been delivering high-quality complex PCBs using state of the art machines and equipment since its establishment over a decade ago. They have served as a reliable PCB Manufacturing partner for several small or large run projects across diverse sectors, from IoT and Smart devices to medical, Industrial and Open source/DIY communities.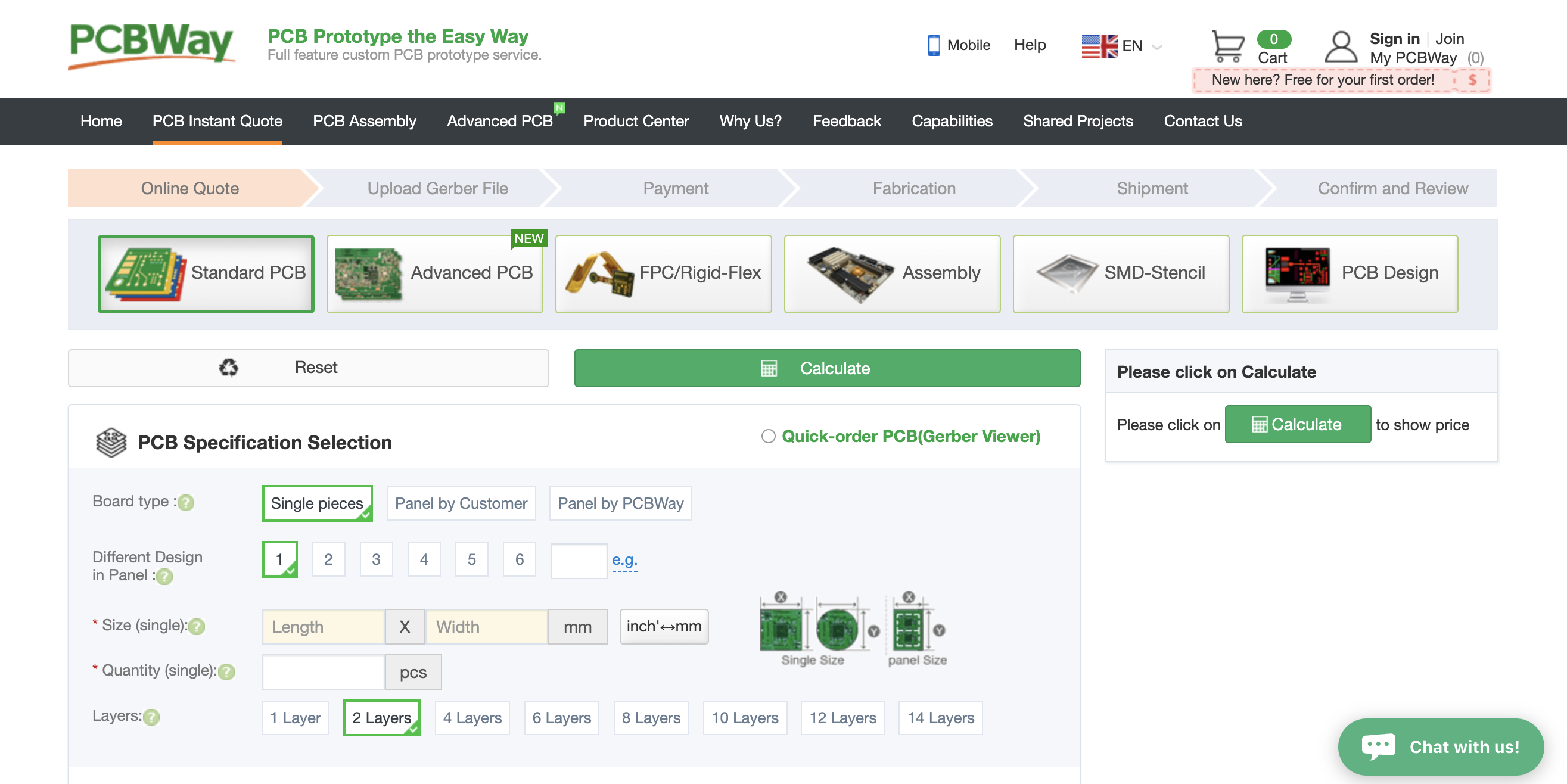 Running one of the most equipped factories in the world, PCBWay makes different types of PCBs ranging from the regular FR4 PCBs to flexible PCBs, SMD stencils, and more advanced, high precision PCBs. They have the capacity to make up to 14 layers PCB (depending on the type of PCB) with different materials from FR4 to Aluminum. More information on their PCB capabilities and equipment specifications can be found on their service description page.
Being a domain leader who understands electronics manufacturing and the headaches involved, PCBWay also runs an In-house PCB Assembly service (PCBA), which ensures the project can be completed under one roof with fewer worries. The PCBA service specializes in prototyping and small-volume production, making them the ideal partner for the R&D stage of product development. The PCBA service also helps eliminate supply chain worries as PCBWay maintains a relationship with suppliers across the world, through which they get access to all types of components including the "hard-to-find" components. More information on the PCB Assembly service is available here.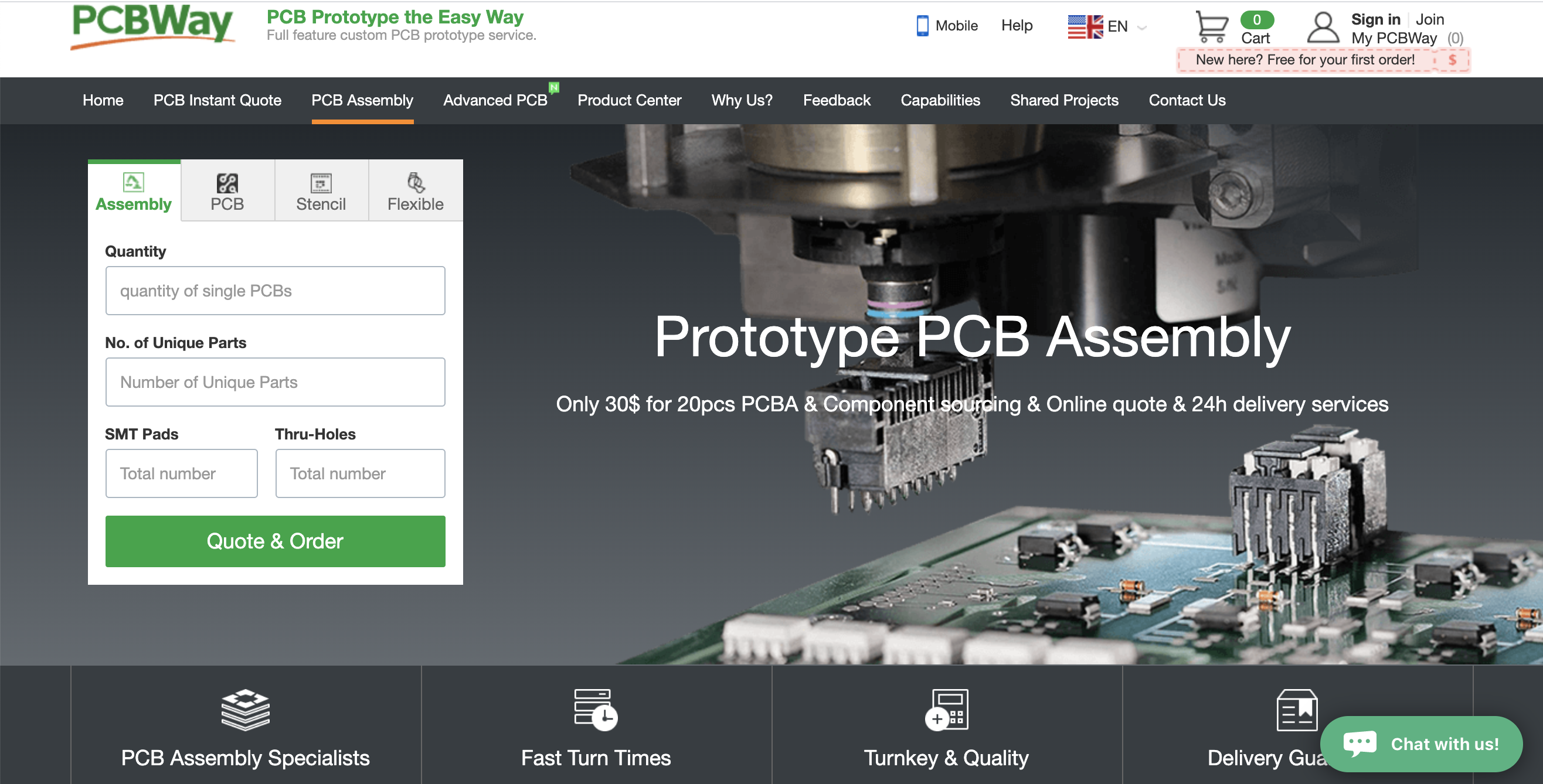 For placing orders, PCBWay uses a transparent, process-oriented, and easy to follow online ordering platform that is structured in such a way that the customer can track the stage of their PCB manufacturing at every point in time. The process starts with a seamless and fast, Instant quote generator through which users can select the type of PCB they want to make, and upload PCB files, in either Gerber, .pcb, .pcbdoc or .cam formats. Once you submit your files they become available in the "Under Review" tab where a human checks the files and provides a quote.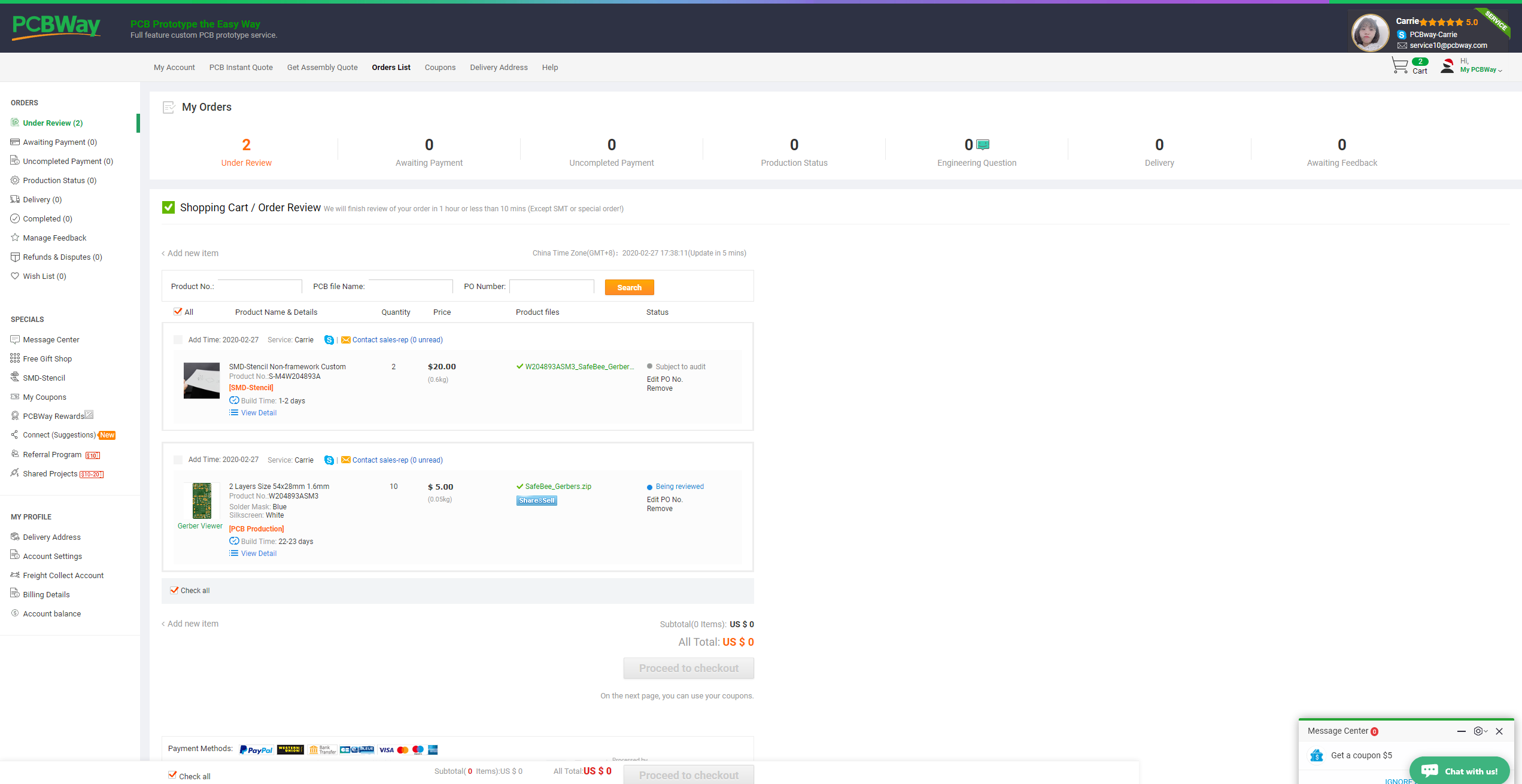 The files are reviewed in a timely manner by PCBWay technicians and an instant quote is generated. PCBWay is quite competitive with pricing and probably offers more value for money compared with most other players in the PCB and PCBA industry. After the quotation is done and payment is received, the design moves to "Production Status" and then the fabricating process is started. When fabrication is done the order is shipped to the customer without any further delay.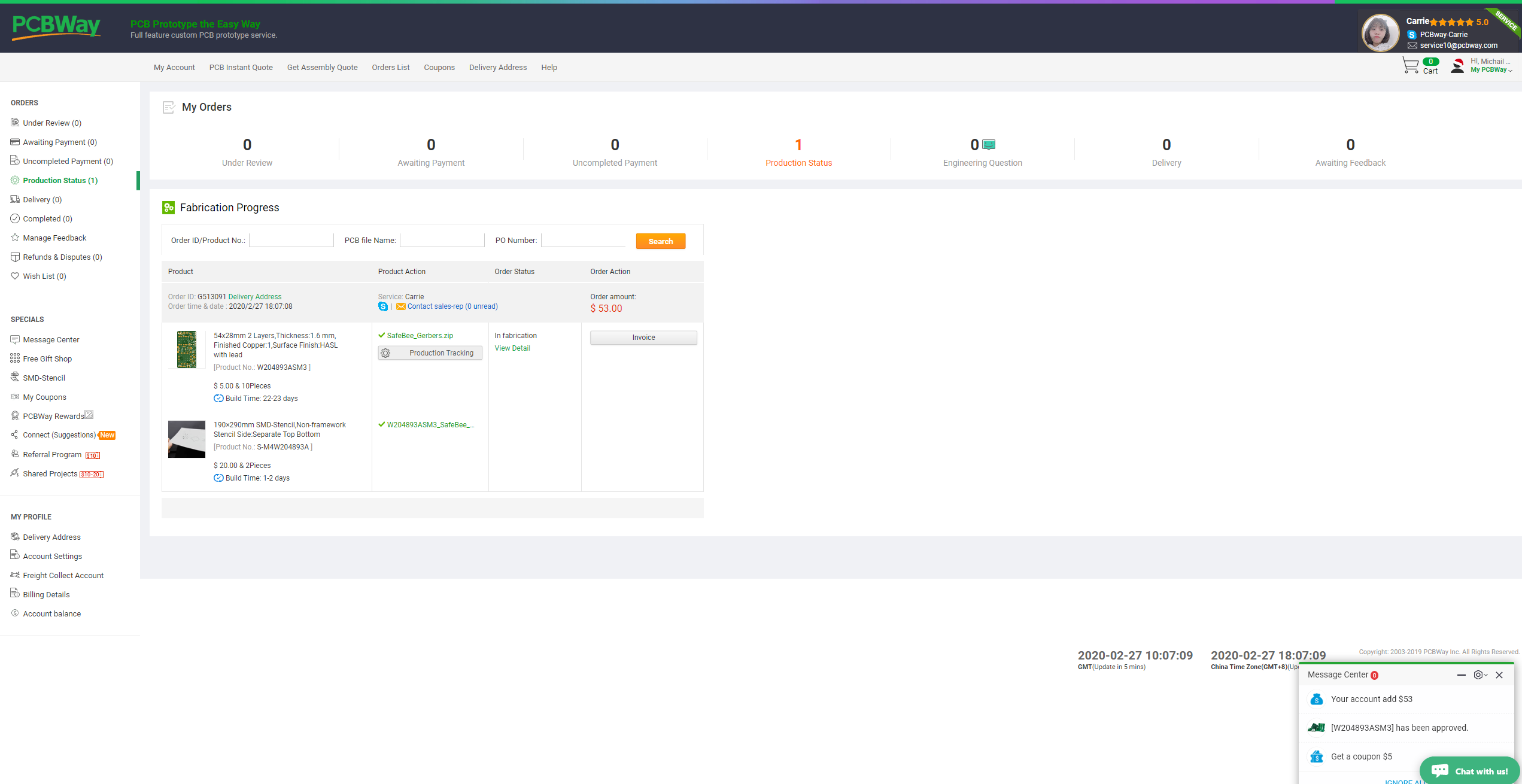 One of the best things about PCBWay, which is particularly beneficial to projects in the R&D stage, is their ability to maintain the shortest possible lead-time. In certain cases depending on location and shipping bottlenecks, customers can receive their boards just 24 hours after ordering.

PCB Test Order
To verify their manufacturing capabilities and quality, we send out our own Gerber files of one of our projects. The board submitted was a 2-layer one, measuring 54 x 28mm. For 10x PCBs and 2x solder stencils (top and bottom) the quote was 25 USD + 28 USD DHL Worldwide shipping. So the total amount we paid was $53. Production time was stated at 22-23 days (this is due to the Coronavirus issue, as the factory was working with limited personnel) for the PCB and 1-2 days for the stencils. The actual production of PCBs was less and took ~6 days from start to finish.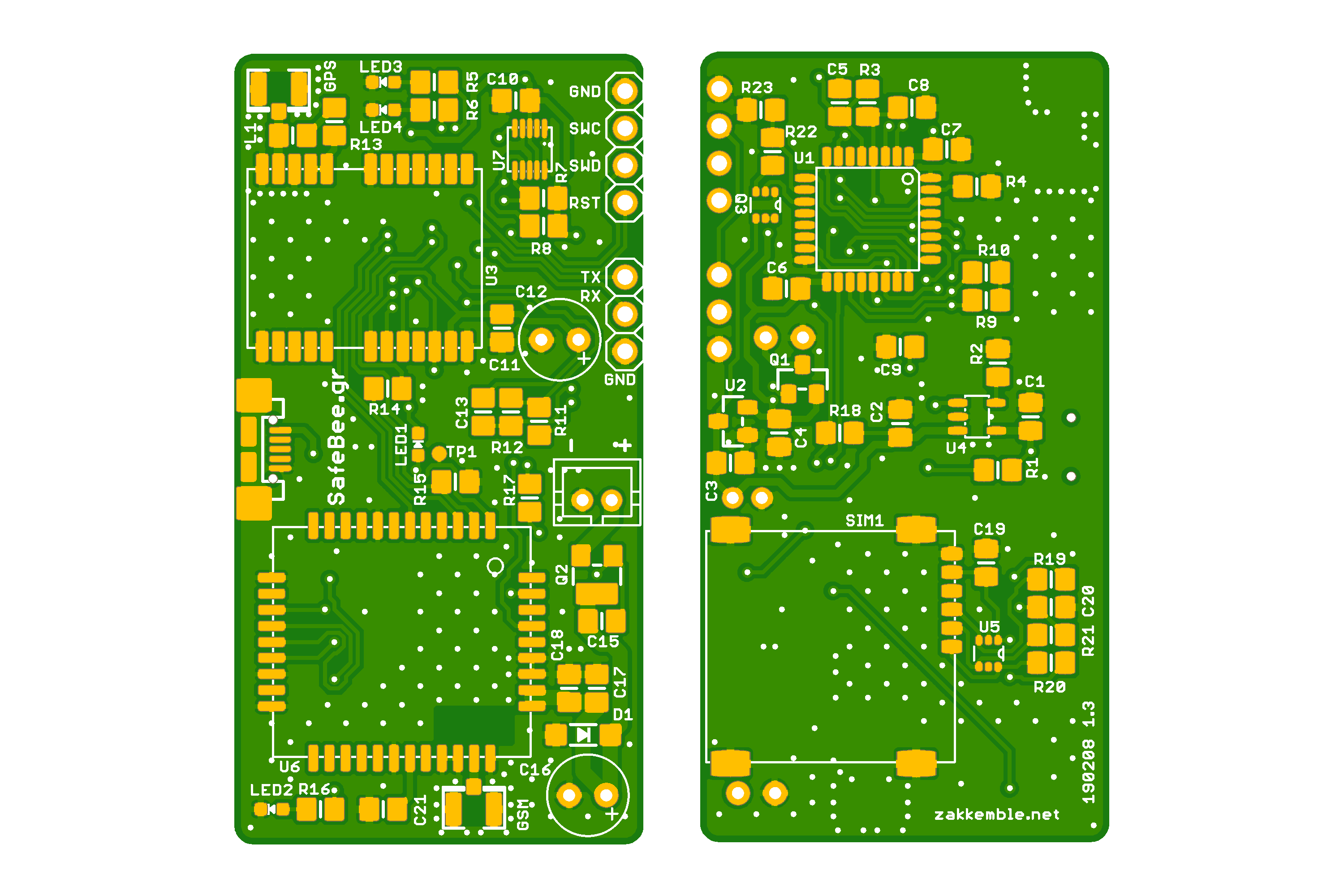 Unboxing Video
The estimated delivery time for this order was 3-5 days and this was close to real waiting time. The PCB arrived and looked like the following photos.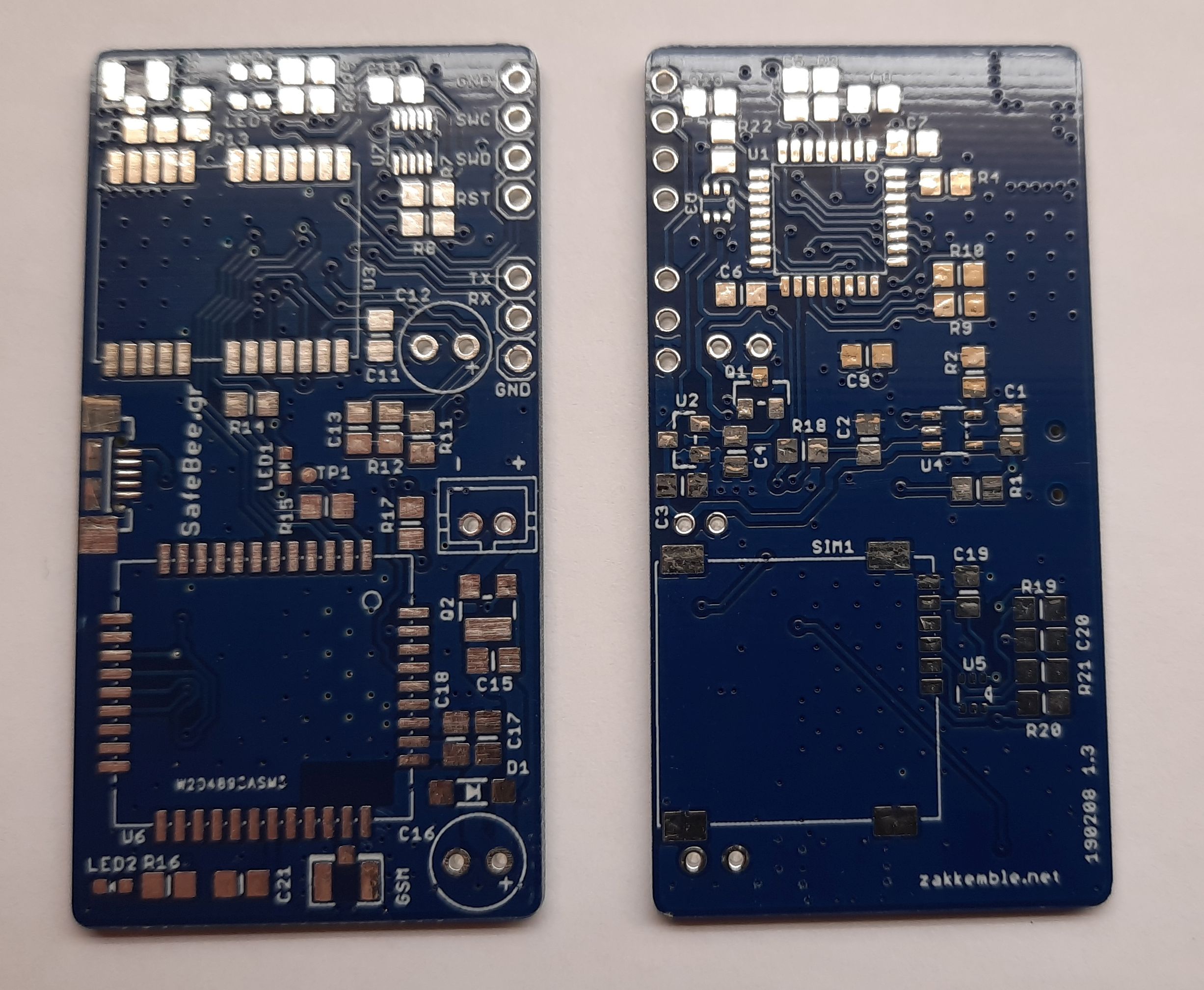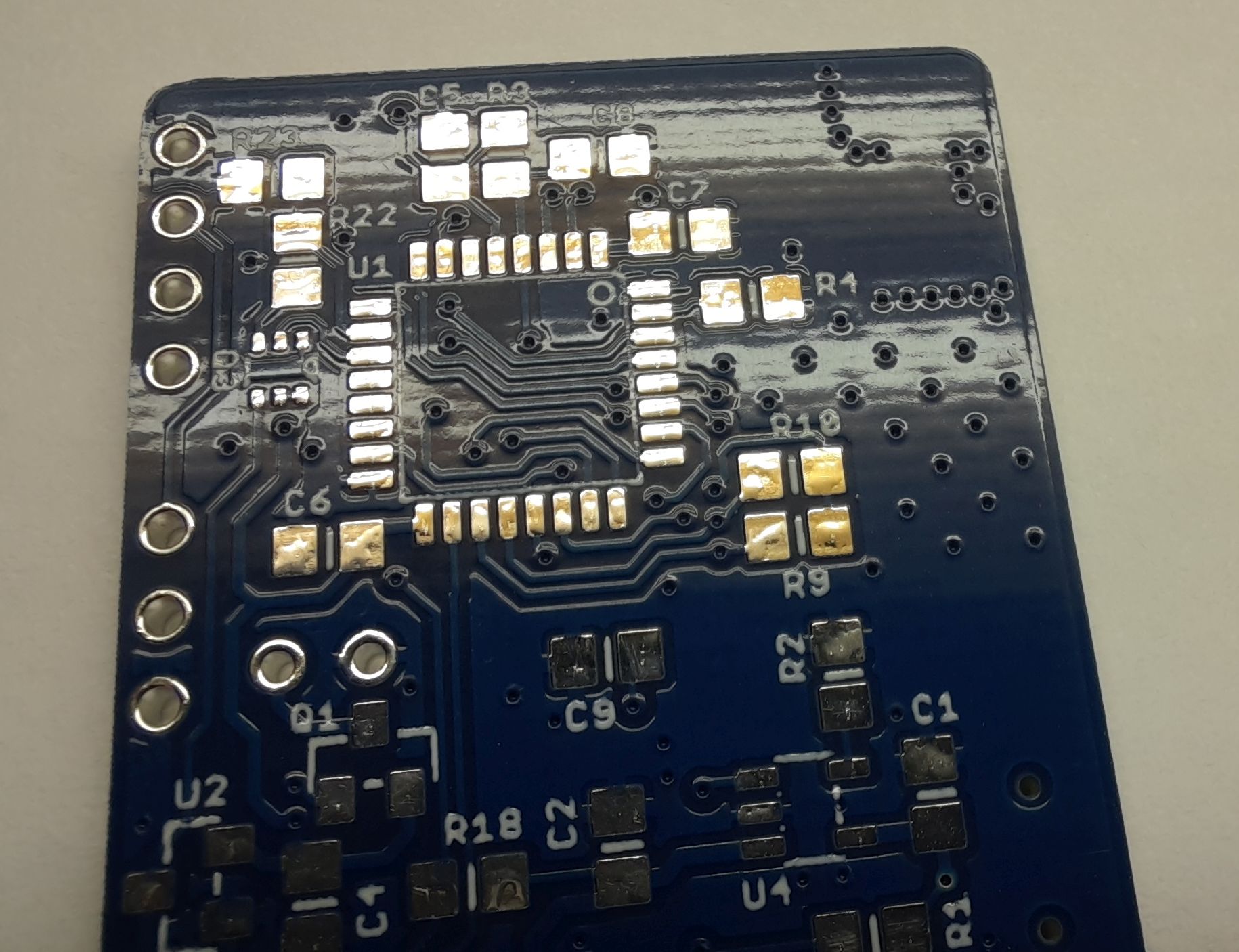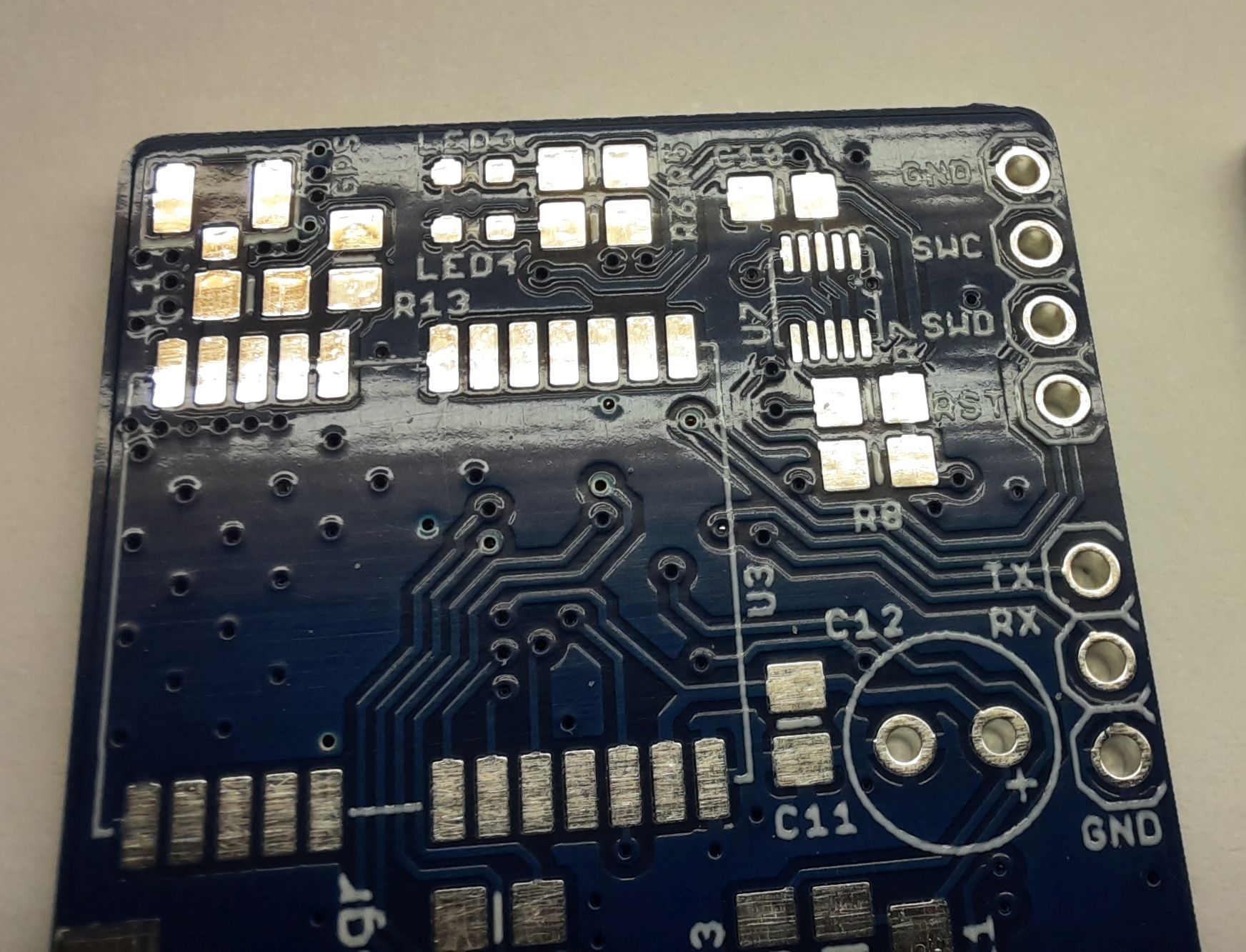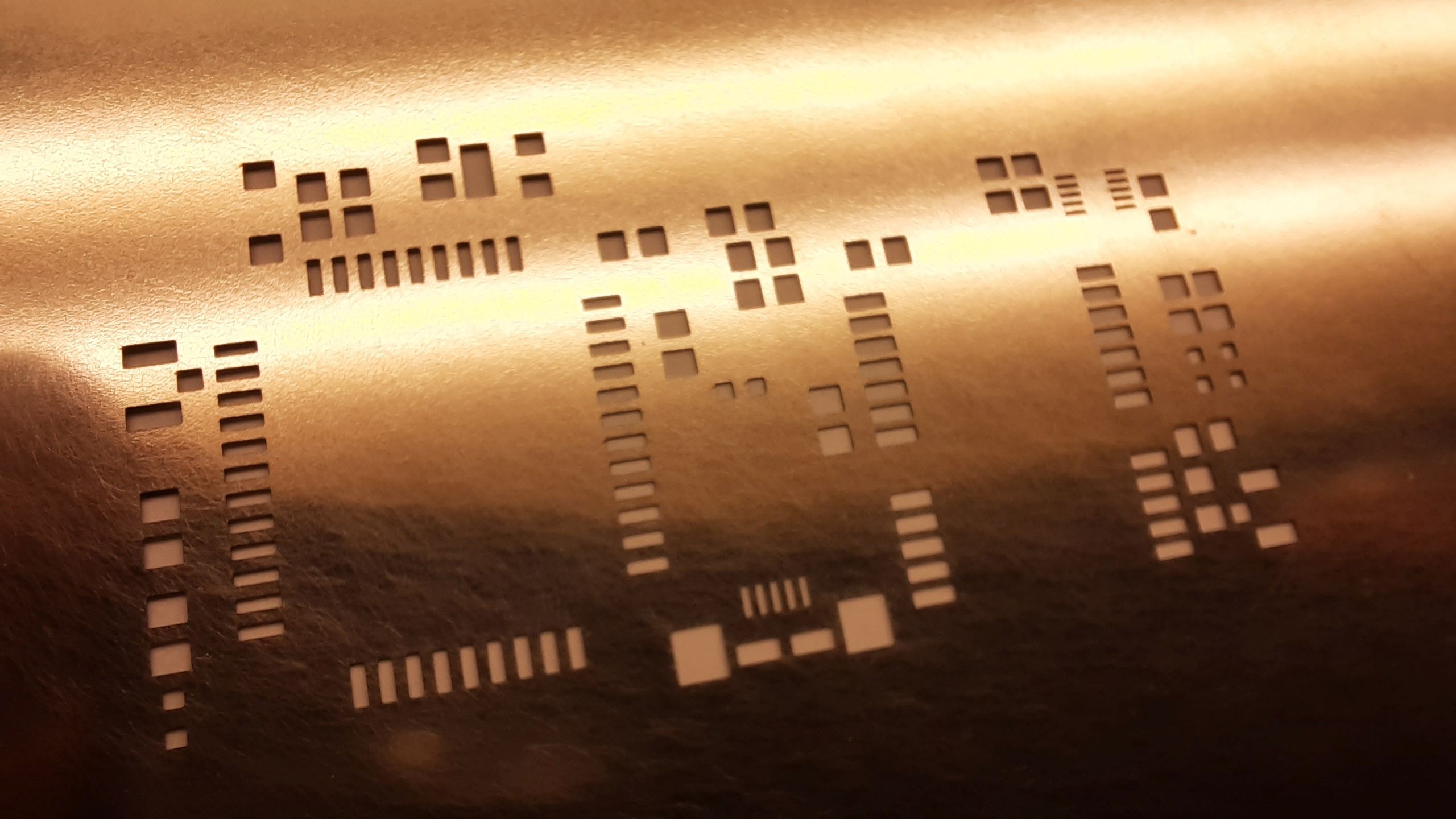 We can see from the photos above that the quality is good and we can understand this from the fine pitch components. Silkscreen seems almost sharp and surface finish is what we could expect from HASL. The same applies to stencil quality. The openings are sharp and could work as it should be.
Conclusion
In conclusion, from personal interactions with PCBWay, one consistent factor in all services they offer is a deep thoughtfulness and consideration for the customer. The customer support staffs who are assigned to your projects take the project seriously and work to ensure your deadlines and the quality of the PCB you require are met. This is a trait every designer, engineer or innovator should look out for when choosing a PCB Manufacturer for any project. In terms of quality, the outcome was satisfactory and it meets the demands of most users, professionals, and makers. Delivery and production time was reasonable and one point we can comment on is the price tag. It's may not be the cheapest manufacturer out there but it will for sure meet your expectations without any surprises.
Join 97,426 other subscribers

Archives