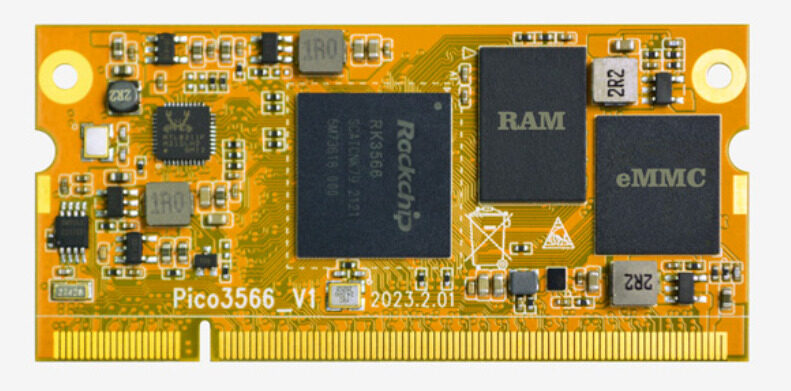 With the focus of the computing industry shifting towards Large Data Models and Big Data, AI is getting a big push forward for high-performance computing of large data models. This has also given a significant push to edge computing, where computing can be accelerated using AI even on a smaller scale. Many applications in the industry can certainly benefit from AI capabilities built-in for real-time task optimization and reduction of downtime. This is where the Rockchip PICO 3566 comes in.
The Rockchip Pico 3566 brings the much-needed capabilities of AI-accelerated computation to open-source edge computing devices with a dedicated NPU, which only few could provide to date. The Pi 3566 has capable Display and Image Interfaces along with a 1 TOPS NPU, making it useful in a wide variety of industrial applications. Its support for low-speed GPIO interfaces like USART, I2C, PWM, etc, along with high-speed interfaces like PCIe and SATA, USB 3.0, etc., also make it a versatile device in terms of connectivity and compatibility.
Connectivity Makes Pico 3566 a Versatile Device
The wide array of GPIO connectivity allows the Pico 3566 to serve its function as a microcontroller for various control interfaces like motor controls, transducers, sensors, etc. This not only makes it good for edge computing but also for the automation of tasks based on the parameters set. Along with its high-speed connectivity, the Pico 3566 can communicate with other devices in an environment for inter-machine coordination and sharing of data for deeper analysis with larger compute nodes.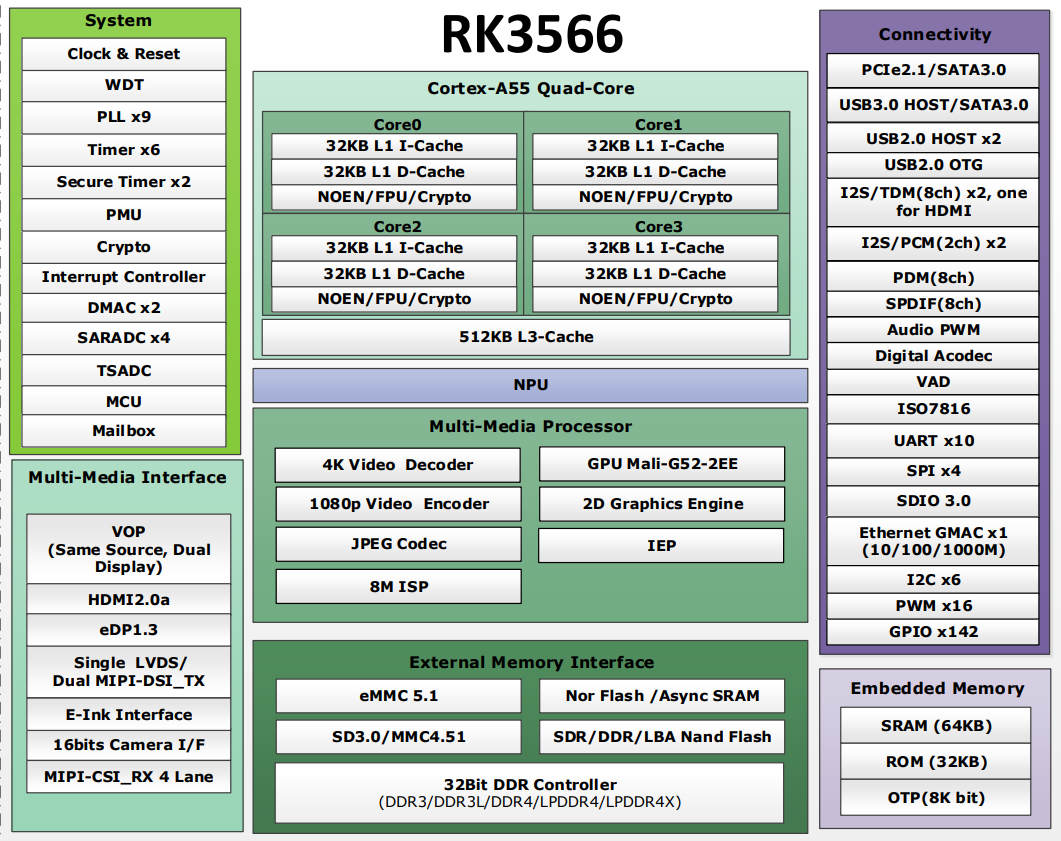 A Direct Successor to the Raspberry Pi CM 3+?
The Rockchip Pico 3566 is a system-on-module (SOM) based on 200 pin SODIMM form factor to be an easy replacement for Raspberry Pi CM 3+, which it competes against. It is an overall upgrade over the CM 3+, with its biggest upgrade being the GPU, Image Processing capabilities, and 1 TOPS NPU (which the CM 3+ has none). This gives it a major advantage over the CM 3+ in deep learning and AI capabilities. For example, the Pico 3566 enables applications such as real-time image processing and object identification and tracking using AI-accelerated calculations.
The SOM supports 2 OSs in total- Android 12 and Debian 11 (Linux). For multimedia and user-friendly applications, Android 12 is the go-to operating system as it utilizes all the capabilities of the SOM in an interactive environment. Debian 11 based on Linux will always be the preferred choice for industrial and other applications related to AI.
In conclusion, the Pico 3566 is a capable SOM developed by Rockchip based on the needs of the industry and its growing focus on the application of Artificial Intelligence and edge computing.
For more information, visit Rockchip Pico 3566 website.
Join 97,426 other subscribers

Archives