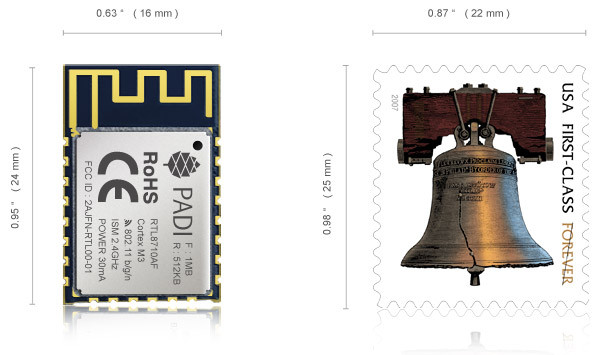 A Powerful Alternative of ESP8266 Wifi Module
The potential competitor of ESP8266 wifi module will be available next week for just $2!
Pine64, the manufacturer of the first $15 64-bit single board computer, is now preparing to launch "PADI IoT Stamp" RTL8710AF module.
This module has the size of the stamp, a small 24mm x 16mm package with powerful specifications compared to its price.
Realtek RTL8710 could be a good alternative thanks to its ARM Cortex-M3 processor @ 166 MHz, a little more user memory (48KB), audio support, and faster WiFi performance.
Here are the specifications of the module:
SoC: Realtek RTL8710AF ARM Cortex-M3 @ 83 MHz with 1MB ROM, 512KB RAM, and 1MB flash
Connectivity: 802.11 b/g/n WiFi @ 2.4 GHz – 2.5 GHz (2400 MHz – 2483.5 MHz) with PCB antenna; Station / SoftAP / SoftAP + Station modes
Expansion headers: 22 half-holes with
Up to 1x SPI @ 41.5 Mbps max
Up to 3x UART with 2x up to 4Mbps, 1x @ 38400 bps
Up to 4x PWM
Up to 1x I2C @ 3.4 Mbps max
Up to 19 GPIOs including 10 supporting interrupts
Power Supply: 3.0 to 3.6V (3.3V recommended)
Power Consumption: 87 mA typ. @ 3.3V using 802.11b 11 Mbps, +17 dBm; 0.9 mA light sleep; 10 uA deep sleep
Dimensions: 24 x 16 mm
Temperature range: -20 ℃ ~ 85 ℃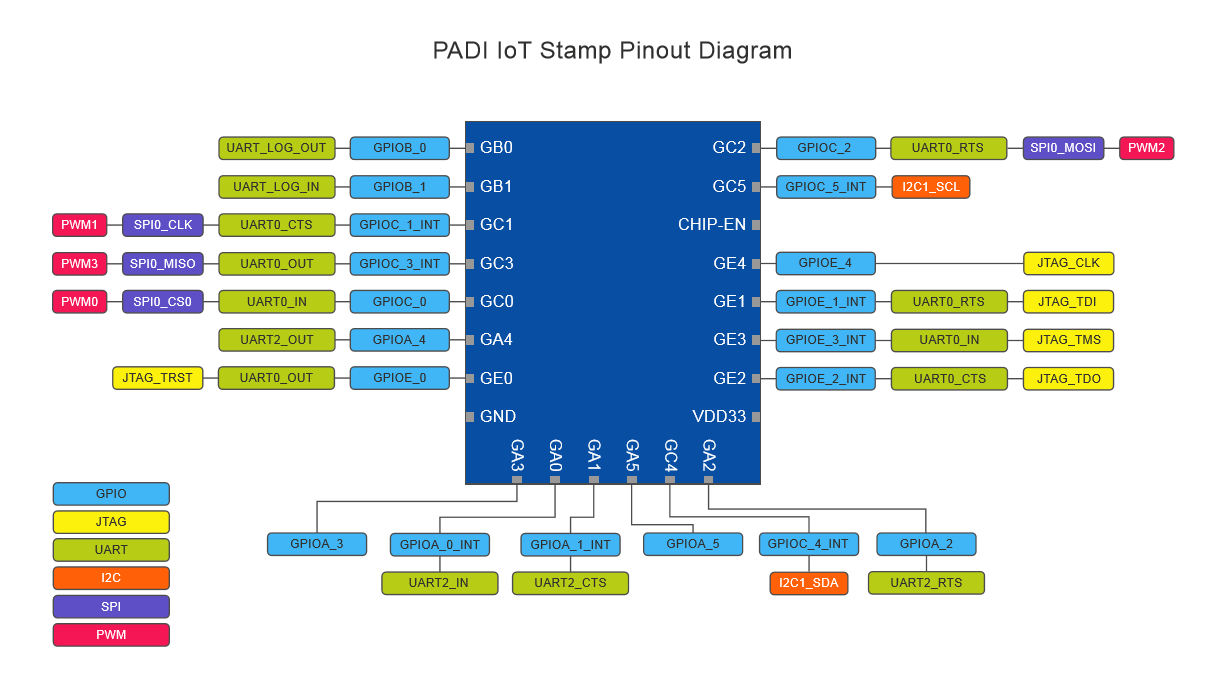 With the ability to program the module via IAR, openOCD, and/or J-Link, it also supports firmware updates via UART, OTA, and JTAG.
The processor is said to run FreeRTOS operating systems, which happens to be the one also used in Espressif ESP8266 and ESP32 SDKs. It will also support ARM® mbed™ as a future plan.
More details can be found at the official product page and the module's datasheet.
Via: CNXSoft
Subscribe to Blog via Email
Join 97,447 other subscribers
Archives