Seeed Studio Makes Design for Assembly (DFA) Review Free for All PCB Assembly Orders with Seeed Fusion
Good news! Seeed Studio is now including the highly acclaimed Design for Assembly (DFA) review with every PCBA order – 100% free! They say
"No prices have been hiked up or additional fees squeezed in anywhere, go ahead, check. We simply cannot understate the value of this service, and we recommend it so much that we are throwing it in completely free from now on."
This is the first among many of a new series of developments outlined, with an emphasis on their most comprehensive offering at Seeed Fusion, small batch PCB assembly (PCBA). Each month for the next few months, they will be announcing a new upgrade or offer for the community, whether it's special offers or easier access to their best value-added services. About the reason for the DFA, Seeed studio says
"With the increasing popularity of outsourcing manufacturing, faster prototyping and more frequent but smaller batch runs, verifying a design at the earliest stage becomes more and more important, if not necessary. It is no longer sufficient to wing-it and just hope things turn out for the best on the production floor, where mistakes are the most destructive."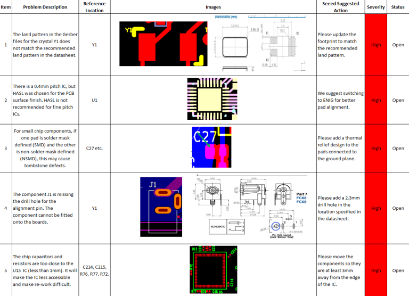 For those who don't know how a DFA works, A PCBA Design for Assembly (DFA) review utilizes the information contained in the PCB Gerber files, Bill of Materials, X-Y file, and other available information to verify the successful production and optimal yield of an electronic device. The Seeed Fusion DFM review service gives your design a thorough check from our own expert engineers to ensure a smooth and punctual production run. The Seeed PCBA DFA review checks for problems pertaining to the final assembled PCB. We do this by looking at the compatibility of the constituent parts (PCB and components) with each other and the intended assembly method. Therefore, unlike a PCB DFM review, a DFA review calls on the combined product development expertise of an electrical engineer with shop-floor manufacturing experience. After the review, you will be sent a Design for Assembly report with any findings, suggested changes, and their level of importance.
About the success of DFA, Seeed says
"Admittedly, digging up datasheets to check the pads and positions of hundreds of parts is tedious and laborious work. No one wants to do it. But the DFA service has consistently proven itself and saved many a backside. Since it's first introduction late last year, Seeed's DFA engineers have consistently detected problems in over 80% of PCBA orders – 80%! Even the most meticulous of designers are not immune, one tiny hiccup can lead to weeks of delays and expensive re-runs."
Seeed Fusion offers you the opportunity to Power-Up your PCBA experience. You can utilize the unique online quoting platform that fetches complete turnkey PCB Assembly quotations, including parts procurement and PCB manufacture in seconds. All you need to do is to add functional testing or programming services, then await your personalized DFA report from our in-house engineers. Seeed Studio has gotten a lot of positive feedback regarding the DFA service despite the large engineering cost, and they are delighted to offer this unique service for free for Seeed Fusion PCBA customers.
"We are confident you will not be disappointed."
You can visit the announcement page for more information.
Join 97,426 other subscribers

Archives