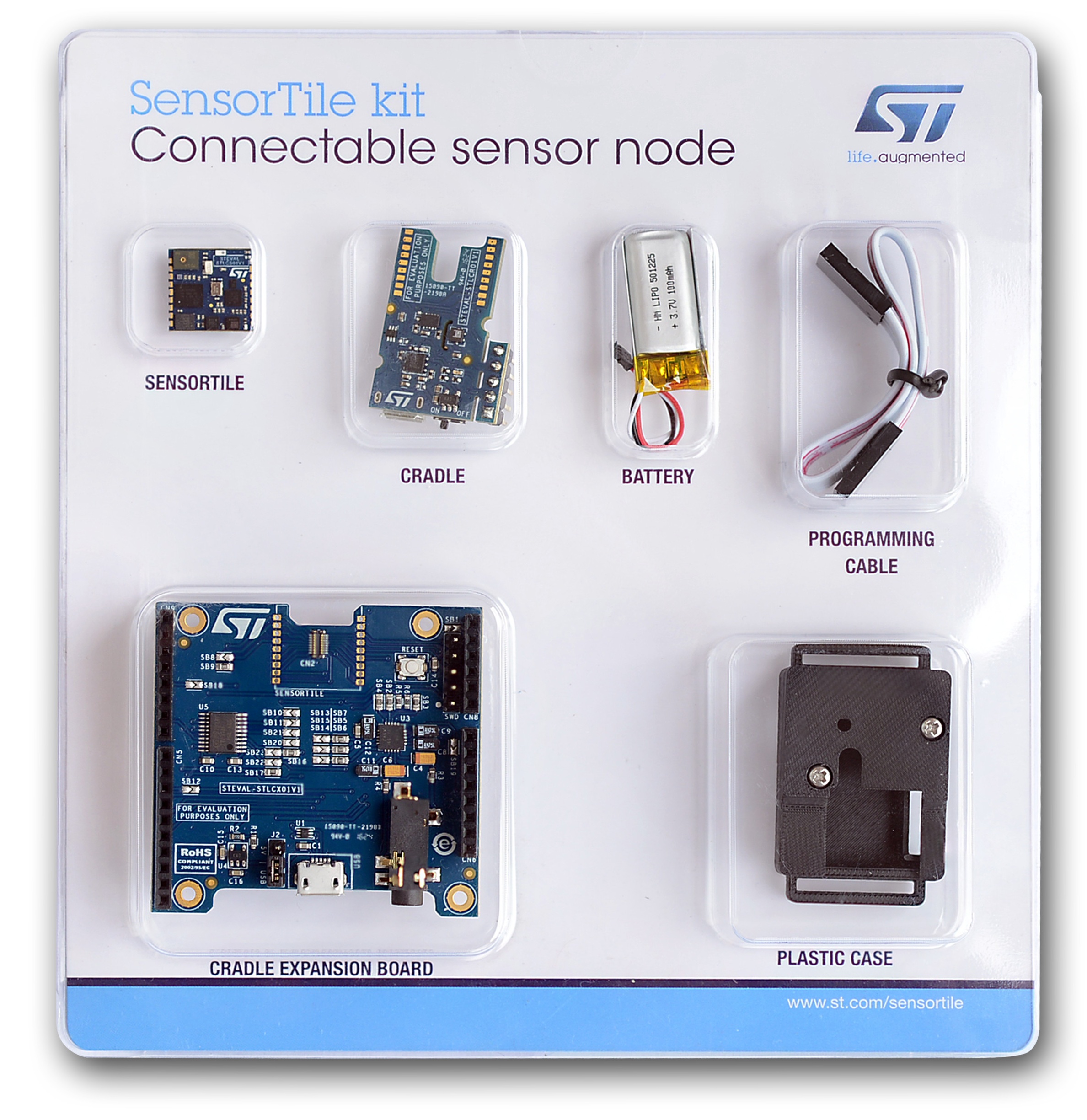 Valencell, a biometric wearable sensor technology company, in partnership with STMicroelectronics, an electronics and semiconductor manufacturer, announced a new highly accurate and scalable development kit for biometric wearables. The kit combines ST's compact SensorTile turnkey multi-sensor module with Valencell's Benchmark biometric sensor system.
The SensorTile is a tiny IoT module (13.5mm x 13.5mm) that features a powerful STM32L4 microcontroller, a Bluetooth Low Energy (BLE) chipset, a wide spectrum of high-accuracy motion and environmental MEMS sensors (accelerometer, gyroscope, magnetometer, pressure, temperature sensor), and a digital MEMS microphone.
The on-board low-power STM32L4 microcontroller makes it work as a sensing and connectivity hub for developing firmware and shipping in products such as wearables, gaming accessories, and smart-home or IoT devices.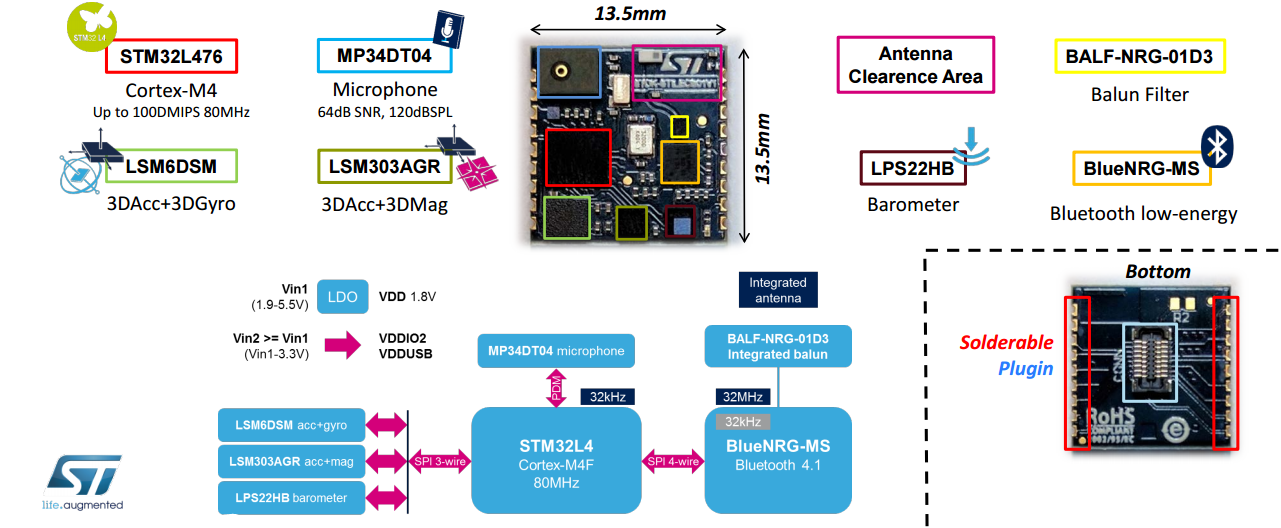 Key Features:
FCC (ID: S9NSTILE01) and IC (IC: 8976C-STILE01) certified
Included in the development kit package:

SensorTile module
SensorTile expansion Cradle board equipped with audio DAC, USB port, STM32 Nucleo, Arduino UNO R3 and SWD connector
SensorTile Cradle with battery charger, humidity and temperature sensor, SD memory card slot, USB port and breakaway SWD connector
100 mAh Li-Ion battery
Plastic box for housing the SensorTile cradle and the battery
SWD programming cable

Software libraries and tools

STSW-STLKT01: SensorTile firmware package that supports sensors raw data streaming via USB, data logging on SDCard, audio acquisition and audio streaming. It includes low level drivers for all the on-board devices
BLUEMICROSYSTEM1 and BLUEMICROSYSTEM2: STM32Cube expansion software package, supporting different algorithms tailored to the on-board sensors
FP-SNS-ALLMEMS1 and FP-SNS-MOTENV1: STM32 ODE functional packs
ST BlueMS: iOS and Android demo Apps
BlueST-SDK: iOS and Android Software Development Kit
Compatible with STM32 ecosystem through STM32Cube support
"Valencell's Benchmark solution leverages the high accuracy of ST's MEMS sensor technology along with SensorTile's miniature form factor, flexibility, and STM32 Open Development Environment-based ecosystem," said Tony Keirouz, Vice President Marketing and Applications, Microcontrollers, Security, and Internet of Things, STMicroelectronics. "Combined, SensorTile and Benchmark enable wearable makers to quickly and easily develop the perfect product for any application that integrates highly accurate biometrics."
Integrating ST's SensorTile development kit with Valencell's Benchmark sensor technology simplifies the prototyping, evaluation, and development of innovative wearable and IoT solutions. That's done by delivering a complete Valencell PerformTek technology package, ready for immediate integration and delivery into wearable devices. The collaboration with ST expands on previous work that incorporated the company's STM32 MCUs and sensors into Valencell's Benchmark sensor system.
"Working with ST has allowed us to bring together the best of all sensors required to support the most advanced wearable use cases through our groundbreaking Benchmark sensor system," said Dr. Steven LeBoeuf, president and co-founder of Valencell.
The kit is in volume production and is available for about $80. You can order it and get more information and technical details through the official page.
Source: ElectronicSpecifier
Join 97,426 other subscribers

Archives