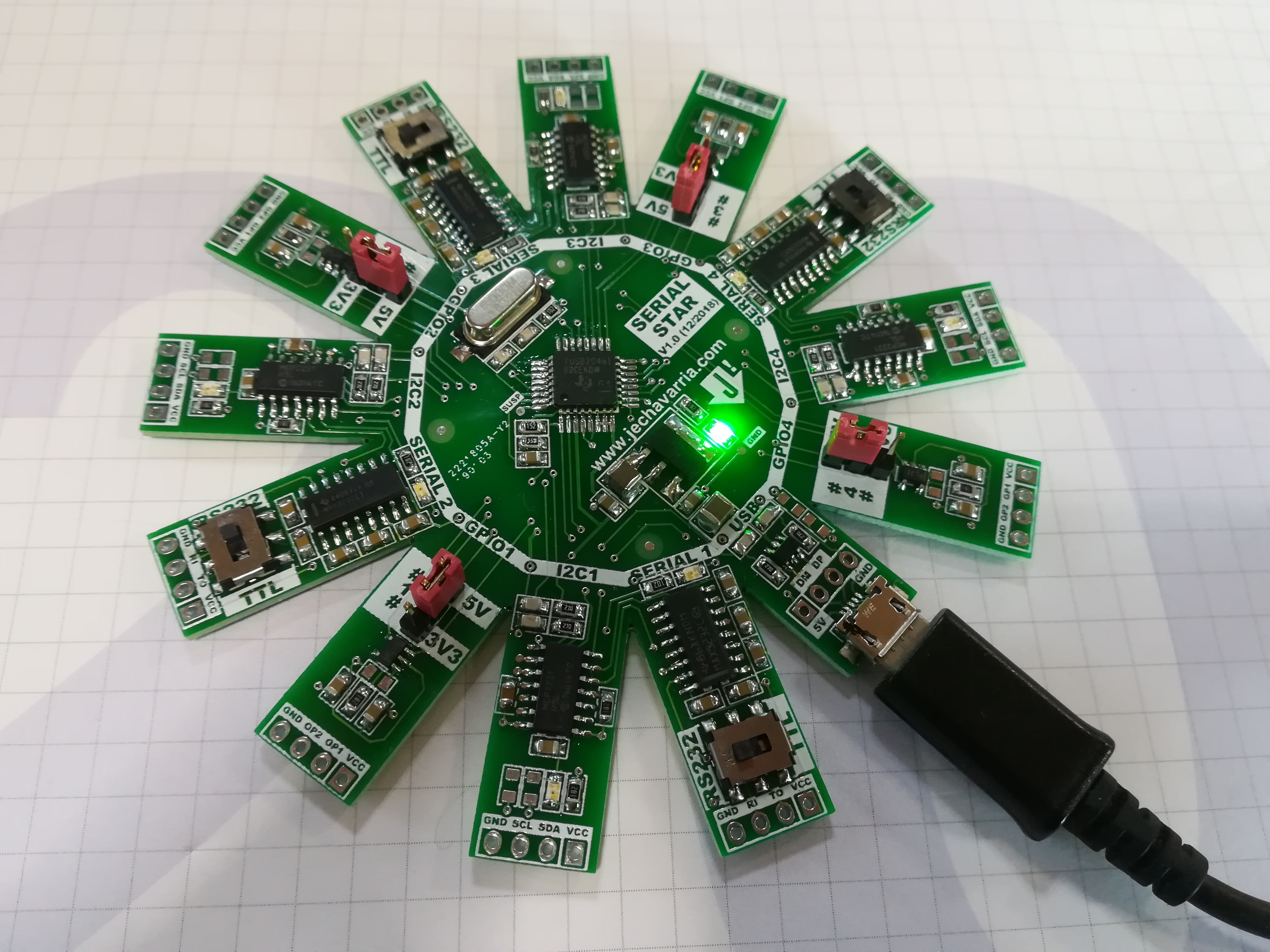 Serial Star, a 4 in 1 USB Serial and I2C Converter
Jesus Echavarria @ jechavarria.com has build a 4 in 1 USB Serial converter based on MCP2221A. This board is mainly a USB hub with 4 USB to serial converters. Is like the typical USB to TTL adapter but with one USB port you get up to 4 serial ports. Levels of every converter are selectable by a switch so you can have serial ports with TTL levels (both 5V or 3.3V, configurable by a onboard jumper) or RS232 levels, covering all the possibilities of a serial port. Also the converter he used (MCP2221A) has an I2C port so you also have access to these 4 I2C ports. And finally, you can also have access to 2-pin general IO of the MCP2221A. Jesus writes:
Hi all! Here's one of the last board I design the last year. On 2016, I develop the Dual USB Serial and I2C Converter board. Although this board works fine, it has a couple of lacks. First one, is that to use the both converters, you need two free USB ports. Is a minor problem today with USB hubs, but you need the hub and also two USB wires. And the other problem is that this board uses mini-USB connectors. Of course today you can still find it, but aren't as common as the micro-USB wires. For this two reasons, I decide to upgrade the board, add the micro – USB connector and put a USB hub inside it. Because I choose a 4-port USB hub, I use also 4 USB serial converters. With some addons, you can select power supply value (5V, 3V3), serial levels (TTL, RS232) and GPIO functions in an independent way for each converter. So, let's see how works this USB Serial Star, a 4 in 1 USB to Serial and I2C Converter.
Serial Star, a 4 in 1 USB Serial and I2C Converter – [Link]
Join 97,426 other subscribers

Archives