Sipeed MaixBox-M4N is A High-Performance AI Computing Powerhouse
Sipeed's MaixBox-M4N is a computing module specifically designed for high-performance edge computing. It is powered by Aixin Yuanzhi's AX650N, known for its exceptional AI capabilities, and is capable of streaming 8K video at 30FPS.
The MaixBox-M4N is built by combining the Maix-IV M4N system-on-module(SOM) with the M4N-Dock carrier board. Powering the SOM is Axera's AX650N chip, which is equipped with eight Arm Cortex-A55 cores, a neural processing unit (NPU), and an image signal processor (ISP) supporting 8k30 resolution.
The AX650N features robust AI computing capabilities, with its neural processing unit (NPU) that supports various precision levels including INT4, INT8, INT16, FP16, and FP32. This NPU delivers up to 43.2 TOPS of computing power at INT4 precision and 10.8 TOPS at INT8 precision, making it highly suitable for edge AI workloads.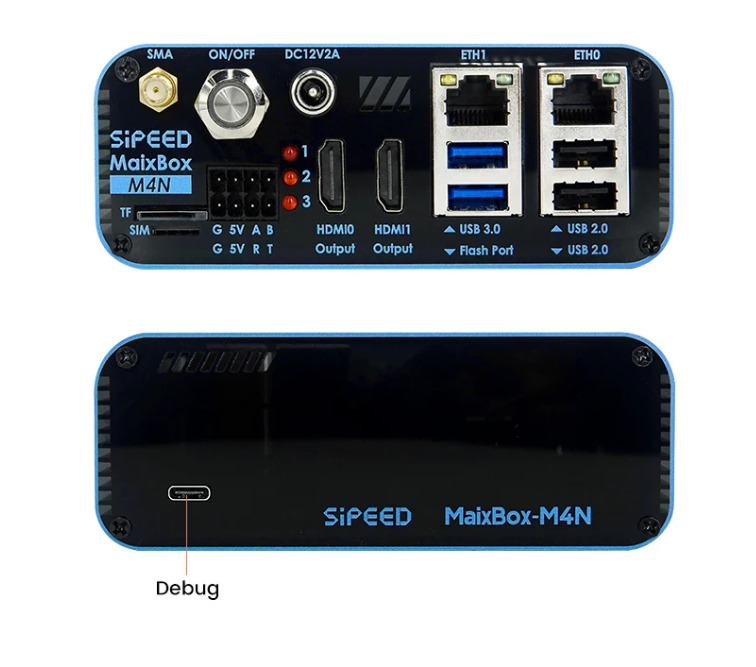 MaixBox-M4N features H.264 and H.265 codecs that are capable of decoding video up to 8K resolution at 60 FPS and encoding video up to 8K at 30 FPS. Additionally, it features dual HDMI 2.0A outputs, each capable of delivering 4K resolution at 60 FPS. It also includes two 4-lane MIPI CSI connectors for camera integration. For connectivity, it has two Gigabit Ethernet ports, a PCIe 2.0 slot, and three SATA 3.0 ports for SSDs and HDDs. It also includes various I/O interfaces like RS 485 and RS432 and is equipped with one USB 3.2 Gen1 and three USB 3.0 ports for efficient data transfer and peripheral connections. Notably, the device does not include GPIO pins.
The Speed M4N-Dock features:
CPU: 8-core A55 (1.7GHz) with FPU & NEON support.
NPU: Up to 43.2 TOPS at INT4 precision.
ISP: Supports up to 8192 x 4320@30fps and 16384 x16384 resolution with AI ISP.
DSP: Dual-core, 800MHz.
Memory: Max 8GB LPDDR4x; Storage: Max 32GB eMMC 5.1.
Display: Dual HDMI 2.0a for 4K@60fps.
Camera: Two 4-lane MIPI CSI.
Connectivity: Two Gigabit Ethernet ports.
Expansion: One PCIe 2.0 slot and three SATA 3.0 ports.
I/O: RS 485 and RS432 interfaces.
USB: One USB 3.2 Gen1 and three USB 3.0 ports.
Power Supply: 12V/2A DC.
Size: 121 x 100 x 46mm.
For developers and tech enthusiasts, Speed provides comprehensive technical documentation for the M4N Dock on their Wiki page. Additionally, practical working examples and resources can be found in their GitHub Repository, enhancing usability and accessibility for users.
Sipeed's M4N Dock is available for $230, including a power adapter and accessories. A variant with acrylic cover plates is priced at $240. there is also a standalone variant that will cost you $155, and a bundle with the module, dock, heatsink, and fan will cost you $230. Additionally, the MaixBox-M4N bundle with a rugged aluminum case costs $248. These products are available on Sipeed's AliExpress store.
Join 97,426 other subscribers

Archives