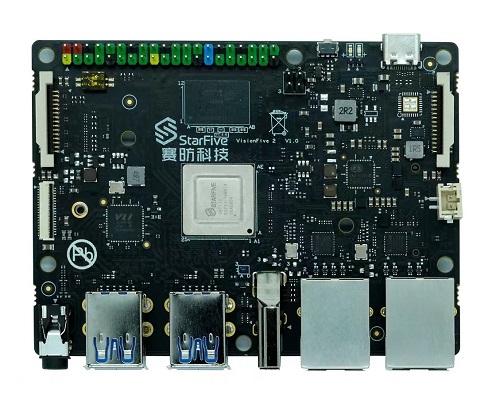 StarFive Revamps its RISC-V-Based SBC with Enhanced Capabilities as the VisionFive 2
StarFive, the RISC-V software, and hardware ecosystem leader, recently announced the world's first high-performance SBC with an integrated GPU. The VisionFive 2 is an upgraded version of StarFive's first RISC-V-based Single Board Computer (SBC), the VisionFive 1.
The processor work frequency, multimedia processing capabilities, scalability, and other aspects of VisionFive 2 have all been significantly enhanced over its previous iteration. VisionFive 2 is the best affordable RISC-V development board ever due to its excellent performance and affordable pricing.
The VisionFive 2 is built on StarFive's latest JH7110 system-on-chip (SoC), which not only eliminates the previous JH7100 chip's known issues but also doubles the number of useable processors from two to four and boosts clock speed from 1GHz to 1.5GHz. Moreover, StarFive added a Graphics Processing Unit (GPU) to the board, further boosting the performance and enhancing the desktop experience.
It has several multi-media peripherals including USB 2.0, USB 3.0, MicroSD Card slot, 3.5mm audio jack, RJ45 Ethernet connectors, and an eMMC socket. The board also provides 40 pin GPIO Header. Each GPIO pin is capable of 5V DC output with a minimum of 3A of current. Several GPIO pins also support communication protocols like I2C, SPI, and UART for better interfacing with other devices.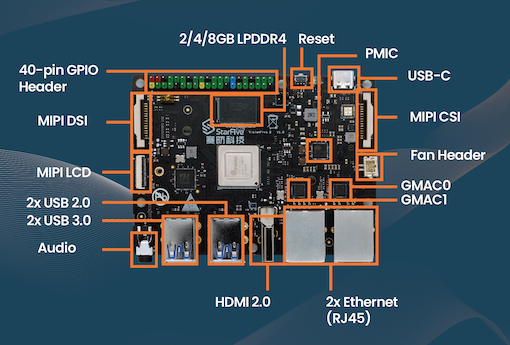 The VisionFive 2 supports a wide range of displays with multiple video output ports. It contains a 2-lane MIPI DSI display port, supporting up to 1080p at 30fps, and a 4-lane MIPI DSI display port, supporting up to 2K at 30fps in both single display and dual display modes. It also features an HDMI 2.0 port, supporting up to 4K at 30fps or 2K at 60fps. Moreover, the VisionFive 2 has a 2-lane MIPI CSI camera port that supports up to 4K (3840 x 2160) pixels at 30fps.
Enhancing Desktop Experience with the high-performance VisionFive 2 SBC
Overcoming the limitations and shortcomings of its predecessor, the VisionFive 2 offers a high-performance experience in a compact form of 100mm x 72mm. With its decent power consumption, communication peripherals, and GPIO support, it is an ideal portable system for several applications. Moreover, it supports the mainstream Linux distributions, making it user-friendly and convenient.
StarFive is using Kickstarter to fund the development of the boards, with tangible incentives starting at $46 for the early bird 2GB versions. This is a significant discount from the retail price of the original VisionFive, which was $179.
Join 97,426 other subscribers

Archives